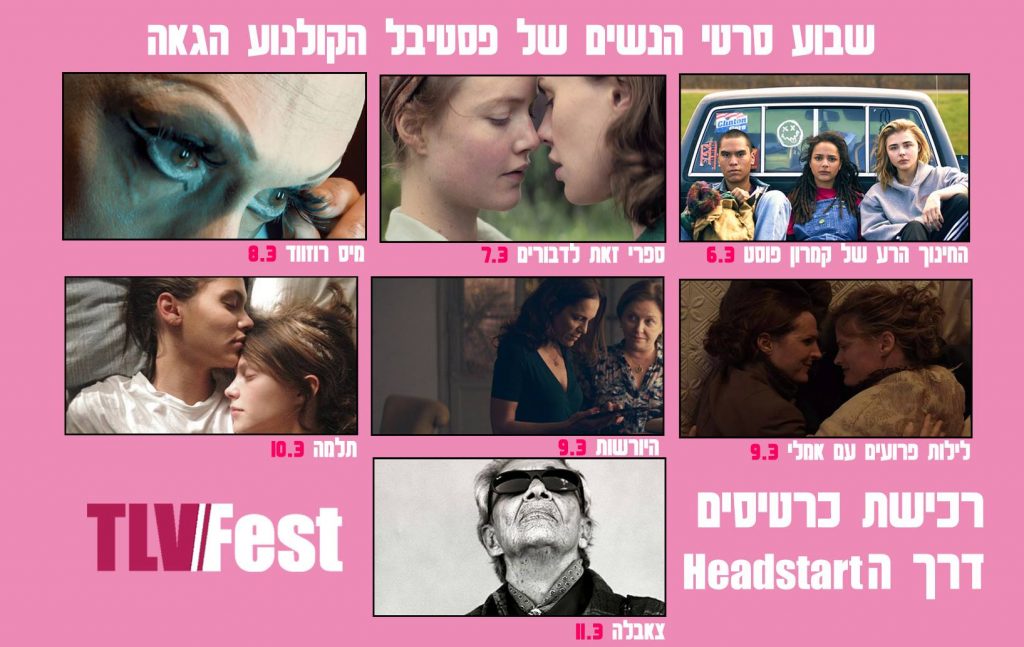 TLVFest – Tel Aviv International LGBT Film Festival – with its impressive tradition of bringing LGBT cinema to Israeli screens, as well as international industry creatives, is in desperate need of funding to make the 2019 festival possible. To that end, TLVFest has opened a headstart crowdfunding project – with only 5 more days left! Midnight East supports a culture of tolerance, diversity, and quality programming, and as such, views TLVFest as an important element of Israeli culture. If you would like to support the festival, there's a great opportunity coming up. TLVFest presents Women's Film Week in March, featuring seven intriguing films focusing on, with some also created by, women. Tickets to the films, as well as many additional options for supporting the festival, are available on the TLVFest headstart at this link: https://headstart.co.il/project/45774
***Update*** Thanks to over 760 supporters,  the TLVFest headstart project is a success, raising 206,060 NIS! More good news: there are still some tickets available for the great movies by and about women – tickets can be purchased from the Tel Aviv Cinematheque.
TLVFest founder and artistic director is Yair Hochner, the festival team includes Festival Director Gil Sima, Technical and Traffic Manager Ohad Efrat and New Media Director Naama Fluksman as well as four programming teams and a bevy of volunteers – all working on TLVFest #14 coming in June 2019.
Women's Film Week Program: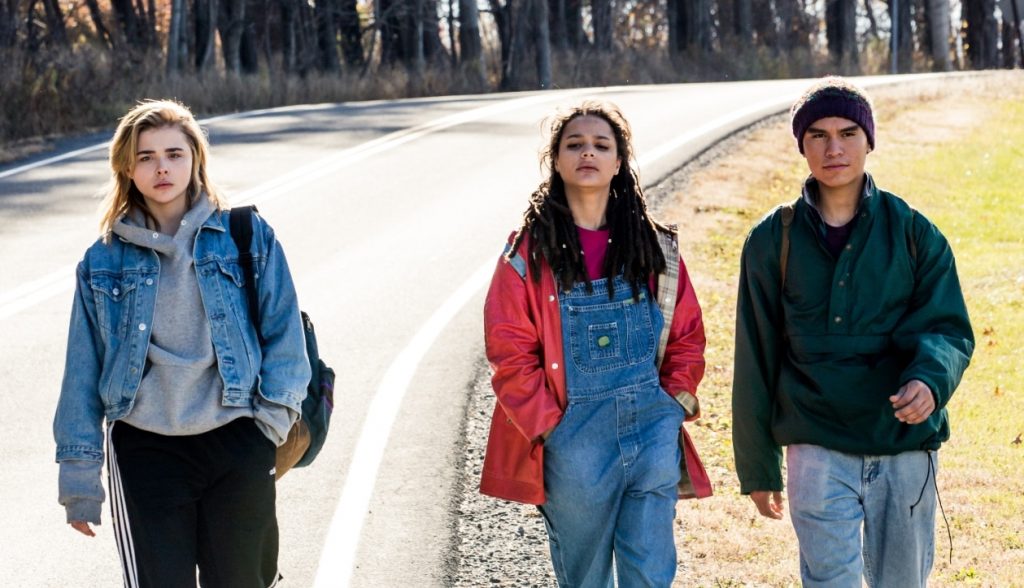 Wednesday, March 6 at 21:00: The Miseducation of Cameron Post directed by Desiree Akhaban
Set in the 90s (at one point a car boasts a "Vote Clinton/Gore" sticker) in a conservative Christian community, the film stars Chloë Grace Moretz as Cameron, who is caught making out in the backseat of her boyfriend's car on prom night. The catch is, she is not making out with him, but with her best friend, Coley. Her aunt Ruth, who has been her guardian since the death of Cameron's parents, only wants what is best for the girl, and immediately sends her off to "God's Promise" a conversion center for those afflicted with what they call SSA (same sex attraction). A serenely sinister Jennifer Ehle plays Lydia Marsh who regards sexual orientation as a mental illness and psychoanalyzes the teens to uncover their traumas. Reverend Rick (John Gallagher Jr) who helps her run the center, is one of her success stories.
The film is reminiscent of a twisted Short Term 12, in which the counselors (an amusing note – John Gallagher Jr. also played Mason, a counselor in Short Term 12), rather than supporting, guiding, and affirming, are trying to mess with the kids' minds and convince them that they are flawed and sinful. It sounds grim, and it is a fictional depiction of what is a horrifying reality for too many teens to this day, yet, teenagers being teenagers, and Desiree Akhavan being the same person who created The Slope and Appropriate Behavior, the film is also very clever and funny. (from the Midnight East review)
Thursday, March 7 at 21:00: Tell it to the Bees directed by Annabel Jankel
Set in rural 1950s Scotland, Lydia (Holliday Grainger) works at the local mill to support herself and her son Charlie (Gregor Selkirk), as her war veteran husband Robert (Emun Elliot) has effectively abandoned the family. Dr. Jean Markham (Anna Paquin) comes to town as the new doctor, and young Charlie takes an interest in her bee colonies. A relationship develops between Lydia and Jean, and problems ensue.
Friday, March 8 at 22:00: Miss Rosewood directed by Helle Jensen
The documentary was screened at TLVFest 2018, and this is their summary: "This documentary will take you face to face with the most outrageous, daring performance artist currently working: Miss Rosewood. Intensive and uninhibited, Miss Rosewood will sabotage any event as part of the study of the universe she and her relations engage in. She is the only person brave enough to empty a condom full of semen on Leonardo DiCaprio who, like many celebrities, attended one of her intense shows. Rose Cory is a tall, imposing trans woman, yet behind the wild side and the on-stage nudity and violence, Cory turns out to be a very sensitive and moving person, of the rare kind of actors who live for their art, caring little for anything else. Director Helle Jensen introduces us to the artist and her family, including her ex-wife, father, brother, colleagues, and plastic surgeon."
Saturday, March 9 at 17:00: Wild Nights with Emily directed by Madeleine Olnek
I have not seen this film but it sounds fascinating – a biographical comedy on the life of poet Emily Dickinson, starring Molly Shannon.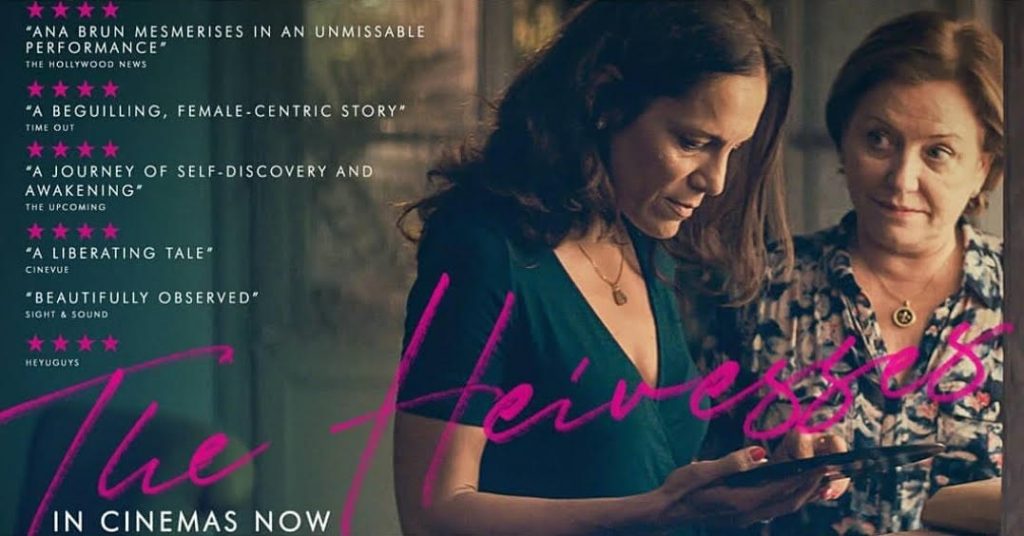 Saturday, March 9 at 19:00: Las Herederas (The Heiresses) by Marcelo Martinessi
Las Herederas is an intimate, precisely observed and sensitive film, bold in its focus on older women in relation to sexuality, identity, and class differences. Written and directed by Marcelo Martinessi, the film is set in Paraguay, and offers a view into the privileged, sheltered and restricted lives of women who come from wealth. Commerce and politics are the realm of men who are beyond the frame, out in the world; the world of women is confined, as the film is, almost entirely to interiors. Las Herederas won the Alfred Bauer Prize at the 2018 Berlin Film Festival, as well as the FIPRESCI Prize, and the Silver Bear for Best Actress was awarded to Ana Brun for her portrayal of Chela.
Chela (Brun) and Chiquita (Margarita Irún) have been together for many years, perhaps their entire adult lives, living in Chela's family home. Chiquita is energetic and outgoing, while Chela is the quieter, more passive of the two, spending her days painting muted abstractions. Chiquita cares for Chela in every way, yet in choosing to be utterly catered to, in her passivity, Chela is relinquishing control over her own life. Now they have come to a crisis, and each will meet it in her own way. (from the Midnight East review)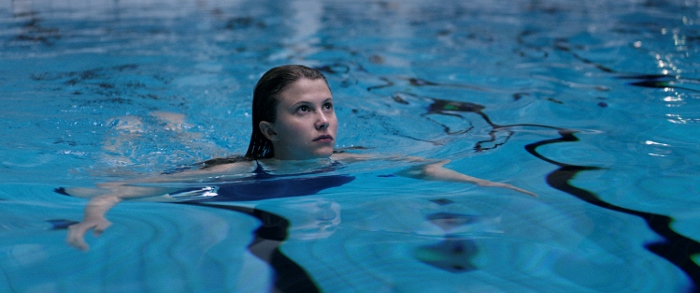 Sunday, March 10 at 21:00: Thelma by Joachim Trier
The opening scene of Joachim Trier's Thelma is one of the most beautiful and harrowing that I have ever seen, the first few minutes could almost stand alone as a short; beautiful, brief, and eviscerating. Which made my frustration with this film grow stronger with every passing minute afterwards, as its internal logic and storytelling is all too loose, full of gaps and inconsistencies. I like my horror tight.
Thelma (Eili Harboe) is a young college student who seems remarkably submissive and lacking in self-awareness. Her naivete is partially explained by her family background, her parents are ultra-religious Christians and very strict; even though she's away at college, their frequent phone calls keep her on a short leash. Not too surprisingly, Thelma does not socialize much. She does, however, experience strange seizures, and things happen around her; especially once she feels the stirrings of attraction. I had so much faith in this film as the plot was set up, only to be cruelly disappointed. Ultimately, I felt that it was Carrie, with much less blood and more smartphones.
Having said that, there are some really stunning scenes in the film, and several plot themes that had they been followed through, might have been utterly fascinating. Like Girl and Border, Thelma is a film that inspires radically different reactions, and while I left the theatre frustrated, many others walked out on a cloud, enamored with the film. Decide for yourself… (from the Midnight East review)
Monday, March 11 at 19:00: Chavela directed by Catherine Gund and Daresha Kyi
The life of singer Mexican singer Chavela Vargas. Filmmaker Catherine Gund interviewed Chavela in 1991, that footage became the start of this documentary on the life of the radical, legendary singer, who openly dressed like a man (wearing trousers), and counted Frida Kahlo among her lovers.