The Hungarian Cultural Year in Israel will celebrate 30 years of diplomatic relations between Israel and Hungary, with music, dance, theatre, art and culinary delights from March 11 – October 26, 2019.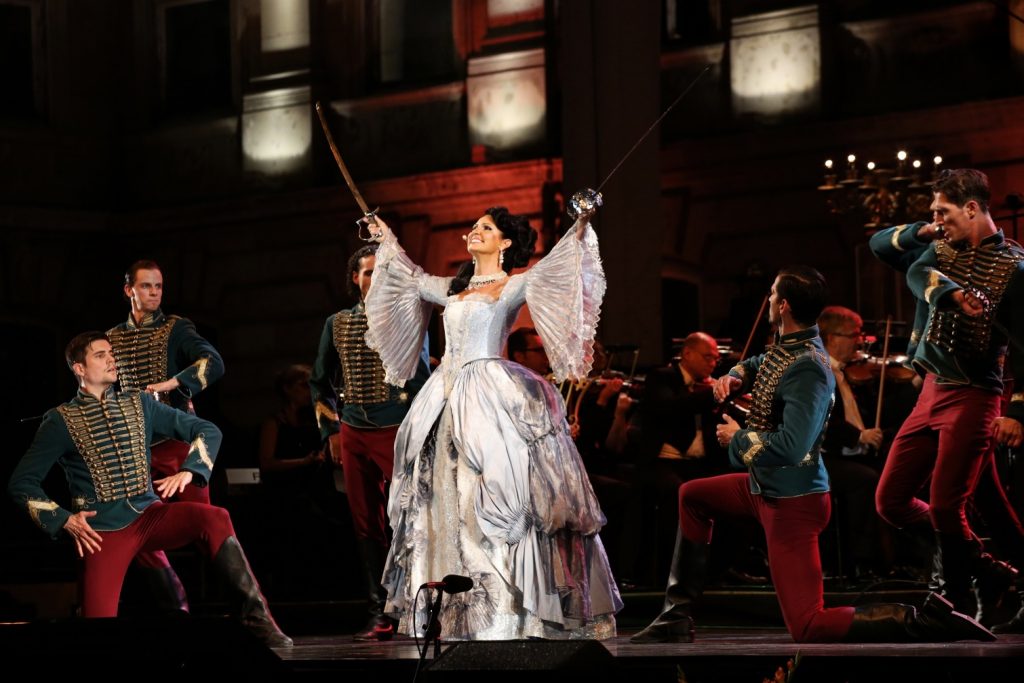 Opening the program will be Budapest's Operetta Theater, well known and beloved among Israeli audiences, with a gala show featuring favorites from operettas such as Johann Strauss's Die Fledermaus, Franz Lehár's The Merry Widow, Emmerich Kálmán's The Csárdás Princess and Countess Maritza. Joining the Budapest Operetta Theater's 80 soloists and orchestra members especially for this performance will be the Hungarian National Dance Ensemble and a folklore band. Performances will take place on March 11th at the Jerusalem Theatre and on March 13th and 14th at the Israeli Opera-Tel Aviv Performing Arts Center.
Midnight East writer Lior Levy on Operetta:
"The operetta tradition differs both from traditional opera and musical theater and has a unique language of its own. It features large-scale chorus numbers with traditional dances, beautiful duets and arias, and an infectious happy energy that will have you tapping your feet minutes after the curtain rises.
Opera was still immensely popular in the early 1900s, but the emergence of new and different styles and approaches to composing and to art in general made way for new sub-genres. The most obvious of these is the musical, but before its arrival, another approach to light opera began a surge of creativity among the composers of Europe, and created an art form that witnessed the major events of the period.
Operetta actually stems from the opéra comique tradition, which in the mid-nineteenth century was becoming too serious for some tastes (the most famous opéra comique today is Carmen – definitely not known for its light themes or plotline). The opéra comique didn't necessarily indicate humorous subjects, but it did involve realist themes, scenes of daily life, and "regular" characters (as opposed to the royals, historical figures and exotic scenes that dominated classical and nineteenth century opera).
Operetta continued to develop in France with Offenbach, in England with Gilbert and Sullivan, and in Austria-Hungary with Johann Strauss II. One of the composers who continued Strauss' legacy was the Hungarian-born Emmerich Kálmán (in Hungarian, Kálmán Imre), who is considered, along with his compatriot Franz Lehár, one of the leading composers of the Silver Age of operetta." (link to the full article)
Hungarian Cultural Year Full Program:
March 11 – 14: Budapest Operetta Theater
April 7 – 12: Hungarian culinary week. Hungarian chefs and confectioners will present their culinary secrets in restaurants and workshops, presenting traditional and innovative dishes.
May 12 – 19: Hungarian Film Week. Tel Aviv, Jerusalem and Haifa cinematheques will host classic and contemporary films by leading Hungarian filmmakers. Each film will be followed by a discussion with the filmmakers. Guests will include Ferenc Rofusz, who won an Oscar for his 1981 short The Fly (which will be screened in Israel) and Ferenc Varsanyi, who won a Daytime Emmy for his work on Rugrats.

Tamas Yvan Topolanszky and Claudia Sumeghy, producers of Curtiz, on the life of Jewish-Hungarian director Michael Curtiz, will be in attendance at the screening of their film. Hungarian Michael Curtiz (1886 – 1962) was already an accomplished director and well known in Europe when he was invited to come to Hollywood in 1926. He went on to direct over 100 films, including the classics Casablanca and Mildred Pierce.

May 30 – June 2: The Fresh Paint art fair will feature Focus on Hungary, a joint initiative of Art Market Budapest and Fresh Paint.
June 1 – 3: The Gyor Ballet, currently celebrating its 40th anniversary, will present the choreography of to Ravel's Bolero and PianoPlay, choreographed by to the music of Franz Liszt, performed by pianist János Balázs.

June 20: The Hungarian National Theater will present The Passion of Csíksomlyó, which is based on 18th century Franciscan plays and Passion by Géza Szőcs, and has its roots in Christian myths. The play will be performed at the Jaffa International Theatre Festival.
June 13 – 30: Ruin Bar Tel Aviv style at the Cuckoo's Nest in Jaffa, featuring concerts, lectures, art exhibits & DJs from Hungary, as well as live broadcasts from Hungarian Ruin Bars.
July 19 – 23: Recirquel Contemporary Circus Company will present The Naked Clown in Herzliya.
August 2 – 4: The Hungarian National Dance Ensemble will present Liszt Mosaics, dance set to works by composer Ferenc Liszt at the Karmiel Dance Festival.
September 10: The Hungarian State Opera will perform The Queen of Sheba by Karl Goldmark (1830 – 1915), with a libretto by Salomon Hermann Mosenthal.
September 12-13: The Wedding Dance is a Klezmer musical that takes place in Transylvania and focuses on a young couple in love, who wish to get married. There is just one problem: the bride-to-be does not have the necessary documents. A search for her birth certificate reveals that she is actually Jewish…
October 16-18: The Port of Tel Aviv will host Hungarian Days, a cultural and culinary outdoor event with food booths, wine tasting, and craft booths as well as Hungarian folk music, pop groups and DJs.
October 23: The closing event will be a gala concert featuring Hungarian opera star Andrea Rost. Taking place in Jerusalem, the concert will feature Hungarian and Israeli musicians.