I love that feeling – when you hear a song for the first time and know it has already become a part of you, singing in your hands as they clap, your feet as they want nothing more than to dance, and your heart wants to let the music carry you away. Introducing Red Okra Stringband.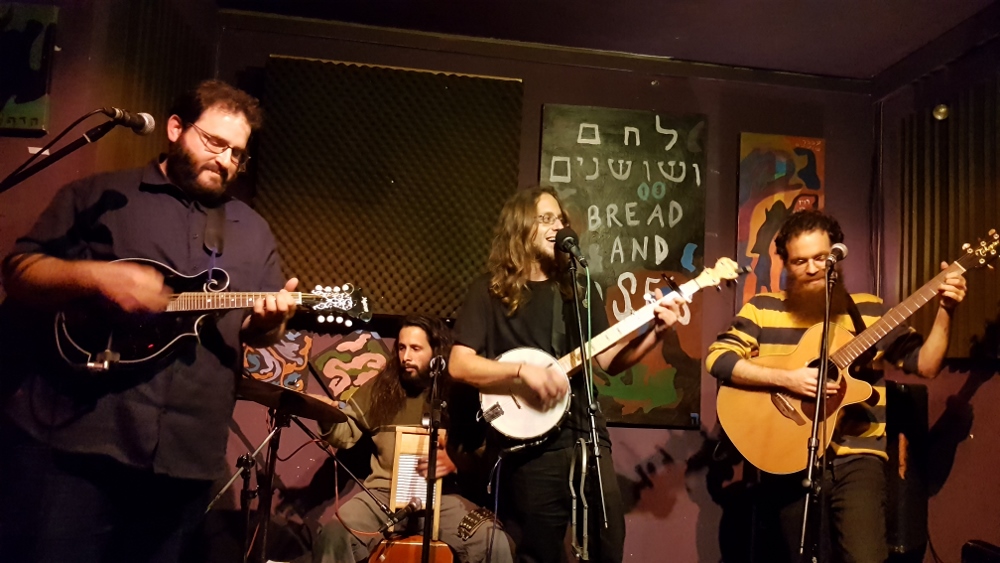 A string of colored lights suspended in a dark alley, that is the sign that leads me on to Tsuzamen, a home for music, a place of wonder and discovery. Red Okra Stringband are: Yarin Swid – vocals and banjo, Adam Uriel Burstein – mandolin and harmonica, Gil Hillman – acoustic guitar, Amitay Feist – percussion. They have been playing together for a year or so, working on original songs by Yarin Swid, and the show on March 4, 2019, was just their second live performance, following their debut at Robin Food in Haifa on January 24, 2019. On this night they were joined by Yuval Gur on an exotic looking violin.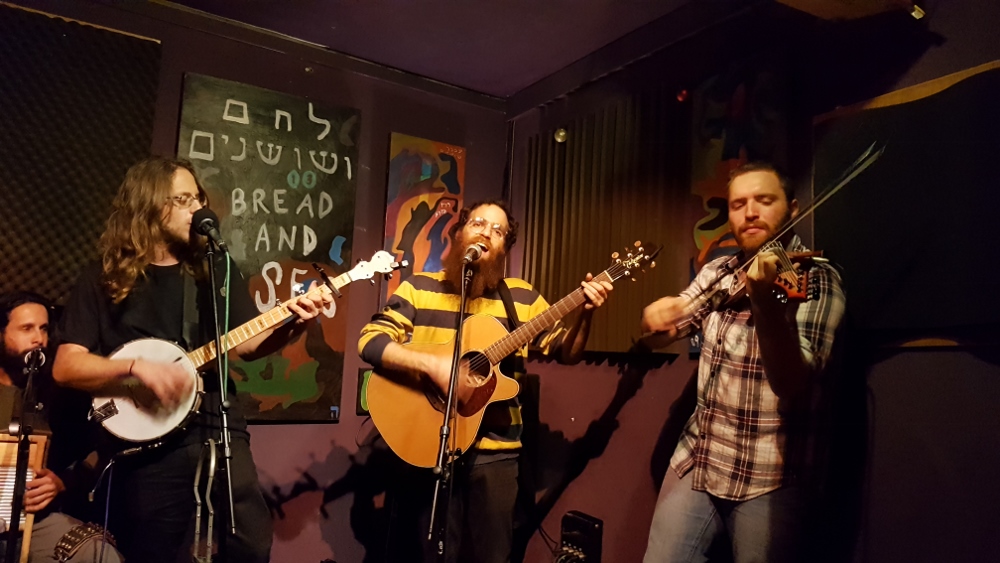 They've recorded one song so far – Getting Stoned.
,Red Okra Stringband set the night ablaze from the first notes, with songs in English and Hebrew, shaped from the life, land, visions, scents and sounds of this place, played with scintillating radiance on instruments associated with Bluegrass, folk and country music, as reflected in their sound, with touches of Irish folk. The songs have the timeless feel of music that comes from hard times, days when people would come home from a day's work in the fields, in the mines and in the factories, limbs aching, hearts weary; the songs would lift their spirits and they would kick up their heels and dance. Wandering songs that traveled from Ireland to the mountains of Appalachia. Yet the songs of Red Okra Stringband are of this moment, on the crossroads where past meets present. Here, where as far as you can go is never very far, yet it can feel just as vast and solitary. Songs of a red sun, dreams and smoke, the rough spirit of rock hewn by the wind, the solitary dreamer following the path of a dry river bed, sweet scent of weed in the air.
There is a visceral energy to Red Okra Stringband, something free-spirited, deep, and wild. The warm, soulful rapport between the musicians generates an intimate, lively connection with the listener. When they finished their set at Tsuzamen, we did not want to let them go.
It's so rare and wonderful to hear a band for the first time and feel that sense of discovery and exhilaration, traveling to an unknown place that feels like home. Red Okra Stringband I am looking forward to more.

Future performances:
Banjo & Blues Festival, Friday, April 5, 2019. Mike's Place Herzliya (Abba Eben 10) at 13:30, link to facebook event.
Links: Red Okra String Band facebook, YouTube
On Okra: Okra, like jazz, has its roots in Africa, and is popular in the South, as well as the Middle East, where it is known as bamya. Red Okra is a variant found in the United States, with a bright magenta red color.