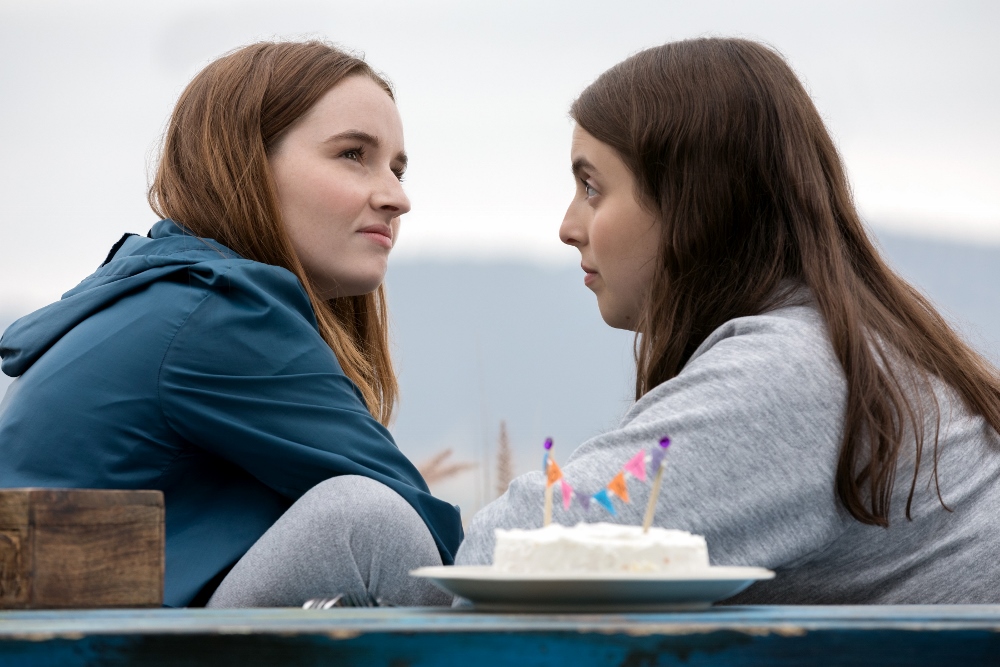 Booksmart, Olivia Wilde's debut feature, is just as hilarious as it is smart. Feminist and sex positive, this high school comedy explores and explodes the mythic status of traditional genre stereotypes in a fast-paced, colorful, utterly wacky film that is laugh-out-loud funny.
The last day of high school finds best friends and hyperdrive overachievers Amy (Kaitlyn Dever) and Molly (Beanie Feldstein) looking forward to brilliant futures: Yale for Molly, and volunteering over the summer in Botswana for activist Amy. They've worked hard, suffered and sacrificed over the past four years, giving up the passing pleasures of youth for the sake of SAT scores. But it was all worthwhile. Or was it?
A chance conversation makes Molly realize that there is more than one way to get through high school, and that one does not necessarily have to choose between having fun and having a future. Since this is a high school comedy, naturally Molly and Amy decide that they have one more night, the last official night of high school, to revise this chapter of their lives and, as Molly says: "We're going to change our stories forever." Because ultimately, we all know that the memory of high school is far more powerful than the experience itself. Somewhat less enthusiastic, Amy asks: "What if we get in trouble?" To which Molly confidently replies, "We're much too smart for that." Mayhem ensues.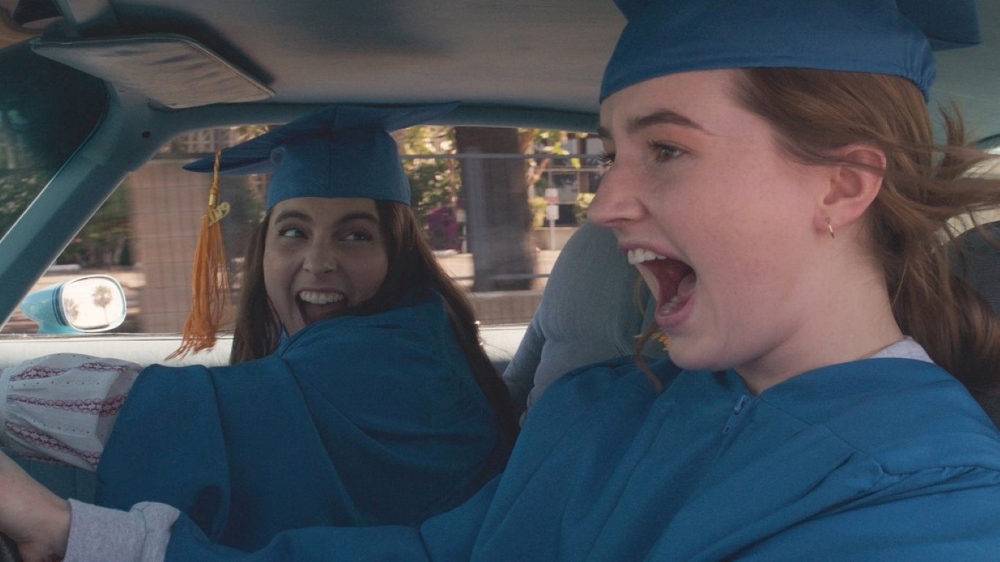 It is a signature move of this film to note that there is more than one way to look at people and situations; people are not always as simple or one-dimensional as they seem.  Yes, Amy and Molly are bookish nerds, but yes, they are also fun. It's just that no one beyond their dyad knows that. There are wonderful scenes as they do their friend stuff – dancing, over-the-top extravagant compliments on their outfits, and some very open, deep, and comic conversations. Best of all – they don't always agree. And they talk about it!
One of my favorite thematic threads that runs through the film is that of Annabelle (Molly Gordon), or Triple A, as she is known by some, because she offered "roadside assistance" to three guys. When Molly refers to Annabelle by this epithet, Amy calls her on it, pointing out that they guys were involved in the same activity yet did not get shaming nicknames. When Triple A shows up later on that night, an encounter with Molly hovers on the brink of heart-warming sentimentality, then veers away to show a wider, fuller image that acknowledges the complexity of human character, behavior and potential. It's also really funny.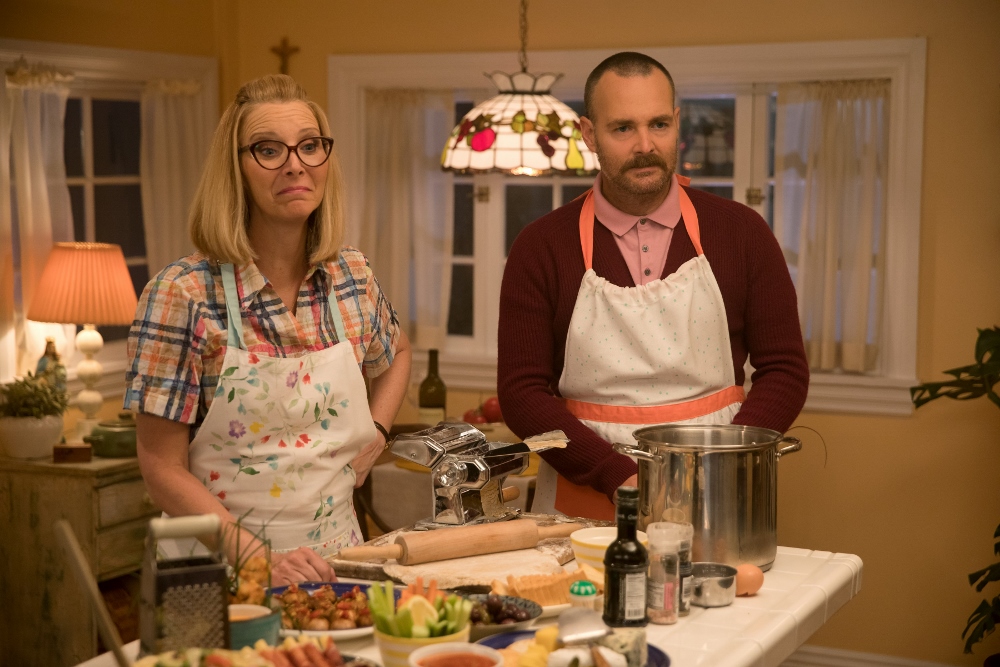 There are so many terrific scenes in this film! Even when some predictable things go wrong, the development is wacky and fresh, as in the trippy stop-motion scene at the party that takes on issues of body image and the allure of a certain popular doll. Lisa Kudrow and Will Forte are adorable as Amy's over-understanding parents, Jason Sudeikis is charmingly clueless as the underpaid and perhaps not coincidentally under-motivated school principal, and Jessica Williams is the cool teacher who does the Thursday New York Times crossword in just over 7 minutes (I'm impressed!). Practically stealing the show is Billie Lourd, outrageous and captivating as the enigmatic rich girl Gigi.
I am thrilled that Amy is an out lesbian who is not at all conflicted about her sexuality. She has issues – shyness, and a related fear of confrontations, to name two – but her sexuality isn't one of them. I'm also over-the-top delighted that romance, kisses and secret crushes are in the air (what would high school or life be without them?) but they are not the film's central theme.
Beyond its comic pleasures, Booksmart speaks to the pressures felt by many college-bound high school students in the US. Getting into the school of their choice (or any college) demands fulfilling Herculean academic as well as extracurricular requirements. It's a tight schedule that leaves little or no room for simply living. On a deep level, the film connects to the secret (or not so secret) fear that even if we do everything right, we will not get the life and future we dream of having.
Beanie Feldstein and Kaitlyn Dever really make this film shine. The onscreen chemistry between the two is explosive, giving the intense friendship a very authentic feel. Kaitlyn Dever had a memorable role as Jayden in Short Term 12 (2013), directed by Destin Daniel Cretton.  Here, she expresses the sensitivity and depth of a young woman who is not without her fears, but has the courage to confront them. Beanie Feldstein has experience as a bestie, playing second fiddle to Saiorse Ronan in Greta Gerwig's Lady Bird (2017). She imbues Molly with a vibrant personality and fierce determination, whether she is listening to motivational tapes (voiced by the wonderful Maya Rudolph) – "Stand atop the mountain of your success and look down at everyone's who's ever doubted you — fuck those losers. Fuck them in their stupid fucking faces."  – or playing beer pong. Molly is notoriously single-minded, and that's what makes her so much fun to watch. I've got to love someone who can say: "Why do theatre when you can do debate?"
Booksmart
Director: Olivia Wilde; Screenplay: Katie Silberman, Emily Halpern, Sarah Haskins, Susanna Fogel; Cinematography: Jason McCormick; Editors: Jamie Gross, Brent White; Music: Dan "The Automator" Nakamura; Cast: Kaitlyn Dever, Beanie Feldstein, Jessica Williams, Jason Sudeikis, Will Forte, Lisa Kudrow, Austin Crute, Eduardo Franco, Noah Galvin, Skyler Gisondo, Mason Gooding, Molly Gordon, Nico Hiraga, Diana Silvers.