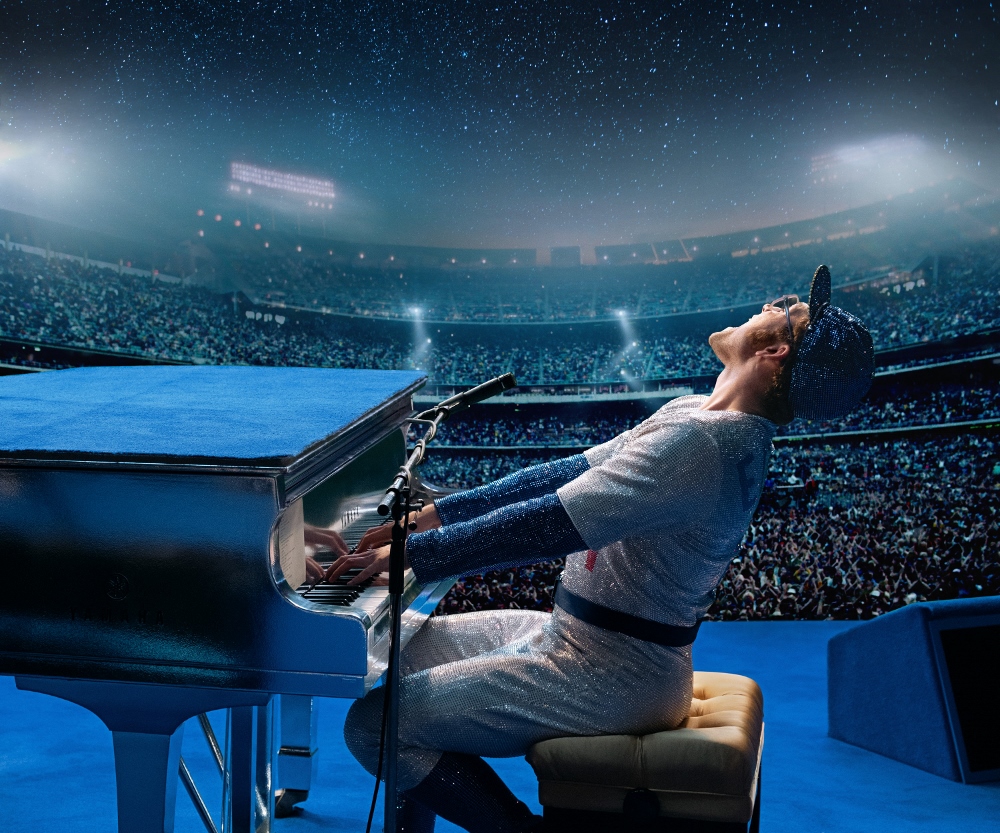 We have lift-off! Rocketman soars! The transformation of Reggie Dwight from a shy boy looking for love, to a rock superstar is a fairy tale that captures the magic of Elton John's music. Yet like the best of fairy tales, this biopic tells of the dark as well as the light. Director Dexter Fletcher (who took over from Bryan Singer on Bohemian Rhapsody) and screenwriter Lee Hall have created a fantasy with a terrific soundtrack, full of poignant moments and feel-good vibes.
Rocketman opens with drama: Elton John (Taron Edgerton) strides down a dark hall clad in shining orange with twisty red devil's horns, red-feathered wings and rhinestones galore to join an AA meeting. Rattling off his list (alcohol, cocaine, sex, bulimia, anger management and oh yes, he's also a shopaholic) he's practically boasting, flashing an impish smile, flippant demeanor, and saying, " My dealer was out of town I thought this seemed like a good alternative." He's definitely got one's attention. Working within the frame of these group sessions, his story is told from a first-person perspective that invites the viewer's emotional connection. Flashbacks on different scenes unfold in a subjective, surreal style as a musical, with songs from the Elton John repertoire re-imagined and associated with the episodes of his life. In terms of genre, what could be more logical than to make a music biopic that is a musical? It works superbly.
While Taron Edgerton does not exactly resemble Elton John physically (although his natural hairline was altered for the film), he embodies the role fully (even singing), conveying the flamboyant, charismatic flair, and emotional vulnerability with very relatable charm. One of the most touching narrative threads in the film is the depiction of Elton John's long-standing writing partnership and friendship with lyricist Bernie Taupin (Jamie Bell). From the moment they meet cute, through the struggles to get their songs out into the world and the pressures of success, the relationship is marked by honesty and affection. Jamie Bell brings a sincerity and sweetness to his portrayal of Taupin, whose character is so different from that of Elton John. The onscreen chemistry between the two goes a long way towards conveying the amazing connection that turned out song after song, playing on in the collective consciousness after all these years. I dare you not to mist up when Bernie says "I love you man."
Colorful and energetic as its protagonist, the film reflects Elton John's effervescent onstage personality and his feelings of loneliness and isolation, as well as his remarkable talent and the feelings inspired by the music, in Elton John and in his audience. The songs appear in the film not in chronological order, and not necessarily as part of a concert scene, but rather, as in a musical, conveying emotion, character and narrative themes. When young Reggie studies music scores by flashlight in bed, and conducts an imaginary orchestra while playing Rocket Man on a tiny grand piano, one feels the music and its power to transcend circumstance.  The innovative arrangement of I Want Love, sung in turns by the family members – Reggie, his mother Sheila (Bryce Dallas Howard), father Stanley (Steven Mackintosh) and grandmother Ivy (Gemma Jones) – reflects their individual perspectives and pain. Yet the ultimate over-the-top scene, perfectly precise in its imaginative conception, is the depiction of Elton John's breakthrough performance at the Troubadour in Los Angeles. As he plays Crocodile Rock, clad in a black T shirt with shiny silver stars and white overalls (I really want this outfit!), he levitates, literally lifted up by the music, and the entire audience rises up with him (movie theatre audience too).
Rocketman
Director: Dexter Fletcher; Screenplay: Lee Hall; Cinematography: George Richmond; Editor: Chris Dickens; Music: Matthew Margeson; Cast: Taron Egerton, Jamie Bell, Richard Madden, Gemma Jones, Bryce Dallas Howard, Steven Mackintosh.