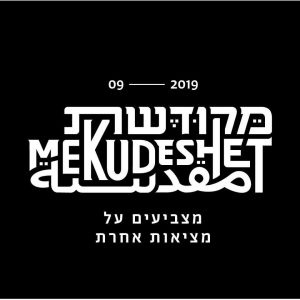 Jerusalem in all its diversity, history, conflicts and controversy, is the inspiration for the unique programming of Mekudeshet, a three-week festival that offers audiences an opportunity to encounter, experience and envision the city in a different way.  Mekudeshet will take place in different venues throughout Jerusalem from September 4 – 21, 2019. Mekudeshet's Executive Director is Naomi Bloch Fortis, and is under the Artistic Direction of Michal Vaknin. Additional information may be found on the Mekudeshet website.
Mekudeshet 2019: Program*
Kulna Club—A tri-lingual taverna for open people from east and west
Following the success of one of Mekudeshet's most ambitious projects, Kulna—a major public performance comprising Arab and Jewish vocalists who performed together with the renowned Jerusalem Orchestra East and West, we are taking the next step this year with a contemporary Jerusalem club on the seamline between East and West Jerusalem. A club that invites people who are open and ready, from both sides of the city, to come, listen, dance and think about what exists and what should exist. Guests will be treated to a rich, unannounced artistic menu with a whiff of underground. Artistic Director: Neta Weiner and Apo Sahagian. Kulna Club will take place from September 4 – 21, at 21:30, at 4 Naomi Street.
Shalem—A symphony for broken instruments
On the seamline between east and west, a newly created orchestra of 100 musicians—amateur and professional, young and old, from throughout Jerusalem—will perform an original score written especially for broken instruments collected from homes, schools and conservatories. In a city that is flooded with friction, battles and raised voices, Shalem will tell a new story of how creativity can foster compassion, connection and harmony even, and perhaps especially, out of what has been fractured. Artistic Director: Emmanuel Witzthum
Music Director: Emmanuel Witzthum and Tom Cohen. Shalem will take place on September 12, at 19:00 and 21:30, in Gan Mitchell, next to Hutzot HaYotzer.
Window Stories—A massive installation that offers new perspectives
Nobody embodies the city's tradition of independent and innovative artistic activism more than Yoram Amir—artist, revolutionary, preservationist, wedding photographer, and mentor—who has dedicated his personal and professional life to battling the moral and aesthetic challenges of modern architecture in an ancient, sacred city. Just before his death, Amir joined forces with Mekudeshet and the artistic duo Itamar Paloge and Lila Peleg to create a massive, towering sculpture out of 550 old Jerusalem windows from Amir's prized collection, which were rescued from condemned or abandoned buildings that span the city's history, religions and diverse populations. The event will include a half-day festival, New Orleans style, a podcast and a video artwork that tell and show the story of this unique form of activism. Window Stories will be on view 24/7 at Gan HaSus, from September 7 – 21.
Dissolving Boundaries— All-new journeys into Jerusalem's unknown
A doco-performative event, now in its fourth year, that invites audiences to step out of their comfort zone and into the lives of Jerusalem's boundary dissolvers, individuals whose identities traverse lines of right and left, religious and secular, east and west, Palestinian and Israeli. Part theatrical and part documentary, this artistic experience zigzags across the city's seen and unseen boundaries to bring you face to face with novel thinking and modes of action that could lead to breakthroughs on issues that resonate far beyond the boundaries of the city. Artistic Direction: Moran Aviv Dvir, Content Production: Rony Ohad, Doron Gallia. Dissolving Boundaries will take place from September 4 – 20, 2019.
Blindsight—A power restoring ceremony with closed eyes (and open ears)
A power-infusing ceremony for multiple participants constructed out of a humorous and captivating playlist. The all-encompassing production proposes a new way to listen to, draw strength and experience joy through music. For approximately one-and-a-half hours, the voices, songs and music that are played by members of the choir on instruments that have been created especially for the performance, wrap themselves around the audience and lead them into a fantastic world. Participants are invited to walk, sit and to lie on the ground as their perception of their surroundings is reduced to touch and sound. Concept, Artistic Director, and Music: Noam Enbar. Blindsight will take place September 16 – 18, at 18:00 and 21:00, in the Jerusalem Forest.
Taking Sides
Artist, Adam Yekutieli a.k.a. Know Hope is joining forces with Mekudeshet 2019 as part of his ongoing series of pieces first started in London in 2013, "Taking Sides," which aims to examine the concept of territory and the notion of adopting a stance through a visual, site specific intervention. Yekutieli will draw on Mekudeshet's in-depth knowledge of Jerusalem to select nine high-traffic spaces in which he will draw a line (on the sidewalk) between geographical, social, political and spiritual seamlines together with words/phrases that evoke these divisions and the space's complexity. The artistic actions and their impact on passers-by will also be filmed and documented.
23 Hours in the Tower—A celebration of sacred sounds
Mekudeshet's annual music program explores the innate power of sacred music to create a common and socially cohesive language. The program, which spans 23 hours and brings the curtain down with a special sunrise concert and closing celebration, also includes one of the most beloved traditions of Mekudeshet—Night Stroll. A white night event that pays tribute to deep-rooted musical genres through a unique blend of seemingly incongruous musical strands, new and old, traditional and electronic, local and international, which are weaved into developing musical trends in East and West Jerusalem. Events will take place at the Tower of David, beginning on September 19 at 18:30 with Orchestra Baobab; 21:15 Johnny Clarke and SISTA in Reggae; 23:59 Night Stroll; continuing through the night into September 20 at 04:30 Shlomi Shaban and Itamar Doari host Shuli Rand; 15:00 Ari's Guitar – tribute to Aris San.
*Information and texts provided by the Mekudeshet team.