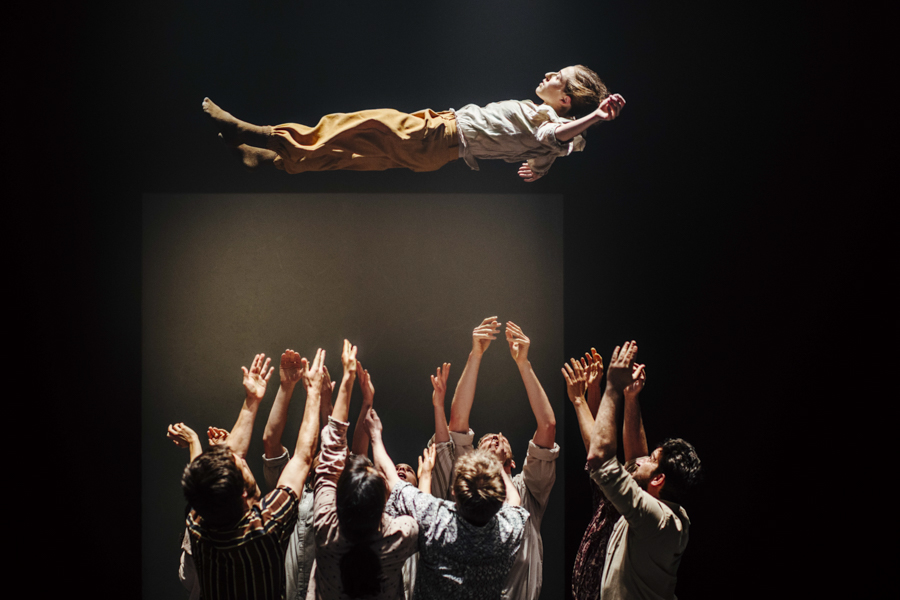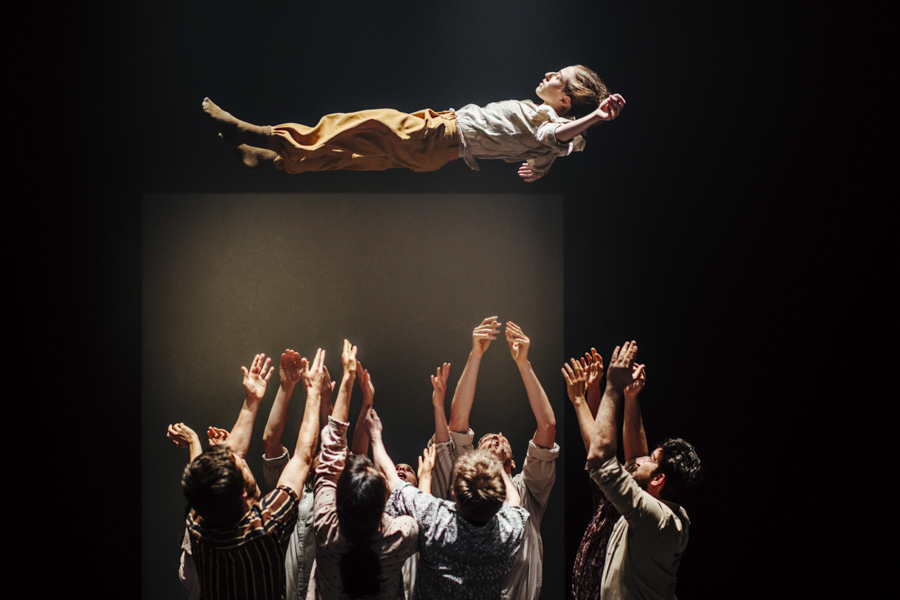 The Hofesh Shechter Company returns to Israel with the choreographer's latest dance work – Grand Finale, with four shows from November 27 – 30, 2019 at the Israeli Opera as part of their dance season program, and in the context of the London in Tel Aviv Festival (LDN in TLV). A work for 10 dancers, it is set to an original score composed by Shechter and played live onstage by an ensemble of 5 musicians.
Grand Finale reflects the energies that Shechter's choreography is known for, depicting a world onstage that is often dark, yet spiked with humor.  A hint of the work's sensibility may be found in a comment of Shechter's (on the Hofesh Shechter Company website) about the process of his work with the dancers, among other discussions and sources of inspiration, the company all watched the film Swiss Army Man, about a man marooned on an island who forms an unusual relationship with a dead body. Dark, strange, and funny.  The title itself, as chosen by a young choreographer in the prime of his creative career, indicates, along with a reflection on death and endings, a certain playfulness. Grand Finale premiered in Paris in 2017 and has been performed in festivals and prestigious dance venues worldwide.
Hofesh Shechter is considered one of the leading choreographers of contemporary dance. Born in Jerusalem in 1975, he began studying piano at age 5, but his interest in dance led him to studies at the Jerusalem Academy of Music and Dance. During his military service he was a member of the Batsheva Ensemble, graduating to the main company, and dancing in Batsheva for three years, while studying percussion. He moved to Paris to continue his music studies, then in 2002, moved to London where he performed with the Jasmin Vardimon Company. There he created Fragments in 2003, for which he also composed the music. In 2008 he founded the Hofesh Shechter Company. In addition to works created for his own company, such as Uprising, In your rooms, The Art of Not Looking, Shechter has choreographed works for theatre, television and opera, co-directing Gluck's Orphée et Eurydice with John Fulljames at the Royal Opera House, and creating the Tony Award nominated choreography for the Broadway revival of Fiddler on the Roof in 2016. Shechter was awarded an honorary OBE in 2018.

Grand Finale
Choreography and music: Hofesh Shechter; Set and Costumes Design: Tom Scutt; Lighting Design: Tom Visser; Music Collaborators: Nell Catchpole and Yaron Engler; Produced by Hofesh Shechter Company and commissioned by Georgia Rosengarten.
Performances will take place at the Israeli Opera – Tel Aviv Performing Arts Center:
Wednesday, November 27th at 20:00; Thursday, November 28th at 20:00; Friday, November 29th at 13:00; Saturday, November 30th at 20:00.
Ticket prices range from 160NIS – 330NIS. Tickets may be ordered online from the Israeli Opera website.