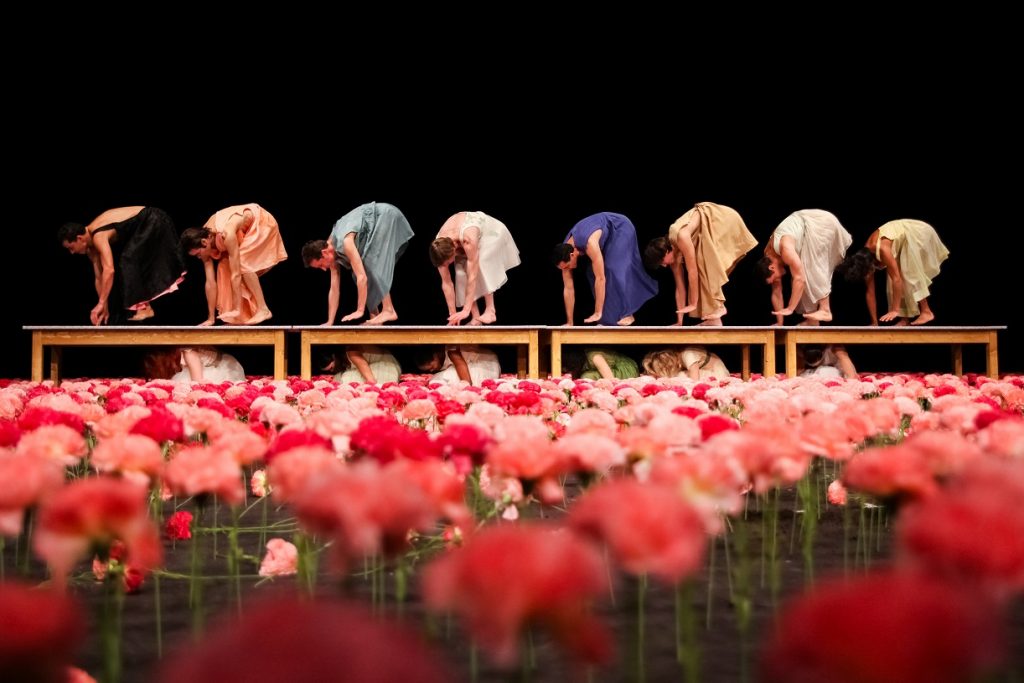 Legendary choreographer Pina Bausch lives on in the sensuality, visceral intelligence, compelling imagery and emotional resonance of her works. Tanztheater Wuppertal Pina Bausch returns to perform in Israel with one of the choreographer's most visually captivating and memorable works, Carnations (Nelken). Performances will take place from October 17 – 23, 2019, once more opening the Israeli Opera dance season.
Carnations (Nelken in German), takes its name from the hundreds of pink carnations that cover the stage in a set design by Peter Pabst. The musical score is eclectic and diverse, including music by Louis Armstrong, Quincy Jones, Sophie Tucker, Franz Lehar, Richard Tauber, and Gershwin's The Man I Love. Bausch brought a revolutionary approach to dance, merging movement, music and speech to create works that are exciting, profoundly moving and thought-provoking. Carnations is composed of different vignettes, suffused with a vivacious energy, humor and a sensitivity to the human psyche, with its dreams, fears, and longing for love. Rather than a traditional narrative arc, the connection between the different scenes is created through the feelings and associations they evoke.
Sensual, imaginative, playful, and a relentless investigator of the human soul, there was no choreographer like the legendary Pina Bausch (1940 – 2009). Her method of developing a new piece, based on improvisation and collaboration with the dancers, bringing each dancer into the life of the work through her conversations with them, and their individual journey into past experiences and emotions, are fascinating to see in action, and fortunately, have been documented in film. Wim Wender's 2011 documentary film Pina captures the brilliance of the choreographer and her company in 3D. Dancing Dreams (2010), a documentary by Anne Linsel and Rainer Hoffman, offers a fascinating look at Bausch's process, as she works with an ensemble of 40 teenage dancers over the course of a year, teaching and developing Contact Zone (Kontakthof) with them. Almodovar featured scenes from Bausch's Café Müller (1978) and Masurca Fogo in the film Talk to Her (2002). In the documentary One Day Pina Asked (1989), Chantal Akerman followed Pina Bausch and her dance company for five weeks while on tour in Germany, Italy and France. The Pina Bausch Foundation was established by her son Salomon Bausch in 2009, to keep her artistic legacy alive. Today, Tanztheater Wuppertal – Pina Bausch, and the dancers, who worked so intensively and intimately with Bausch, carry on her legacy, with a new generation of dancers learning the repertoire. It is a diverse company, with dancers from three generations and 16 different countries.
Carnations performance dates:
Thursday, October 17th at 20:00; Friday, October 18th at 13:00; Saturday, October 19th at 20:00; Monday, October 21st at 20:00; Tuesday, October 22nd at 20:00; Wednesday, October 23rd at 20:00.
Tickets may be ordered online from the Israeli Opera website, or call: 03-6927777.