Connecting people and cultures through music, the Jerusalem International Oud Festival, under the artistic direction of Confederation House Director Effie Benaya, is celebrating its 20th anniversary this year. The festival will take place from November 21 – 30, 2019, with concerts in Jerusalem venues. The festival reflects the presence and influence of Arabic music in Middle Eastern and Mediterranean cultures, and gives audiences the opportunity to become acquainted with the musical traditions and instruments of other cultures.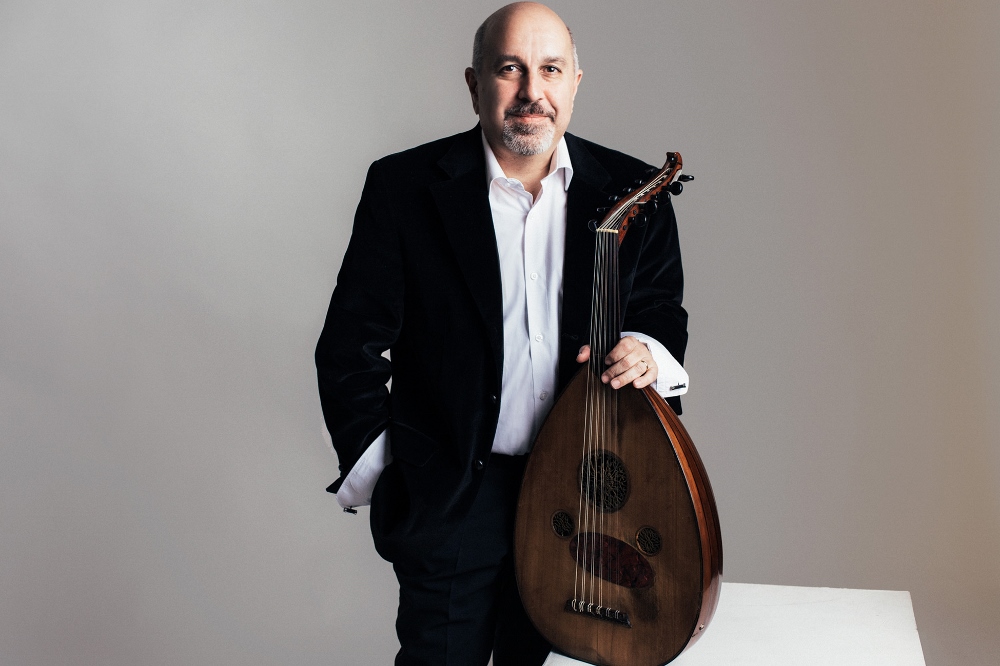 The festival's artistic director, Effie Benaya: "In its 20th year, the Oud Festival remains faithful to its artistic concept. The festival provides a stage for Arab classical and art music, featuring its fascinating interaction with Jewish music in the Land of Israel and its neighbors. In addition, the festival continues to offer Indian classical music to Israeli audiences. In this, its 20th year, the festival brings back its regular and much lauded international participants Ara Dinkjian and Omar Farouk Tekbilek, along with some 160 other international and Israeli artists."
Jerusalem International Oud Festival 2019: Full Program*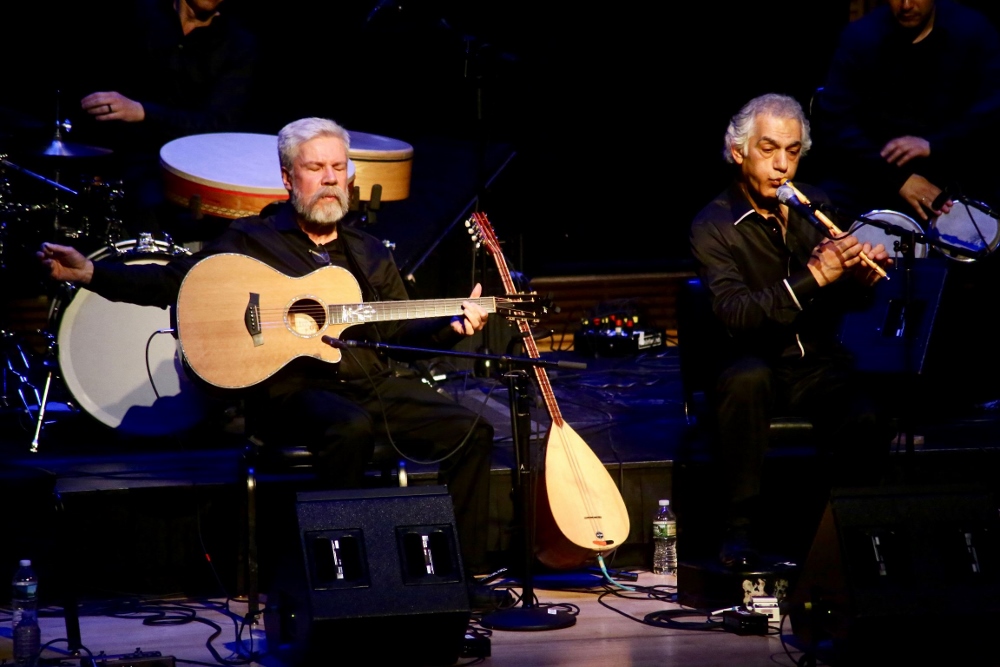 Omar Farouk Tekbilek with Brian Keane and Zara
The opening performance offers an encounter specially created for the festival, with noted Turkish musician Omar Farouk Tekbilek and guitarist Brian Keane, who will be hosting Zara, the Turkish vocalist-actress of Kurdish origin. This is a rare occasion, with Tekbilek and Keane appearing together. Tekbilek and Keane have been working together for thirty years, since Keane produced Tekbilek's first album "Suleyman the Magnificent." They subsequently recorded seven albums together. Tekbilek, one of the greatest world music performers, has worked with Israeli artists including Ofra Haza, Yasmin Levy and with Spanish guitarist Tomatito, always emphasizing the unifying power of music, with disregard for political boundaries. Keane, another highly acclaimed musician, has appeared with Paco de Lucia and Bobby McFerrin, has recorded over 400 soundtracks, has produced more than 150 albums and has been the recipient of countless awards for his melodies.
Omar Farouk Tekbilek, nai, vocals, baglama, zurna; Brian Keane, guitar; Bahadir Şener, qanun; Iannis Dimitriadis, piano, keyboard; Chris Wabish, drums, percussion; Murat Tekbilek, percussion; Kutay Özkan, baglama; Ofer Ziv, Gate Productions, management and production; Gadi Reik, sound technician. Guest vocalist: Zara
Thursday, 21.11.19, Sherover Hall, Jerusalem Theatre
Ara Dinkjian and Burcu Yildiz: Songs of the Armenians
Armenian artist Ara Dinkjian, founder of the Night Ark ensemble, returns to the festival together with Turkish vocalist Burcu Yıldız, in a concert dedicated to songs by Armenian composers. It is unusual to hear a Turkish performer singing Armenian music and the performance will present the rich variety of Armenian vocal traditions, some written in the historic homeland and some in the diaspora, ranging from classical music to folk songs and songs of troubadours, as well as contemporary popular music. These Armenian songs were written by such great Armenian composers as Sayat Nova, Gomidas Vartabed, Udi Hrant Kenkulian and Dinkjian himself. Dinkjian appears as a composer and instrumentalist on Burcu Yıldız's latest album, "O Günler," which was released early this year. Yıldız co-directed (with Onur Gunay) and participated in the documentary film Garod ("longing" in Armenian), about Dinkjian and his father, the musician Onnik Dinkjian. Among the songs by Ara Dinkjian that became hits in Israel is the opening theme of the Hamishiya hakamerit TV comedy series and Ze hazman lisloah performed by Yoav Yitzhak.
Burcu Yıldız, vocals; Ara Dinkjian, oud; Serkan Halili, qanun; Özcan Gül, duduk; Ari Hergel, bass; Zohar Fresco, percussion
Saturday, 23.11.19, 21:00, Henry Crown Hall, Jerusalem Theatre
Leah Avraham: On Bird's Wings
Artist Leah Avraham embarks a journey of song and dance, with her performance "On Bird's Wings," presenting songs and dances from Hogriya in Yemen, as well as Israeli songs. The journey begins in the high mountains of the Hogriya district of southern Yemen, from which she emigrated to Israel as a child. It continues with her role as dancer, creator and vocalist with the Inbal and Batsheva dance companies, and concludes with songs of Israel and Hogriya. Avraham is known for combining the dance traditions of Yemen with modern dance. For many years she researched the heritage of women's song from Yemen and in her performance, presents for the first time songs and dances of women from the Hogriya region. Vocalist Ofer Kalaf and paytan Tom Fogel join her, both descended from Hogriya families, and present Hogriya men's songs sung to the piyyutim of Rabbi Shalom Shabazi. In addition, Avraham will perform some of her most popular works with her friends, vocalist Esti Keinan-Ofri and saxophone player Abatte Barihun.
Lea Avraham, vocals; Tom Fogel, vocals; Ofer Kalaf, vocals; Yarden Erez, oud, violin, Jumbush; David Digmi, percussion; Orian Shukron, piano; Guest artists: Esti Keinan-Ofri, vocals; Abatte Barihun, saxophone
Sunday, 24.11.19, 19:00, Confederation House
 Ethno-Digital: Ittai Binnun
Ittai Binnun launches his new EP, "Ethno Digital" at the festival. Binnun, who was the founder of the AndralaMusia ensemble and was a member of the Joseph and One band, offers contemporary and innovative sounds from ancient musical traditions and ancient instruments. Binnun draws inspiration from the city of Jerusalem and the great cultural and musical diversity there. He creates a timeless modern musical tradition that combines Hassidic, Arabic, Turkish and African music with rock, jazz and western electronic sounds.
Ittai Binnun, nai, clarinet, EWI, computer, electric saz; Netanel Lesser, oud, bass; Ivan Chershnesh, percussion; Guest vocalists: Olga Avigail, Einav Dahari
Sunday, 24.11.19, 21:30, HaMiffal, HaMaaravim 3, Jerusalem
Ilana Eliya: Ahava Beta'anugim
Another new album that will be launched at the festival is Ilana Eliya's "Ahava beta`anugim": piyyutim that she composed from the book Shir yedidut and biblical texts, some of which she composed and some she adapted to Kurdish folk melodies. In addition, Eliya performs songs in Aramaic (the language of Kurdish Jewry) that used to be sung by Jewish women of Kurdistan on the eve of Tisha beAv. The musical production of Yehuda Ashash gives a current interpretation to these traditional piyyutim and songs.
Ilana Eliya, vocals; Eliyahu Digmi, saz, Yehuda Ashash, musical direction, bass guitar; Gil Shapira, guitar; Oren Fried, percussion; Yahela Lachmish, vocals, sound effects; Michal Tamari, vocals, sound effects; guest artist: Yagel Haroush, kamanja, nai
Monday, 25.11.19, 19:00, Leo Model Hall, Gerard Behar Center
Diwan Saz ensemble and Turkish saz master Dr. Okan Murat Öztürk with Mark Eliyahu, Rabbi David Menahem and Itamar Doari
The Oud Festival will host the main performance of the Saz Festival with the Diwan Saz ensemble and Turkish saz master and vocalist Dr. Okan Murat Öztürk and will host Mark Eliyahu, Rabbi David Menachem and Itamar Doari. The performance is dedicated to the ancient and powerful soul melodies of the Turkish Sufi tradition. Diwan Saz delves into Turkish, Central Asian and Middle Eastern folk music traditions, combining the spirit of Sufi playing with Jewish piyyut and the impressive Arabic traditions. Öztürk is one of the greatest scholars on the history of Anatolian music, Ottoman music and the maqamat in Turkish music. This collaboration creates an encounter between diverse cultures, religions and languages and a space for complex and refined musical dialog.
Okan Murat Öztürk, saz; Yohai Barak, saz, baglama, musical management; Amir Shahsar, nai, vocals; Udi Ben Canaan, lyra, saz; Tzipora el Re`i, vocals; Eyal Loman, percussion; Rani Lorentz, bass; Gilad Weiss, kopuz, fretless guitar; Special guests: Mark Eliyahu, kamanja, saz; Rabbi David Menachem, vocals; Itamar Doari, percussion
Monday, 25.11.19, 21:00, Henry Crown Hall, Jerusalem Theatre
Andalusian Tarab: Rabbi Haim Louk and Marouane Hajji
The Jerusalem Tarab for Andalusian Music, directed by violinist Elad Levi, will host this inter-generational encounter between two of the leading artists in the world of Moroccan Andalusian music: Rabbi-paytan Haim Louk, regarded as one of the greatest proponents of North African piyyut in general and Andalusian-Jewish in particular; and Moroccan Marouane Hajji, an expert in Sufi music of the Maghreb and talented performer of the Andalusian genre in Morocco. The Andalusian tarab will be presented in Hebrew and Arabic, together and separately, as was the custom in times past in Morocco.
Haim Louk, vocals; Marouane Hajji, vocals; Elad Levi, violin, musical management; Hai Korkos, vocals, artistic consulting; Ran Erez, rebab; Yohai Cohen, oud, vocals; Uriya Harush, oud; Kobi Asor, violin; Elhanan Friedman, violin; Avraham Mimran, viola; Yogev Levy, nai; Dariya Mosenzon,piano; Gilad Vaknin, mandol; Netanel Ben Shitrit, tar; Hillel Amsalem, darbuka; Dror Tubul, bass
Tuesday, 26.11.19, 21:00, Henry Crown Hall, Jerusalem Theatre
A Tribute to the Great Vocal Artists of Egypt
In honor of Egyptian culture, the festival will hold a tribute to the great vocal artists of Egypt: Um Kalthoum, Abd al-Wahab, Farid al-Atrash, Layla Mourad, Asmahan and Abd al-Halim Hafez. The performance, in cooperation with Professor Taiseer Elias, presents songs that shaped Arabic art music performed by male and female vocalists who became living legends and are admired in Israel. To perform these canonic compositions, Taiseer Elias created a special ensemble with four outstanding soloists, among the most famous in Israel and abroad: Violet Salameh, Ziv Yehezkel, Avi Cohen and Maamun Zayoud. The ensemble presents a wide range of vocal works, all recognized as essentials of Arabic classical music along with improvisational segments.
Taiseer Elias, oud, musical direction; Violet Salameh, vocals; Avi Cohen, vocals; Ziv Yehezkel, vocals; Maamun Zayud, vocals; Sirin Elias, piano; Firas Isami, violin; Samih Toteri, violin; Isa Awwad, qanun; Jamil Bishtawi, nai; Adham Darwish, bass; Aziz Nadaf, riq; Kamel Tayyim, darbuka
Wednesday, 27.11.19, 21:00, Sherover Hall, Jerusalem Theatre
Sitar Master Ustad Shahid Parvez Khan and Queen of Indian Classical Music Begum Parveen Sultana
Performing for the first time in Israel and at the festival are two of India's most outstanding contemporary musicians—sitar master Shahid Parvez and vocalist Parveen Sultana, who has been crowned the "queen of Indian classical music." Ustad Parvez, who will open the instrumental portion of the evening, is the seventh generation of a family of sitar players and studied with his father, Ustad Aziz Khan. Today he is regarded as the finest sitar player in India and has been dubbed "the embodiment of Indian music." His legendary performances have enthralled many audiences around the world. The second half of the evening features vocalist Parveen Sultana, "the supreme soprano," also a scion of a family of musicians. She has performed since the age of 12 and has been featured in numerous Bollywood films. The performance presents the range of her rare voice, moving between meditative  rhythms and moving melodies.
Ustad Shahid Parvez Khan, sitar; Shri Ojas Adhiya, tabla; Parveen Sultana, vocals; Mukundraj Deo, tabla; Shreenivas Acharya, harmonium; Shadaab Sultana Khan, vocal support and tanpura
Thursday, 28.11.19, 20:00, Henry Crown Hall, Jerusalem Theatre
Estudiantina with Alkistis Protopsalti
The festival will close with a festive performance of the Estudiantina, with vocalist Alkistis Protopsalti from Greece. The Estudiantina Neas Ionias, coming to Israel for the first time, is led by santur player Andreas Katzigiannis, who worked with the composer Eleni Karaïndrou and is a close associate of vocalist Giorgos Dalaras. The orchestra, which has accompanied such outstanding vocalists as Maria Farantouri, Eleni Vitali and Giannis Kotsiras, will host the great Greek vocalist Alkistis Protopsalti, known for her work with composers such as Theodorakis, Stavros Xarhakos and Dionysis Savvopoulos. The program presents familiar melodies in original arrangements, moving between the rich sounds and rhythms of ancient Greek musical tradition, the musical motifs of Mediterranean and Balkan lands, contemporary works by Greek composers and ones by members of the orchestra.
Alkistis Protopsalti, vocals; Estodiantina Neas Ionias: Andreas Katzigiannis, musical director, santur, sound effects; Kiriakos Gouventas, violin; Stavros Kouskouridas, clarinet; Nikos Samaras, trumpet, sound effects; Iorgos Tsiatzulis, accordion; Apostolos Valaroutsos, guitar, sound effects; Filipos Retsios, piano, sound effects; Kostas Gedikis, lauta; Kostas Konstantinou, bass; Michalis Meretakis, sound; Andreas Papas, percussion; Areti Tzanetopoulou, lighting, Michalis Alexakis, sound; Konstantina Karapria, stage manager; Bracha Cohen, representative and artistic and production advisor for Greek productions in Israel
Saturday, 30.11.19, 21:00, Sherover Hall, Jerusalem Theatre
Free Performances
The Madrassa: A Living Tradition
The Madrassa Ensemble, directed by Hagai Bilitzky, renews a musical tradition from the Golden Age in Andalusia in Spain. During that period, prior to the expulsion of the Jews from Spain in 1492, Jewish and Muslim poets collaborated. The ensemble comprises some ten young musicians who perform the classical and folk music of Andalusia, using oriental instruments such as the oud, qanun and nai alongside western ones such as saxophone, bassoon and trumpet, in a way that gives this musical tradition a contemporary, rich and expressive sound. The ensemble joined new Hebrew texts to this ancient tradition, while renewing ancient ones in Arabic, faithfully interpreted.
Hagai Bilitzky, musical direction, oud; Dror Tubul, bass; Michael Rosler, bassoon; Sarah Neviim Cohen, trumpet; Idan Salomon, soprano saxophone; Nir Armon, alto saxophone, Shiqma Jivan, flute; Hanani Zeit, nai; Orian Shukron, piano; Nadav Friedman, tar; Avraham Neviim, darbuka; Sharon Avivi, qanun; Shir Wechsler, oud; Ido Kadosh, guitar; Belkis Halabi, oud, vocals; Noam Tabib, vocals
Free entrance on the basis of available space
Thursday, 21.11.19, 19:00, Foyer, Jerusalem Theatre
Oud Youth: Recitals for Solo Oud Hosted by Samir Makhoul
Young oud students from the Zeryab Conservatory of Music in Nazareth, under the direction of gifted musician and oud player Samir Makhoul, will be hosted by the Oud Festival and will present brief recitals for solo oud that include songs from Arabic folklore and improvisations on classical Arabic maqamat and scales, as well as contemporary works.
Nur Shahbari, oud; Badia Sayej, oud; Ayas Taha, oud; Basil Safiya, oud
Free entrance on the basis of available space
Friday, 29.11.19, 10:30-15:00, Te'enim Restaurant, Confederation House
Young Classics: The Department of Eastern Music at the Jerusalem Academy of Music and Dance
The future generation of eastern art music—outstanding students from the Department of Eastern Music at the Jerusalem Academy of Music and Dance—will present works from the Arabic classical repertoire alongside original contemporary works. These compositions demand deep awareness of Arabic classical tradition and style, but also require an element of freshness and innovation in performance. The musical journey of these outstanding students will begin with the great Egyptian composers, such as Muhammad Abd al-Wahab and Muhammad al-Qasabgi, continuing with works from Turkey, and will conclude with works by contemporary local masters such as Naseem Dakwar, and fascinating original works by department students and graduates.
Andre Jubran, violin; Elias Hadob, oud; Yusuf Zuabi, oud; Musa Abbasi, oud; Lior Nagan, bass; Ward Musa, vocals; Jihan Daniel, vocals; Guest: Lev Elman, percussion
Free entrance on the basis of available space
Saturday, 30.11.19, 19:00, Foyer, Jerusalem Theatre
The Jerusalem International Oud Festival is made possible by the Ministry of Culture and Sport—Culture Authority; Jerusalem Municipality—Cultural Department; Ministry of Foreign Affairs—Department for Cultural and Scientific Contacts; and the Reuven Ella Group
Ticket prices range from 80 NIS – 250 NIS, and may be ordered online from Bimot or call 02-6237000/*6226. For additional information contact Confederation House: 02-6245206 ext. 4. Links: Confederation House website ; facebook page.
*Information and texts were provided by Confederation House