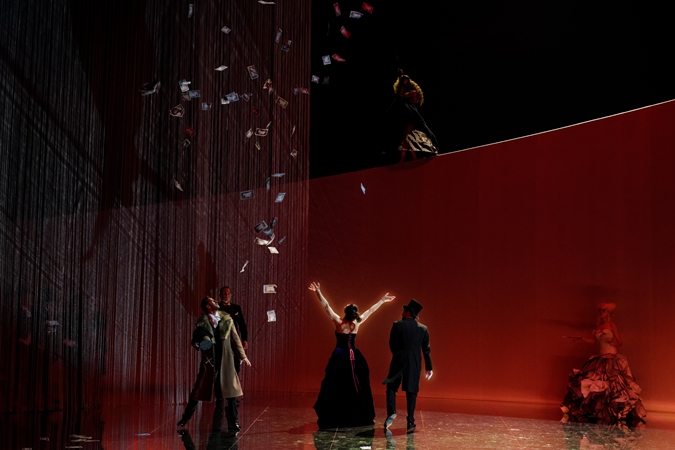 Would you rather have love or money?
 Manon is a girl who faces that dilemma. She's on her way to a convent when she meets a chivalrous young man, Des Grieux, and they run away together. It's all very romantic until their families start to intervene, his father telling him to stop fooling around and start making legitimate heirs, and her cousin telling her to stop living in sin while also introducing a safer and richer alternative husband.
Will Manon choose true love or diamonds and furs?
Find out next month at the Israel Opera, which is kicking off an exciting 2019-2020 season with Massenet's opera based on the novel by Abbé Prévost. This is a new production directed by Vincent Boussard, a prolific director of romantic operas, and it was performed at the San Francisco Opera before making its way here, so we have high hopes for it. Boussard is also the costume designer.
The voices we'll hear are mostly out-of-towners. Ekaterina Bakanova and Ho Yoon Chung both sang here last year and return to sing Manon and des Grieux respectively. Simona Mihai is a Covent Garden regular who will share the role of Manon. We're curious to hear Leonardo Caimi in his Israel Opera debut as de Grieux. Several exceptionally talented Israeli singers fill in the smaller roles (we'd love to hear them in the main roles someday, hint hint Israel Opera): Eitan Drori, Yael Levita, Oded Reich, and more.
As always, the Israel Opera offers a few creative and fun ways for you to really make the most of your opera-going experience. Explore the heart of the opera house by taking a backstage tour, offered on some nights for 25 shekels (book in advance). Half an hour before the show, grab a quick 30-minute lecture, or stay for post-performance Opera Talkbacks for a Q&A session with the singers, offered on select nights.
What else makes the new opera season so exciting? Well, we think it's mostly the two new or new-ish operas that will be performed later in the season: Yoni Rechter's Israeli opera Shitz (it'll leave you in stitches) and Jake Heggie's American classic Dead Man Walking, a co-production with the Atlanta Opera.
Manon opens Thursday, November 7, 2019 at the Israeli Opera. For more details, check out the Israeli Opera website.