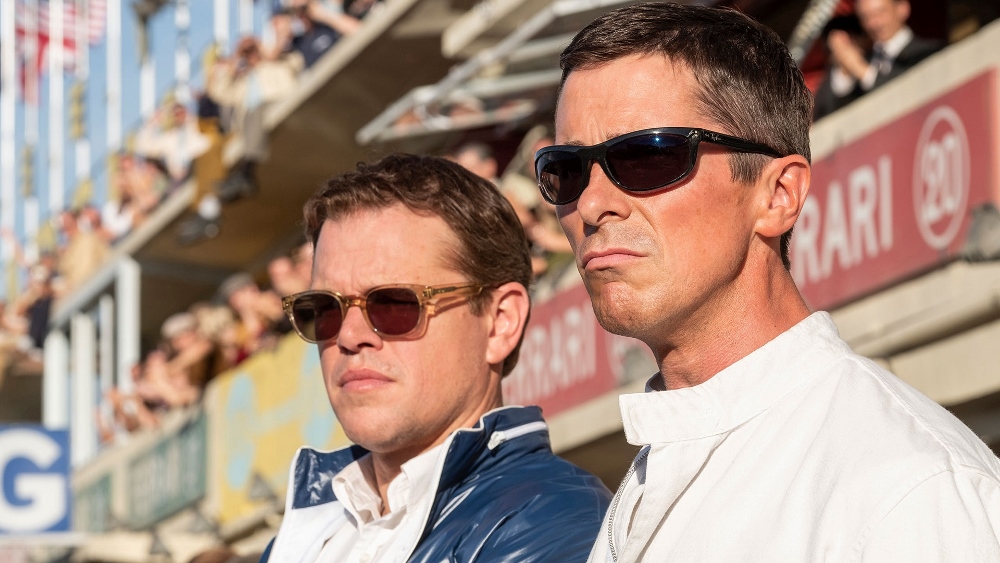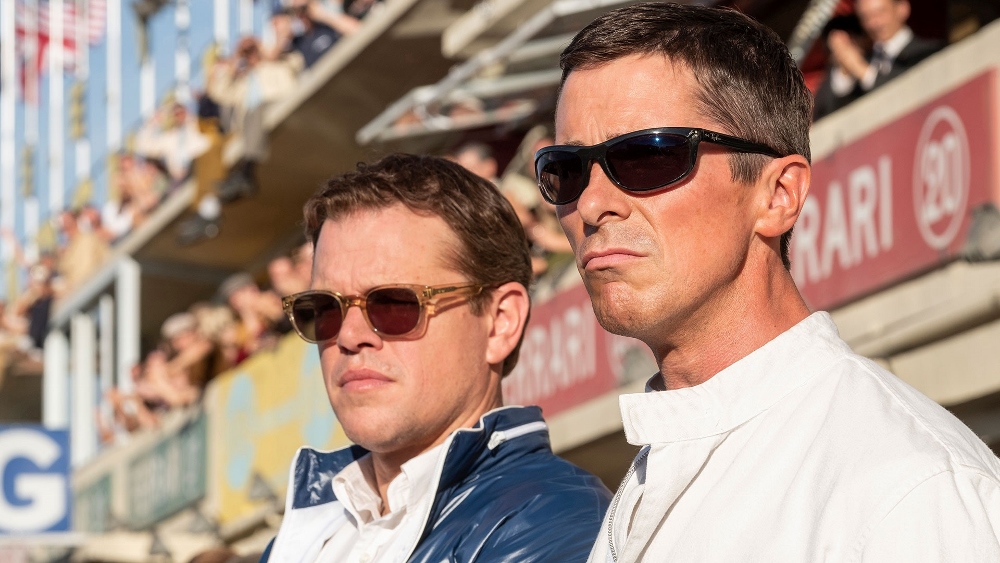 Speed, thrills, and sleek design drive Ford v Ferrari, yet it is as much a film about masculinity, friendship and creativity, as it is about racing. Directed by James Mangold (Walk the Line) the film is based on the true story of American car designer Carroll Shelby (Matt Damon) and British race car driver Ken Miles (Christian Bale) who work together to create an extraordinary race car for the Ford Motor Company, with the aim of surpassing the cars of Enzo Ferrari in the 24 Hours of Le Mans endurance race in France, in 1966. Lively and suspenseful, the film is distinguished by vivid characters and strong performances.
Carroll Shelby had already won the grueling 24 Hours of Le Mans in 1959, driving an Aston Martin DBR1 (co-driving with Roy Salvadori) to beat Ferrari in the race. In a tight, tense scene the film conveys the dangers and allure of the race, the physical and psychological endurance necessary to even attempt such a feat. However, due to heart problems Shelby had to retire from racing immediately afterwards. Damon excels in conveying the stoic masculinity and solid competence of Shelby, driven by a hidden fire in the belly, destined to channel his love of racing into design. Christian Bale portrays Ken Miles as a tempestuous foil to the Shelby's good-natured Texan calm.
Inspired by true events and characters, the film takes some liberties to create a compelling drama, for example, Ken Miles did participate in the 1965 24 Hours of Le Mans. But in the context of a feature (as opposed to a documentary biography) these details are not significant. At its core is the theme of man in pursuit of a dream, the desire to be the best. Tracy Letts is fun to watch as Henry Ford II, trying to live up to the family name, and prove himself as great a man as his grandfather. His rival, Enzo Ferrari (Remo Girone), appears only briefly in the film, yet provides a strong presence representing a different world view, one that emphasizes quality and craftsmanship. The impact of WWII on a generation of men who went to war while not explicitly emphasized, may be discerned as an influence on both men. Shelby's education was curtailed by the war, and he served as a flight instructor and test pilot, while the British Miles was a tank commander.  Considering their experiences in the war goes a long way towards understanding their willingness to confront death on the race track.
Caitrona Balfe plays Miles' super-supportive wife Mollie with flair, yet the degree to which she stands by her man, never really questioning his devotion to a pursuit that puts his life at risk, strains credibility. Or is it perhaps just a reminder that gender roles have come a long way since the 60s. It's Noah Jupe's portrayal of Miles' son Peter that really tugs at the heart-strings. Excited by racing – his eyes sparkle when Dad invites him to hop in the car after winning Willow Springs – he worships his mercurial father, yet is just as open and direct about expressing his fears.
By far the most fun, moving and exciting aspect of the film (well, other than the racing scenes, which are terrific) is the friendship and creative partnership of Shelby and Miles. Dreamers and doers, their passion to design and build the fastest possible car is contagious. The film pits their imagination and engineering expertise against the stodgy corporation machine of Ford executives, with a deliciously malicious Josh Lucas as lead meanie Leo Beebe. The clashes between these contrasting world views provide much of the drama and humor of the film. It all comes to a cruel and comic crescendo in one of my favorite scenes when Shelby takes Henry Ford II for a ride, reducing the motor magnate to a weepy mess, muttering "I had no idea." Many of us, with no inclination to risk our lives for the experience of speed also have "no idea" of what that might be like, but Ford v Ferrari offers us a glimmer.
Ford v Ferrari
Director: James Mangold; Screenplay: Jez Butterworth, John-Henry Butterworth and Jason Keller; Cinematography: Phedon Papamichael; Editors: Michael McCusker, Andrew Buckland; Music: Marco Beltrami, Buck Sanders; Cast: Matt Damon, Christian Bale, Jon Bernthal, Caitrona Balfe, Tracy Letts, Josh Lucas, Noah Jupe, Remo Girone