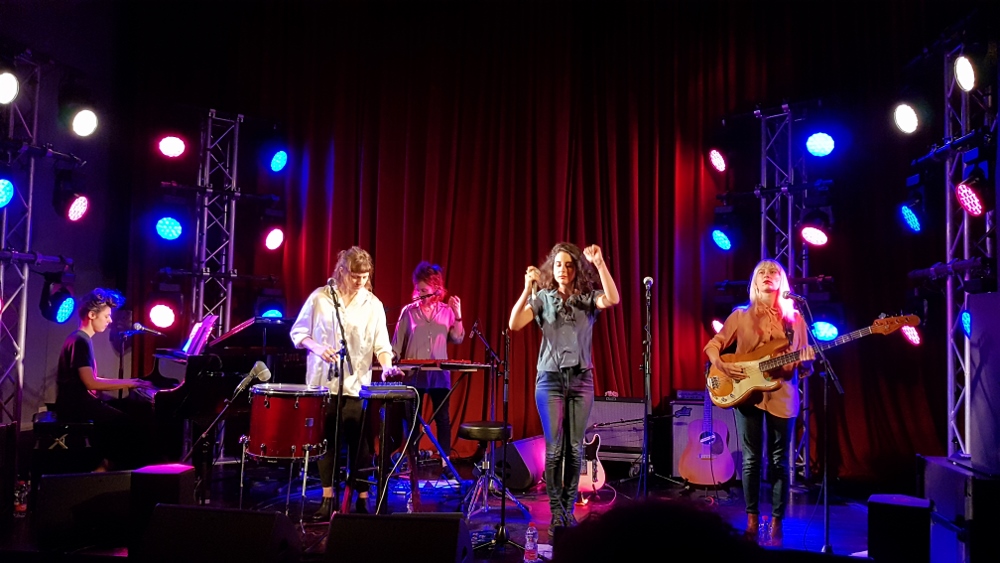 Hamsa is the image of an open hand, the Middle Eastern amulet that protects against the evil eye. It's also the very apt name five musicians gave to their terrific joint performance Friday, November 15, 2019, at the Piano Festival, because as independent artists, they live by the five fingers of their hands. Rotem Frimer (Bijoux), Yasmin Raviv (Kiki Malinki), Omer Moscovich, Avigail Koevary and Noam Sadan (Nomke) – all singer-songwriters, each bringing her individual voice and original compositions to a unique, impressive and really fun performance with a powerful onstage presence. The afternoon session included a selection of songs by all the artists in arrangements created for the festival, as they elegantly switched positions and roles on the intimate stage of the Kaufman concert hall, in a unique show musically directed by Rotem Frimer.
The performance was the initiative of Nomke, who thought that it would be interesting for the five (who don't typically work together, or even necessarily all know one another personally) to showcase their songs collectively. Although they said it was a one-time thing, the outcome was fantastic, and I (as well as lots of people murmuring around me in the audience) hope they do it again sometime. In the meantime, you can follow each individually – I've included links below.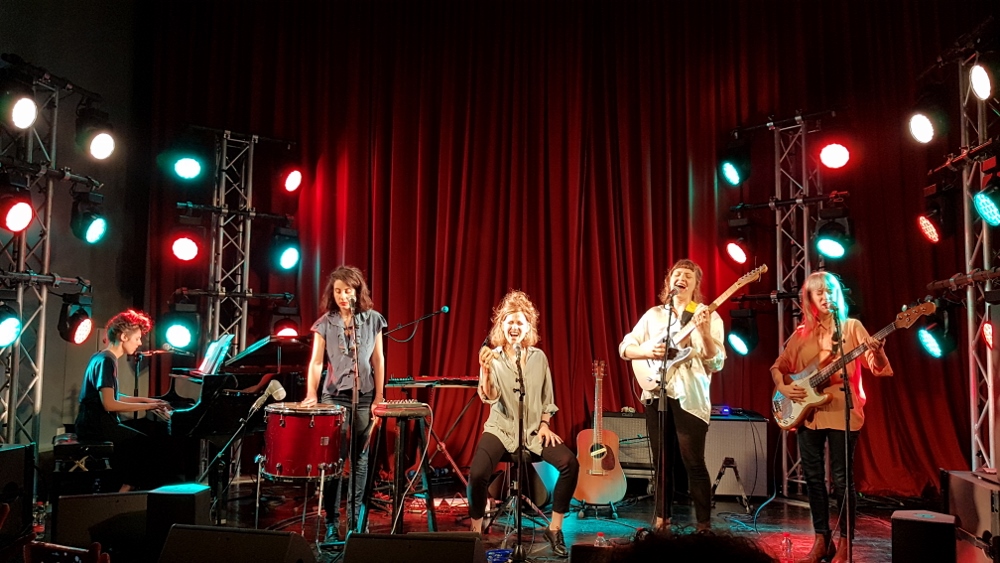 Rotem Frimer opened the concert at the piano, singing the tender lament My Dog, with its touching images: "when we were young we used to sleep in your bed…" Taking the mood to a different kind of relationship was Yasmine Raviv with Di (Hebrew for "enough"), detailing the doubts and pain, and wondering "when will I say 'enough'?" (all rough translations of lyrics mine). Avigail Koevary sang in Hebrew of an innocent young religious girl and the impact of finding her brother's hidden dirty magazines: "I saw too many women feeling bad."
Meta, clever, and powerful, Omer Moskovich's spoken-word infused Oman Tov (A Good Artist) doesn't spare any punches as it recounts the attributes of a good artist: "a good artist understands the politics of the industry/a good artist is not a political artist". In Nomke's Ended (by the morning) – "I think I lost all my lovers/they were gone when I opened my eyes" any trace of sentimentality is cut by the force of her dead-pan delivery contrasting with her ethereal voice.
Love, disappointment, and four-legged creatures all appeared at least once more in different songs, as well as Yasmine Raviv's reflection on the ones who wait while others go to reserve military duty and Avigail Koevary's reminiscences on walks in the forest and the air of Jerusalem. The social commentary of Omer Moscovich's Join the Club, received a special arrangement for the concert, with Omer accompanying herself on the grand piano. Rotem Frimer's Kavim Makbilim (parallel lines), an enticing dark love song, defies geometry, while Nomke's Kama Pa'amim (how many times) is a cheerful sounding song that reflects on the potential for misinterpreting relationship reality.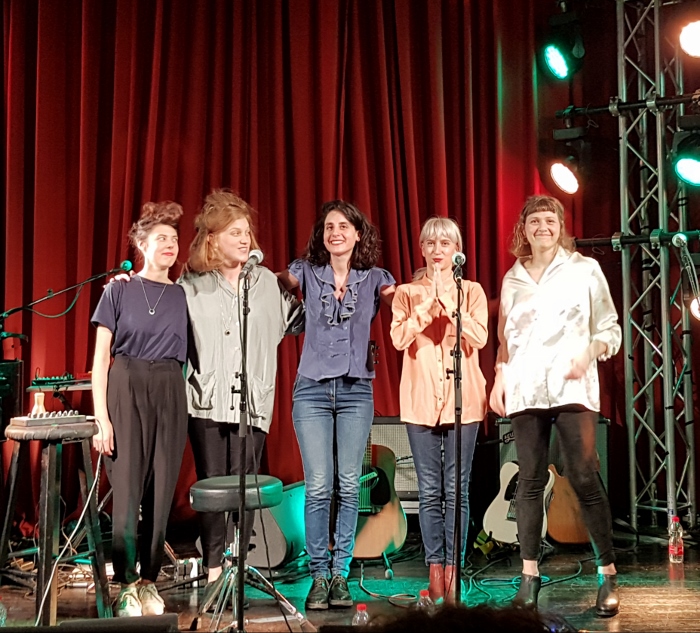 Honest and intimate, rhythmic, defiant, cynical, moving and fun, the songs reflected the talents of these musicians – each with their distinctive perspective. Onstage were: Rotem Frimer (Bijoux) – vocals, guitar, bass, piano, keyboards; Yasmin Raviv (Kiki Malinki) – vocals, guitar, piano, keyboards; Omer Moskovich – vocals, guitar, keyboards; Avigail Koevary – vocals, guitar; Noam Sadan (Nomke) – vocals, guitar, bass.
I recommend following and listening:
Rotem Frimer (Bijoux) – https://www.facebook.com/iamthebijoux/
Yasmin Raviv (Kiki Malinki) – https://www.facebook.com/KikiMalinki/
Omer Moskovich – https://www.facebook.com/omermoskovichpage
Avigail Koevary –https://www.face book.com/koevaryA/
Noam Sadan (Nomke) – https://www.facebook.com/nomke/