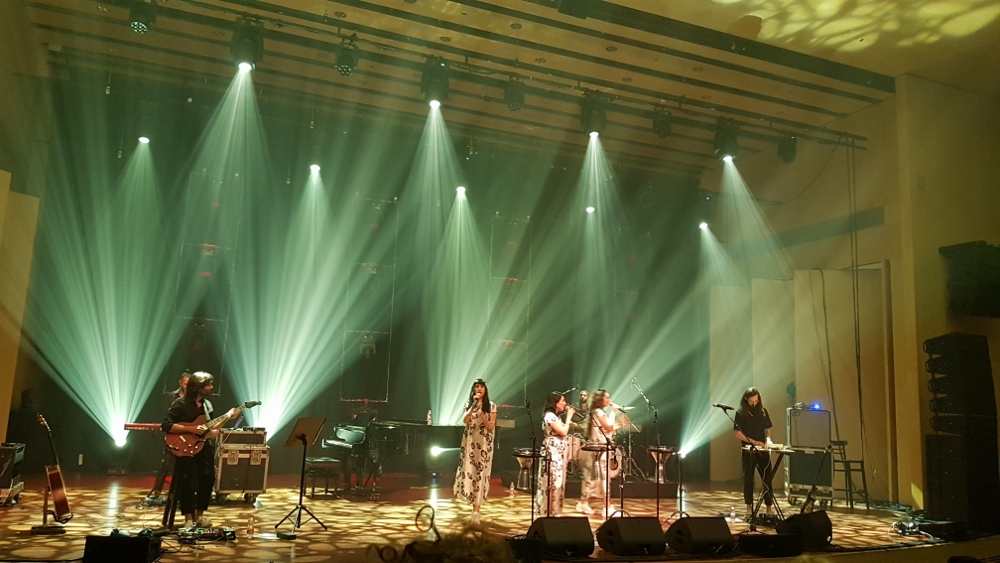 Bold and beautiful, the Yemenite groove of A-WA – sisters Tair, Liron, and Tagel Haim, was an exhilarating experience at the Piano Festival, bringing a concert hall full of people up on their feet dancing, clapping, and singing along, creating a feeling of community. Taking the traditional songs of the Yemenite Jewish community to contemporary interpretations, with mesmerizing harmonies merging with hip hop beats and electronica, A-WA's sound communicates with the soul through the body, reverberating in the heart. It's cathartic. Their deep connection to the music, songs of their family's heritage heard throughout their childhood, empowers a joyous freedom, and the songs flow. A-WA's music is not a museum piece guarded and preserved, it is tradition alive and moving, ever-changing.
Bayti Fi Rasi (My Home Is In My Head), their latest album, is a journey into their roots, inspired by the life of their great-grandmother. As Tair Haim said at the concert, she was " a strong woman, today you would call her a feminist" and the album is "the soundtrack of her life." The songs tell of her journey from Yemen to Israel as a single mother traveling with her daughter Shama'a. The title "My Home Is In My Head" may also be interpreted as an expression of A-WA's relationship to their musical heritage, it is within them; wherever they go musically, it is always part of their being.
Rising up like a plant growing from the roots, the concert began with Izhar Ben Tov calling up tendrils of delicate Yemenite melodies from the grand piano. Then Tair, Liron and Tagel Haim came out onstage to sing the traditional Ayalat Hen (translation: graceful gazelle), in a lovely three-part harmony a capella. The lyrics were written by Rabbi Shalom Shabazi (1619 – 1720), comparing the love between bride and groom to the love between the people of Israel and the Shekhinah. In the Yemenite Jewish tradition, it is sung to accompany the bridegroom from the synagogue to his home during the seven days of wedding celebrations. As they sang, they began accompanying themselves on the darbuka, with Izhar joining in on the piano and the audience clapping.
Lau Ma Al Mahaba (If Not For Love), from their first album Habib Galibi, reflects the tradition of "women's songs" in Yemen. As Tair explained, the woman is singing about her problematic relationship: "if I didn't love you, I would make you drink poison." The fun, recurring refrain – "la li wa la li nas" with its hip-hop allure, conveys its message with no room for misinterpretation: "if you will not be mine then you will not belong to any other."
Shama'a, the first song in the concert from their album Bayti Fi Rasi, is the name of their grandmother, who passed away this year. Shama'a means candle, and their great-grandmother gave her daughter this name because she was a source of light on their journey to Israel. Like many immigrants, her name was changed when she came to Israel, Shama'a became Shoshana. With this song, the concert rose up from its roots, moving from traditional to contemporary with a wild and wonderful flourish of drums and synth, and Izhar moved from the piano to the keyboard.
As the music reverberated through the concert hall, one by one, people began to dance, and the concert became a party. Dancing to A-WA is a joyous experience, feeling the music surge through your body, as everyone moves to the rhythms. If you go deeper into the lyrics of the songs, there is a whole world of feeling and experiences, taking you back into history and tradition, both individual and collective. Hana Mash Hu Yaman (Here is Not Yemen) tells of their great-grandmother's experiences in coming to Israel, yet it might be the experience of any immigrant coming to any shore: "I came to you a stranger/You saw me as primitive/I came to you fleeing/I saw you as a last resort."
Shai Tsabari and the Haim sisters share a rich heritage of Yemenite folk and liturgical music, each taking the music inscribed in their hearts in different directions. Joining A-WA onstage, Shai said that in listening to their music, he remembers those singers and composers of the past – Bracha Zfira, Nahum Nardi, Shoshana Damari and many more, a family tree of Yemenite music that continues to grow and bloom. When they sing together, Shai's deep, resonant voice merging with A-WA's delicate, textured harmonies, it's tremendous. Together they sang one of the most beautiful songs ever written, Me'alai Dmama by Ahuva Ozeri (1948 – 2016), a love song to music, to love, a prayer – "let me come and go/let me only sing* love." They followed with Rabbi Saadia Gaon's piyyut for Selihot, Avo Bigvurot Adir, that ends with the plea: "Shepard of Israel listen." In this moment, prayer and song are one, dance and devotion are one, past and present are one, and strangers become friends, if only for the duration of a song. Singing Ahuva Ozeri's Emek Haprachim (Valley of Flowers), A-WA and Shai Tsabari were joined by the audience as everyone sang on the chorus.
A-WA led the audience in some group singing on Youm Al Ahad, for a fun and lively chorus of voices, the song ending with the honey sweetness of A-WA, as the audience listened, rapt. Everyone was dancing as the concert continued, standing up at their seats or linking arms and dancing in the aisles. It was an amazing party! The surging talents, warm vibes, and generosity of spirit flowed from the stage, filling the entire concert hall.
Tair, Liron & Tagel Haim – vocals; Iftah Shahaf – guitars; Nitzan Eizenberg – bass & moog; Tal Cohen – drums & percussion; Izhar Ben Tov – piano, keyboard & computer; Musical director – Tair Haim