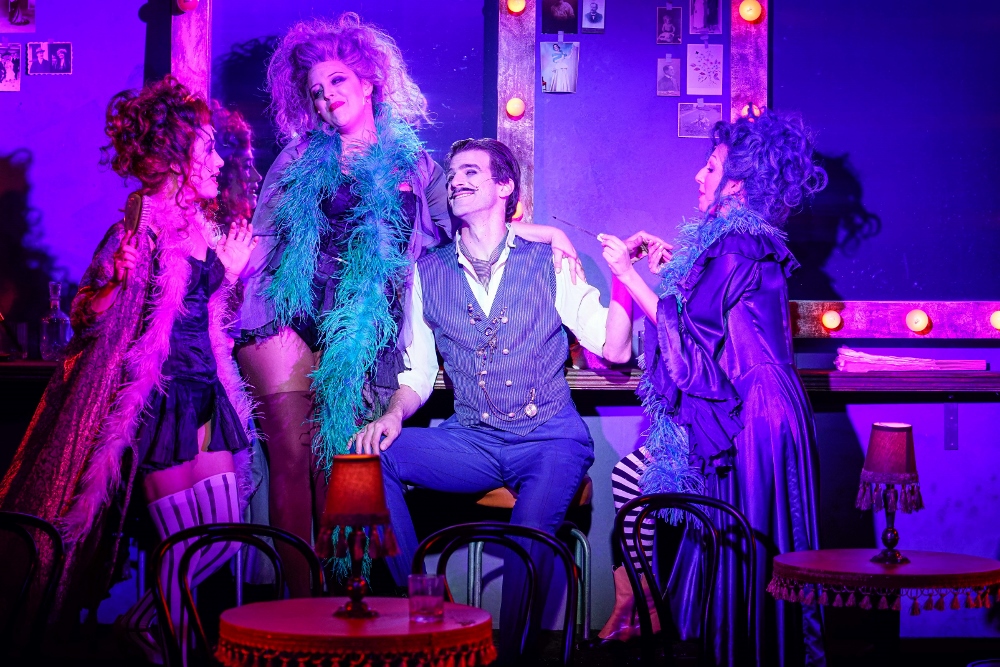 Une Nuit à Paris, directed at the Cameri Theatre by Gilad Kimchi, brings the Paris of our imaginations to vivid life onstage in all its glory: romantic, poetic, absurd, poignant, bittersweet, and ultimately, triumphant, singing on through disappointment and heartache. Performing a rich repertoire of chanson, a talented cohort of 11 actors and three musicians transport the audience to the cafés, ateliers, bordellos, cabarets, and streets of Paris, in a fantastic show. Not just for fans of chanson, Une Nuit à Paris draws on the songs to create a marvelous work of theatre. Savvy and self-aware, the theatricality of the piece strikes just the right chord to delight, entertain, and make even the most blasé heart-strings resonate with feeling.
A cabaret-like feel permeates the intimate venue of Cameri 3, with several round tables surrounding the stage at floor level, each invitingly set with small shaded lamps and two wine glasses. These first-row seats are ticketed a bit higher than the regular seats, and include a glass of wine. Romantic and fun, the show is the perfect setting for a date – and I would definitely go for the front-row seats.
Jacques Brel, Edith Piaf, Georges Moustaki, Charles Aznavour, Serge Lama, Alain Barrière, Dalida and Michel Fugain are the composers and performers whose beloved songs are featured in the show. Each song is a scene unto itself, one following another as a series of vignettes, expressing character, mood, and story in melody, words, and tempo. The songs are primarily sung in Hebrew, with excellent, evocative translations by Dafna Arood, Eli Bijaoui, Shosh Reizman, Avi Koren, Naomi Shemer, Dori Parnes, Ehud Manor, Daniel Efrat, Yossi Banai, Dudu Topaz, Yoram Tahar-Lev, and Yaakov Shabtai. There is an alternate cast of 11 (the full cast list is below), and on the night I saw the show the performers were: Ofri Biterman, Alon Sendler, Gilad Shmueli, David Shaul, Rami Baruch, Elena Yarlova, Kineret Limoni, Shani Shauli, Elad Atrakchi, Noy Halperin and Eran Mor. They were all terrific!
Une Nuit à Paris is magical in its theatrical perfection – all the elements of the show work together, enhancing one another. There is an enchanting balance of excess and restraint in the concept and execution of the show, and the attention to detail is impressive. This is what theatre can and should be!
The costumes, designed by Orna Smorgonsky are colorful, fun, and dramatic. The wigs in all their unusual hues and wild styling, and outfits such as the long, green velvet coat; orange and black checkered suit, and ruffled, oh-so-pink dress contributed to the pleasure of the experience. The shoes, painted in a rainbow of colors by Raya Lieder, completed the look. All together sending a message: fun! The set, designed by Eran Atzmon and lighting by Uri Morag, provided just the right touch and mood. Carefully selected and swiftly changing from scene to scene, from a string of lights to evoke a Paris street at night, to a set of makeup mirrors, seats in a cinema, or a solitary street lamp. All aspects of the musical production – the selection of songs and their order, arrangements, pacing and performance – were excellent!
Highlights – there were so many! Yet to note a few: Alon Sendler was limber, light-hearted and heart-wrenching in the role of the clown; Rami Baruch singing Jacques Brel's Chanson des vieux amants was one of the evening's lovely and poignant moments; Elena Yarlova imbued Irma la Douce with a captivating mixture of strength and vulnerability; my heart melted when Ofri Biterman sang Charles Aznavour's Mon émouvant amour; and rejoiced to hear David Shaul sing Georges Moustaki's Ma liberté. But most of all – I was captivated by Elad Atrakchi's sweetly hilarious rendition of Jacque Brel's Madeleine, which was artistically broken up into several successive scenes of unrequited love. Tall and gangly, making superlative use of his long limbs in a loud, orange checkered suit, and hopefully holding a bouquet, Atrakchi exuded an endearing innocence and comic physicality while in a genius move of directing, celebrating the artifice of the moment, the clown (Sendler) held up a red backdrop on wheels, moving it along with Atrakchi. Delightful!
Une Nuit à Paris
Directing and movement: Gilad Kimchi; Music direction: Amir Lekner and Guy Frati; Set: Eran Atzmon; Costumes: Orna Smorgonsky; Lighting: Uri Morag; Artistic advice: Eli Bijaoui; Artistic painting on shoes: Raya Lieder; Director assist: Andrea Schwartz; Musicians: Conductor and piano – Guy Frati/Nadav Rubinstein;  Contrabass – Yurai Oron/Alon Azizi; Drums and Accordion – Amir David/Dani Benedict; Cast: Dan Shapira; Nadav Nates; Ofri Biterman, Alon Sendler, Tal Weiss, Gilad Shmueli, David Shaul, Raviv Madar, Simcha Barbiro, Rami Baruch, Elena Yarlova, Avigail Harari, Kineret Limoni, Ola Schur Selektar, Shani Shauli, Naama Chetrit, Shoham Sheiner, Elad Atrakchi, Noy Halperin, Jordan Nikfahama, Eran Mor, Avishay Meridor.