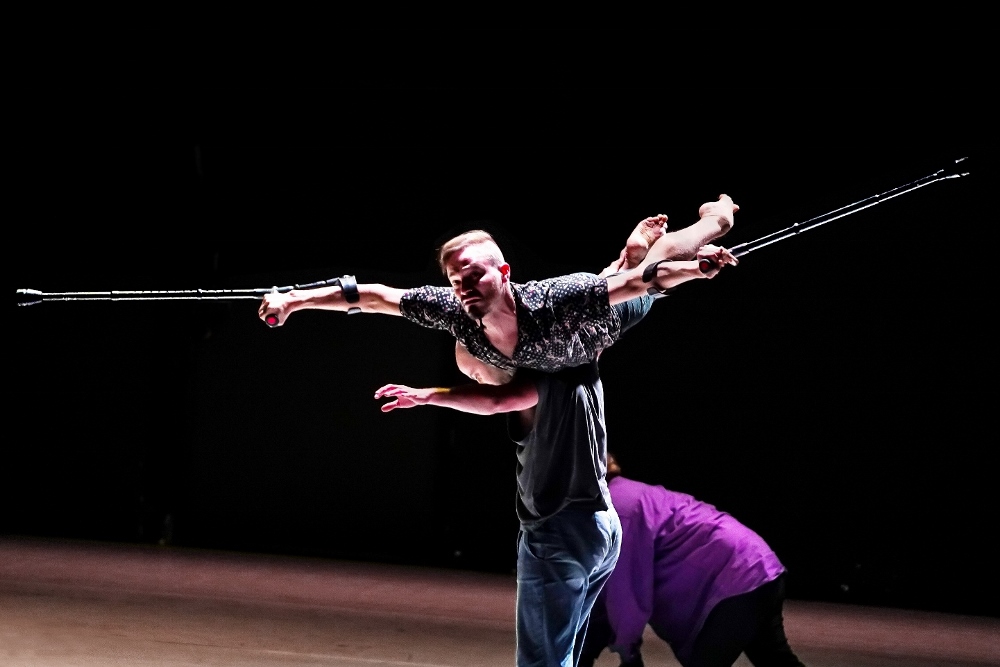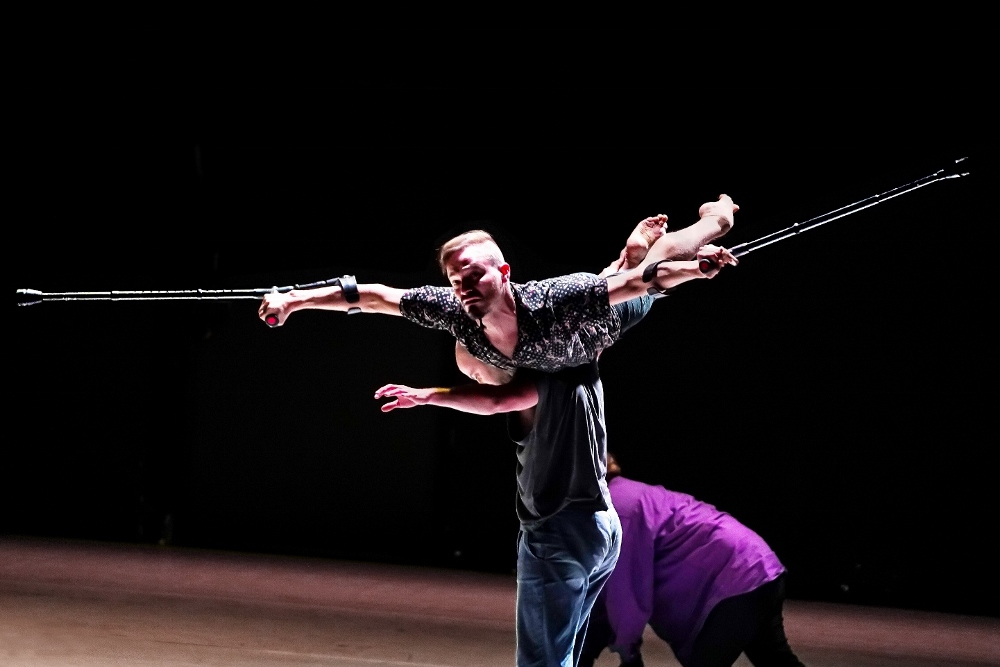 A new dance work by choreographer Sharon Fridman and Vertigo – Power of Balance, Shape On Us will hold its world premiere at the Israel Festival 2020. Power of Balance, established in 2000 by Tali Wertheim and Hai Cohen, focuses on integrated dance with an emphasis on contact improvisation. The current project features an ensemble of nine disabled and non-disabled dancers from the Power of Balance and Vertigo Dance Company. Venturing out to the dance company's home – the Vertigo Eco-Art Village – to view select scenes from the work, I was fascinated and profoundly moved. Shape On Us is a wonderfully inventive, playful, lively, intensely physical and emotionally evocative work that raises myriad thoughts on disability, social conventions, aesthetics, and our discourse on disability.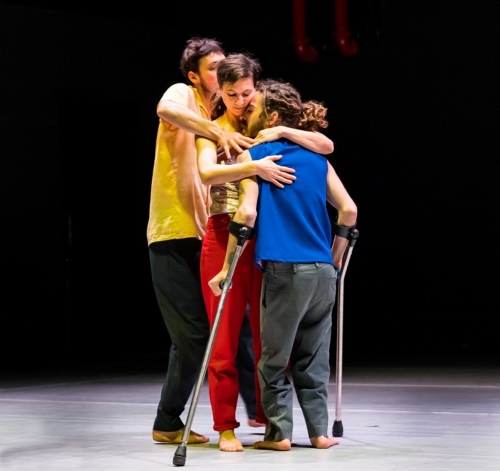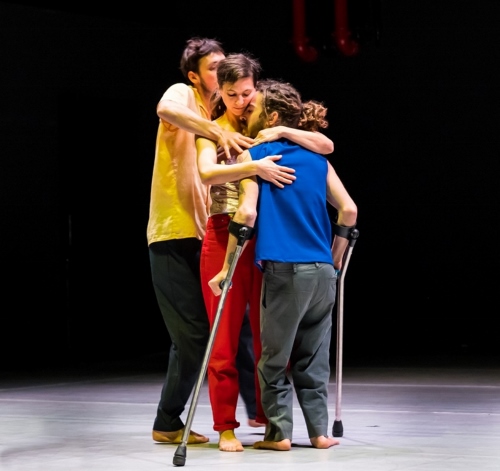 There's a lot going on here, and a lot to unpack – intellectually, and emotionally. It is an invitation to think about the ways in which our bodies move, the ways in which we experience and use our bodies; the ways in which we experience the world and relate to others, each from our individual body and consciousness. Fridman's choreography reflects a deep exploration of movement and the possibilities inherent in our different bodies. It is a work full of movement, often with different narratives taking place in parallel. Visually striking, it's immensely appealing, with nuances of shape and form drawing the gaze in close. It takes up space, reaching and moving through the entire performance space in all dimensions; at any given moment, the composition is riveting.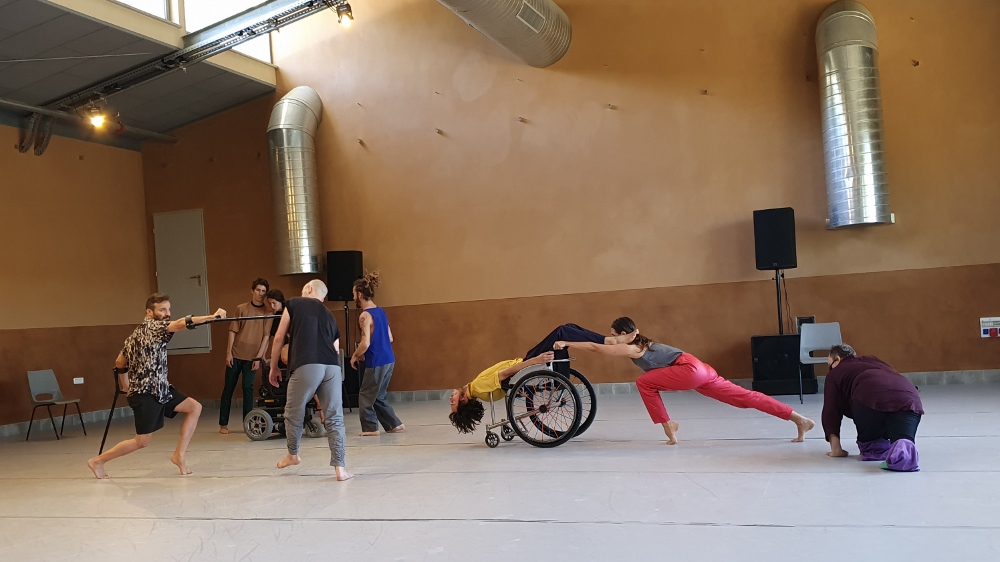 A compelling aspect of this work is the use and non-use of crutches and wheelchairs. These props are employed in different and imaginative ways throughout the work, yet always working with, and enhancing the layers of associations and meaning created in the piece. Yet even more powerful are the scenes in which dancers who usually employ crutches or a wheelchair perform choreography without those aids, exploring all the possibilities of movement and dance.
Shape On Us reflects the first-person experience of physical disability, as well as the social response to disability. In a conversation following the presentation, dancer Itamar Beck (who is also a musician) said that some of the dance scenes echo his own experience of living in his body in the world of movement, as a person with a disability. Meital Aharoni commented on the challenge of leaving her wheelchair, saying that "It really scared me, I was leaving my comfort zone in a whirlwind…I feel free in my wheelchair, and finding that freedom in open space… it took some time to fall in love with myself in that place."
Performances will take place:
Israel Festival world premiere on September 8 and 9, at 20:00 at the Jerusalem Theatre. Duration: 60 minutes. The Israel Festival performance will be filmed and broadcast online. If health regulations permit, live performances will take place at the Jerusalem Theatre. Tickets for the live performance are 60 – 80 NIS, tickets for online viewing are 25 NIS. Tickets may be purchased on the Israel Festival website.
September 16 & 17 – Aseret Community Center, 8 HaRimon Street, Yishuvey Gderot. Performances  begin at 20:30, tickets are 110 NIS, and may be purchased via this link: https://gderot.smarticket.co.il/
Credits:
Shape On Us
Vertigo Power of Balance | Integrated Dance
Choreographer | Sharon Fridman
Artistic Consultant | Noa Wertheim
CEO and Co-Artistic Director  | Adi Sha'al
Original Music | Noam Helfer
Costume Design | Inbal Ben Zaken – Mizo
Light Design | Sharon Fridman / Alon Porat – Magenta / Dani Fishof – Magenta
Technical director – Dani Fishof – Magenta
Sound light and more – Magenta LTD.
Dancers co-creative: Inbal Aloni, Tomer Navot, Grisha Lev, Noam Ben Israel, Shira Ben Uriel, Amir Ishar, Itamar Beck, Meital Aharoni, Shmuel Dvir Cohen
Production Manager | Tamar Mayzlish
Stills and Video Photography | Ran Yehezkel
Graphic Design | Dorit Talpa