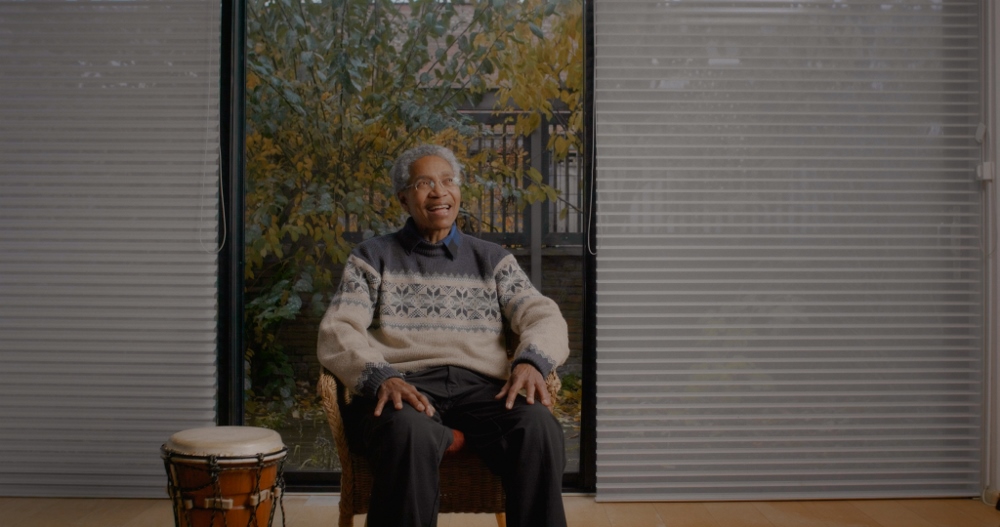 If Beverly Glenn-Copeland is not on your playlist yet, a wonderful discovery is in your future. The life and musical trajectory of the singer, songwriter and transgender elder is depicted in Keyboard Fantasies: The Beverly Glenn-Copeland Story, Posy Dixon's debut documentary feature. After years of creating in obscurity, Copeland's music has been re-discovered, and before the pandemic, he was touring with his new ensemble Indigo Rising. No stranger to adversity, Copeland is also no stranger to joy – the joy of composing and playing music, jamming with other musicians, and the joys of family and friends. As he talks about his experiences, his presence resonates with courage and serenity.
Copeland, who began publicly identifying as trans around 2002, was born as Beverly, in Philadelphia in 1944, and grew up in a Quaker home that reverberated with music. A gifted pianist, his father would play Bach, Beethoven and Chopin for hours daily, and as a young child, he would sing with his mother. Although his family did not experience at first hand the struggles known by many Black families in the United States, Copeland was always aware of his history and heritage. Entering McGill University at age 17 to study classical music, Beverly, who at that time identified as a woman, savored her independence, cutting her hair short, and wearing it natural. But being a black, out lesbian who sings German lieder was not an easy identity to embrace in Montreal of 1961, when same-sex sexual activity was still illegal. Listening to Copeland, now in his mid-70s, talk about those times, it is a sobering reminder to realize how dangerous and difficult it was to be out, and awe-inspiring to know that someone so young was so honest and so brave.
Interviews with Copeland are interspersed with archival materials from different eras relevant to his life, as well as audio interviews with people who have known or worked with him. While it is mildly frustrating that those interviewees are not identified, that is a minor point in a film that has such a harmonious flow. The second half of the film focuses on Copeland's renaissance, with footage of Copeland in performance and soundchecks, and on tour with his ensemble. Copeland's telling of his own story is very vivid, even though he is seated, his entire being surges with energy. Infused with humor, his open and warm delivery generates a sense of intimacy: watching the film is like meeting a new friend for the first time. When he talks about music, he glows with excitement.
Just as Copeland's life experiences offer a look at LGBT history in Canada, his music reflects different influences as well as the changing times. In his early musical education, classical European music was merged with Black spirituals. His first, self-titled album, released in 1970, reflects the folk-jazz influence of the time. Although in it one senses a songwriter still searching for his path, songs such as Color of Anyhow, transcend twenty-something angst, and endure. The 80s brought a revolution with the advent of computers accessible to individuals, as Copeland recalls, "I flipped when I found out about it and bought one and I couldn't do anything with it." Eventually he figured it out and was delighted with the possibility of "access to wild sounds…that a traditional acoustic instrument could not make." Although his music remained virtually unknown during those years, Copeland, who lived in a somewhat remote area north of Toronto, was undeterred and "did nothing except shovel snow, feed the family, and write music." The album that emerged from that intensity was Keyboard Fantasies, which he self-released on cassette in 1986, and which eventually became the catalyst of his new renown, when a collector in Japan contacted him in 2015, asking if he had any cassettes left.
It's an amazing story, and Dixon wisely chooses to let Copeland tell it, in his sonorous voice. Towards the film's close, Copeland's mesmerizing performance of the spiritual Deep River, begun a cappella and slowly opening out to drums and the entire ensemble, brings it all full circle: the lone individual, the collective histories, community, life and music. Copeland is someone for whom the universe – with all its many challenges, mysteries, pain, love, and discovery – is music. His compositions flow throughout the film, and in his songs, there is so much beauty, healing, and hope.
Keyboard Fantasies: The Beverly Glenn-Copeland Story will be shown at TLVFEST 200, and will be available for viewing online from November 12 – 22, 2020. Tickets are already on sale, and as the number of views are limited for each film, it is recommended to purchase well in advance. Ticket information is available here: http://tlvfest.com/tlv/he/2020/10/28/general-info-2020/
The full festival program is available in English on the TLVFEST website.
Keyboard Fantasies: The Beverly Glenn-Copeland Story
United Kingdom; 2019; 63 minutes; English with Hebrew subtitles
Directed by Posy Dixon; Production: Liv Proctor