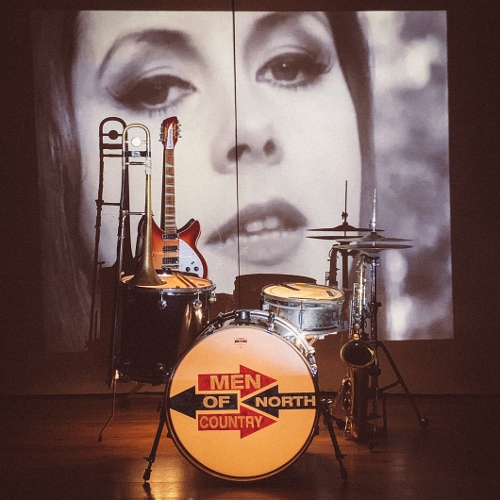 There is such a thrill for me in discovering a terrific new version of a song I love – MONC's (Men of North Country) cover of Kirsty MacColl's 1979 song They Don't Know. I have been listening to it on repeat, alternating with MacColl's original version, ever since it was released last week. And even when I haven't actively been listening to it, it's been singing in my head as I walk down the street. The song, with its seductive harmonies, is as addictive as the love it describes. There is a promise in the first notes of the instrumental introduction, something bright and optimistic in the sound – it's the horns, merging with guitar and drums, making my heart beat just a little faster. Yashiv Cohen's warm vocals bring something deep and grounded to the lyrics, impacting the interpretation of the song. The video, with its images of Kirsty MacColl in the background, becomes a love song to its songwriter, Kirsty.
Full confession – my long-term relationship with the song began with Tracey Ullman's cover, and it was only much later that I discovered Kirsty MacColl (1959 – 2000). I love them both. Ullman gives the song a fun, flirty, feeling, magnified by the funny, somewhat cynical video. MacColl was involved in recording Ullman's version, contributing the defining "baby" that opens the third verse.
One of the brilliant aspects of MacColl's song is that it is so clear and simple, yet open to different interpretations. While the music is upbeat and ever so catchy, when you play around with the arrangement, the lyrics can be understood from different perspectives. The song describes a very familiar situation – a young girl (MacColl was just 20 when the song was recorded) in love with the wrong guy, and everyone is telling her to break up with him. Is he a bad guy? Maybe it depends on your perspective. We've all been there, haven't we? Falling in love with the 'wrong' person, or, if it has never happened to you, I'm sure you've had a friend who has been there, falling in love with someone whose clothes, accent, status, education, gender, ethnicity, or some other attribute marks them as wrong in the eyes of family and friends.
Over the passing years (decades!) my understanding of unhealthy relationships has grown and changed, as has my understanding of love. But let's look at the lyrics. Obviously, no one approves of this relationship – "they say we're crazy", and when she says "maybe I could leave you, but I don't know how" it does raise doubts in my mind. Is she trapped in a toxic relationship? I don't think so. All the evidence seems to indicate that he makes her feel good: "you make it right…I found good loving." Not that he's perfect, there's probably going to be some trouble ahead – "Got my eyes wide open and I see the signs." Then again, what relationship doesn't have its problems?
Tracey Ullman created a narrative for the song in her video – a young woman getting all glammed up for a date with a flashy guy who's busy checking himself out in the mirror, looking too slick. Yeah, he looks like the kind of guy my friends would warn me about. In the video, the protagonist ends up just kind of faded and tired, her hair a mess as she slides around the supermarket in slippers, pushing her kid in the shopping cart, and finding her satisfaction in fantasy. It's a great cover, and for years, I never thought beyond its funny, cynical perspective on the song.
There have been many other covers to this amazing song, I'm only familiar with some. Much as I love Susannah Hoffs, in her cover of the song, recorded with Matthew Sweets, she sings almost imperceptibly slower, perhaps not actually slower, but there's an ease to her vocals that feels slower. But is not a slow, thoughtful song, this is a song about urgent, insistent, feelings that overwhelm all other considerations; that's the kind of feeling that takes over fast. Andrea Corr's delicate, almost breathy, soprano makes the "I" of the song sound too young and vulnerable to my ear. I almost want to tell this girl – maybe you should rethink this relationship.
Then, about a week ago, I first heard MONC's cover of They Don't Know, and it felt like I was hearing the song for the first time. Bright, energetic, yet with an enduring quality, harmonies that sing with the transformative power of love – "Cos when they look at you, they don't see what I see." Yes, maybe the singer is deluded, lost in a fantasy, but maybe, just maybe, he sees something beautiful and real. There is meaning in the repeated chorus – "Cos they don't know about us/And they've never heard of love." Maybe lovestruck teenage girls don't know enough about life, but then again, maybe they understand some things that we tend to forget along the way: how love transforms ordinary existence into something exhilarating and full of wonder. MONC's cover resonates with a sincere love for Kirsty MacColl's song, and every time I listen to it, it makes my day bright.
Links: MONC website, facebook, link to the song on all platforms: https://orcd.co/monctheydontknow
Credits: They Don't Know by Kirsty MacColl
Yashiv Cohen – vocals; Doron Farhi – guitars and vocals; Jonathan Ydov – bass; Boaz Wolf – drums; Ongy Zisling – saxophone; Maayan Milo – trombone; Mix – Boaz Wolf; Mastered by ELK at his Privatae Room; Recorded by Adam Milliner at The Raft; Out on Well Suspect Records