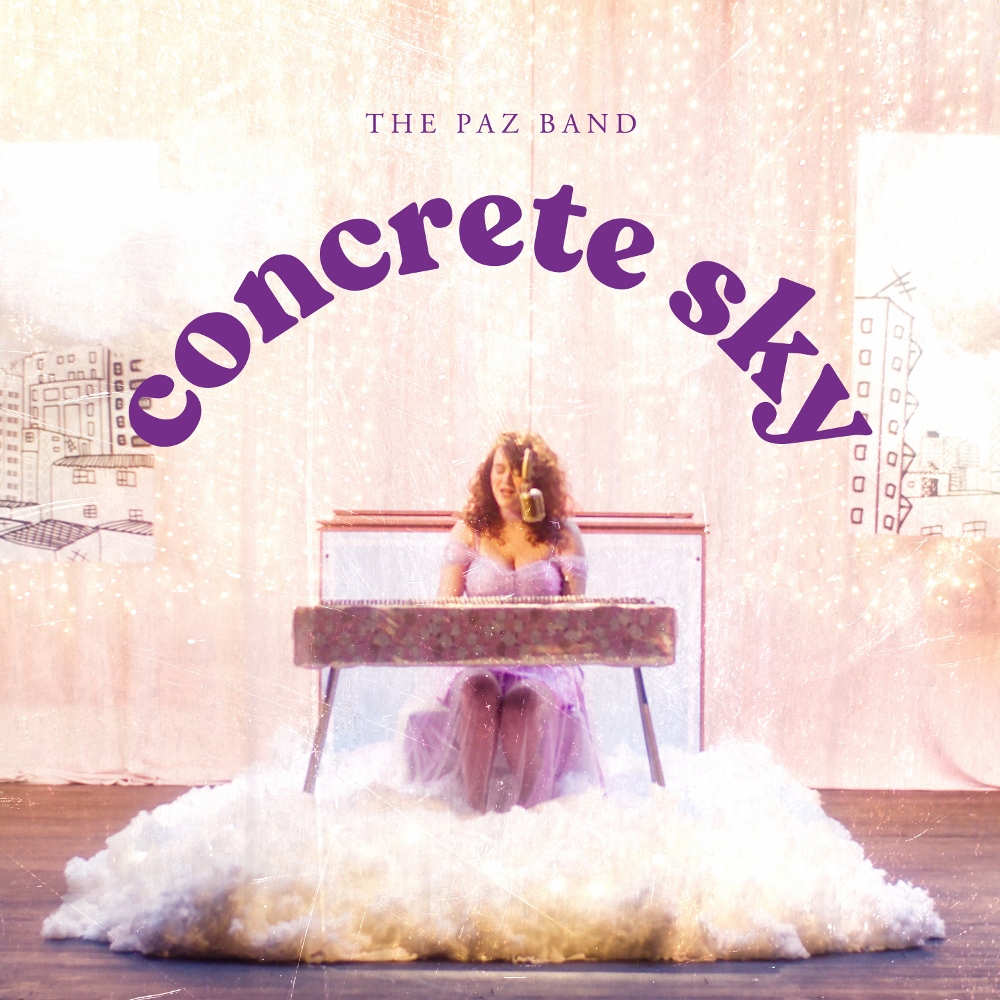 The Paz Band has just released Concrete Sky, a new single from their upcoming concept album Affairs of a Heart. The dreamy love song was written by the band's lead singer Gal De Paz, a fiery force with an amazing voice and presence. Gal De Paz could sing a grocery list and make it sound transcendent and sexy.
According to the band's literature, Affairs of a Heart has a narrative arc that takes place in a post-apocalyptic world, where music is a source of power. A visual as well as musical project, each song is accompanied by a video clip that expresses the story. At the heart of the narrative are two characters – the two contrasting sides of the same woman – both portrayed by Gal De Paz. In this fantasy realm, one symbolizes light and wonder, while the other – pain and darkness. Continuing the theme of multiplicity, there are several producers working on the album, each will produce two songs. Gal Oved produced The Tune and Missing You, and Isgav Dotan produced Concrete Sky, as well as Scratchin' My Bones, its previously released dark companion. However, when you watch the videos, don't be too quick to come to conclusions about the story – word is, the songs are not being released in chronological order. Until the album is released, the mystery remains.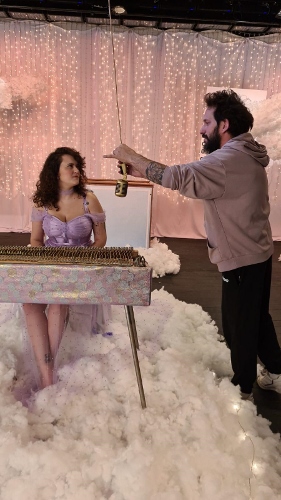 Concrete Sky is a song with all the lust and wonder of new love, and just a trace of darker themes. The accompanying video, directed by Dotan and produced by Ayelet (ShOoli) Mager with Dotan, takes place in a fantasy dreamscape: Gal De Paz is a tattooed princess in a lavender fairytale dress studded with pearls, sitting at a glittering keyboard, floating on a cloud. The musicians rock it out in peach pastel suits adorned with lace ruffles of a distant era, while backup singers provide an edgy contrast in overalls and bright pink wigs.
Gal's summery voice evokes that languid, sensual feeling of waking up next to the one you love. It's bliss, yet tinged with a sense of loss. The song's chorus – "I don't wanna wake from this" – acknowledges the ephemeral quality of the moment and the feeling, destined to disappear. You can't stay in bed forever. There's a world out there, and its reality is harsh. This reality is evoked by the song's title Concrete Sky, and reflected in the visuals of the video. As she sings, Gal is backed by sparkly lights, but there's the image of a window as well, and there, a city scene is sketched out in black and white, contrasting with the dreamscape of the song.
The release of Concrete Sky opens The Paz Band's concert tour:
Yellow Submarine, Jerusalem May 13th; Pubella, Manof May 20th; Wonderbar, Haifa May 27th; Halutz 33, Beersheva May 29th; Barby, Tel Aviv June 5th
Links: The Paz Band facebook page 

Concrete Sky music credits:
Lyrics & Music: Gal De Paz
Produced By: Isgav Dotan
Arrangement: The Paz Band & Isgav Dotan
Vocals: Gal De Paz
Keyboards: Jonathan Linav , Isgav Dotan
Guitars: Motti Leibel
Bass: Raz Blitzblau
Drums: Or Kachlon
Back Vocals: Gal De Paz, Tzlil Iluz, Shiri Oren, Reachel Selfin, Sharon Cohen Isgav Dotan
Additional Synths and Keys: Isgav Dotan
Mixing: Rafael Raffa Cohen
Mastering: Maor Appelbaum
Recorded at: Jaffa Studious
Recording Engineer: Jonathan Jacobi