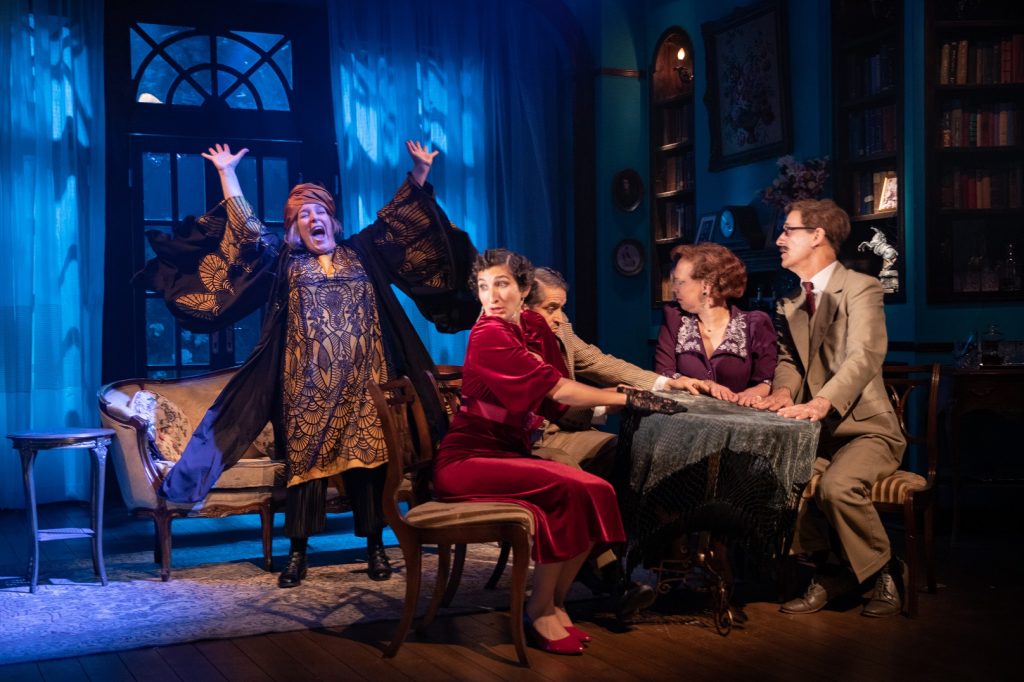 Witty, mischievous and fun, the Khan Theatre's production of Noël Coward's Blithe Spirit, directed by Udi Ben Moshe, is a light-hearted period piece with such exquisite sets and costumes, that one might imagine oneself transported in time. Taking the popular comic trope of the love triangle, the play gives it an unusual twist: one of the three is a ghost. Should it seem odd for the Khan to begin its post-pandemic season with a play about death, consider that Coward's play premiered on the West End in 1941, in the midst of WWII.  After all, laughter is a wonderful way to release tension, and Blithe Spirit offers laughs in abundance.
Charles Condomine (Yoav Hyman) is a novelist whose next book deals with the occult. He's feeling stuck in his writing, as one does, and in the interests of research, he has scheduled a séance to take place in his home. If one's living quarters are a measure of professional success, then Charles is doing very well. Lily Ben Nachshon's sumptuous set design with its turquoise walls, gleaming wood trim, inviting book alcoves, and a glimpse of a lush garden just beyond the French doors, is the very image of upper-class comfort and style. Reserved and restrained in manner and dress, Ruth (Irit Pashtan) is his second wife, and although she is eager to assist her husband, appears to be less than enthusiastic about the prospect of a séance. Their friends Dr. Bradman (Nir Ron) and Mrs. Bradman (Natalie Eliezerov) have been invited as well. Needless to say, these are not the sort of folk who ordinarily consult a medium. For the sake of the novel, and to spare the feelings of the medium, they attempt to mask their skepticism and relate seriously to the proceedings.
Odelya Moreh-Matalon is hilarious as Madame Arcati the medium. Colorful in a shiny turban and flowing robe, she is a stark contrast to the elegantly appointed surroundings and her prim hosts. Her manners are as loud and outrageous as her appearance. Refusing an alcoholic drink, she requests water and then proceeds to gargle with it, and attacks the offered tea sandwiches with great gusto. Moreh-Matalon's physical comedy is a delight, especially as Madame gears up to enter a trance, and she skillfully portrays the medium in a way that keeps the character on the borderline between sincerity and charlatanism. Last but not least in this fine ensemble is Edith the maid (Suzanna Papian), whose propensity for running and bumping into walls sorely tests the patience of the very proper Ruth, while providing the viewer with much amusement.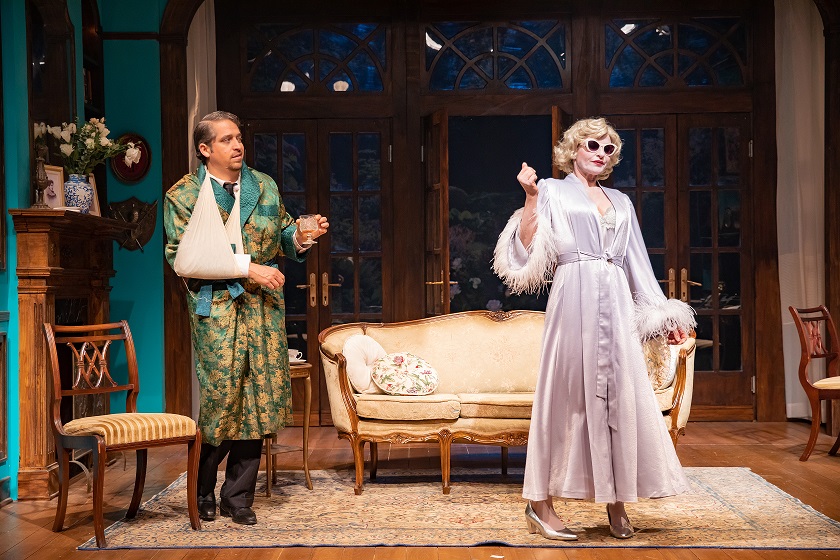 The séance brings forth the spirit of Charles' first wife, Elvira (Carmit Mesilati-Kaplan), but there's a catch: Charles is the only one who can see and hear her. Mesilati-Kaplan makes a very radiant ghost, dressed in a silky silver negligée and robe, with blond hair and a sexy walk. Having been dead for seven years has not dulled her caustic wit, and she spares no pity for Ruth in her cutting remarks. The repartee between Elvira and Charles is all the more amusing, since Ruth cannot see or hear her.
Elvira is back, and she wants Charles. As one might imagine, Charles turns out to be not entirely averse to having both his wives around, even if one of them is a ghost. The women have somewhat different opinions on the matter. While Ruth consults with friends and Madame Arcati, Elvira goes about achieving her goals in a somewhat different mode. The havoc that ensues is a pleasure to view, marked by clever conversation in Dori Parnas's translation to Hebrew, delivered in perfect comic timing by the excellent ensemble cast. Much joy awaits fashion aficionados as Costume Designer Svetlana Breger has brought back the 40s in all their swoon-worthy elegance, with costumes that reflect each character.
Blithe Spirit 
A Comedy by Noël Coward
Hebrew Translation: Dori Parnes; Directed by Udi Ben Moshe; Set & Design: Lily Ben Nachshon; Costume Design: Svetlana Breger; Lighting Design: Roni Cohen; Music: Ohad Ben Avi; Cast in order of appearance: Suzanna Papian – Edith; Irit Pashtan – Ruth; Yoav Hyman – Charles Condomine; Nir Ron – Dr. Bradman; Natalie Eliezerov – Mrs. Bradman; Odelya Moreh-Matalon – Madame Arcati; Carmit Mesilati-Kaplan – Elvira