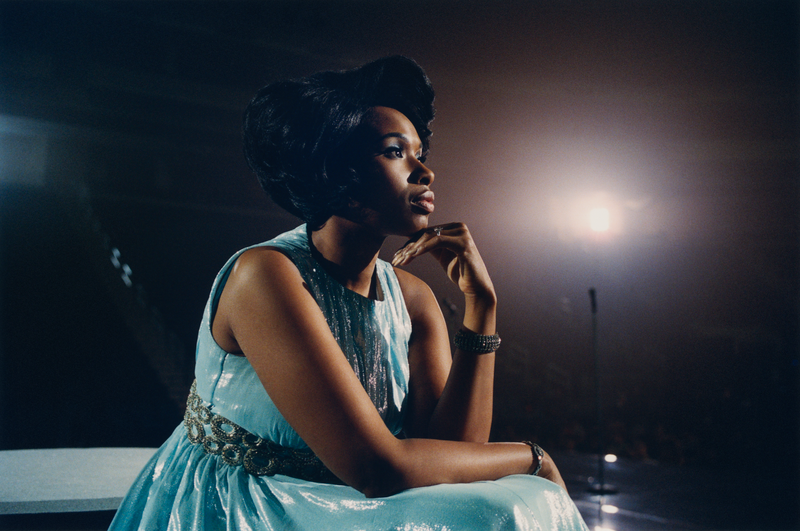 Jennifer Hudson is radiant in Respect, a biopic on the life of Aretha Franklin that shines a light on her amazing musical talent, the struggles she endured, and her lifelong commitment to freedom and justice. Tony Award nominee Liesl Tommy's feature film directorial debut, the film focuses on the years in which Franklin searched for her voice as an artist, becoming the Queen of Soul. Before her death in 2018, Franklin expressed the wish that Hudson, who won the Best Supporting Actress Oscar for her 2007 performance in Dreamgirls, portray her onscreen. Hudson, who sang Franklin's Share Your Love With Me at her American Idol audition in 2004, does a remarkable job of conveying the power and artistry of Aretha Franklin, and her performance of Franklin's signature songs constitute some of the film's peak moments.
Aretha's amazing natural talents were evident from a very early age, and the film opens with a striking scene that sets the tone for this narrative. In 1952, at age 10, her parents' troubled marriage was already over, and Aretha lived with her father, the well-known minister C. L. Franklin (Forest Whitaker). There she grew up surrounded by music, with luminaries such as Dinah Washington (Mary J. Blige), Mahalia Jackson, and Clara Ward (Heather Headley) as part of her everyday life. Skye Dakota Turner portrays the young Aretha, delivering a powerful performance as she sings a lively jazz tune for her father's guests. Her voice is astonishing, and she clearly enjoys performing, yet there is something disturbing when a ten-year-old is woken up from sleep to come out and entertain her father's guests.
The film follows the trajectory of Franklin's life from age ten until her stirring performance at the New Temple Missionary Baptist Church in 1972. The 48-hour live recording of her album Amazing Grace (destined to become the most successful Gospel album of all time), was also filmed by Sydney Pollak, and ultimately released as a documentary film by the same name in 2018.  This peak moment highlights the film's theme – closing a circle as the artist, having found her voice, comes home to church, where it all began. Along the way, the film recounts Franklin's relationships with the significant people in her life, beginning with her parents. C.L. Franklin was a formidable presence, both nurturing and as the film depicts it, controlling. He provided Franklin with a comfortable home filled with music, fascinating people and ideas, yet the facts of Franklin's life indicate that she did not have the support and protection that every child deserves. Whitaker delivers a solid performance, conveying the complexities of the father's character – a loving father who is appreciative of his daughter's talents, yet that approval is conditional. In contrast, Audra McDonald, despite her brief scenes, conveys through music the love and strong bond between Franklin and her mother Barbara, a pianist and singer. Franklin's first marriage, to Ted White, who also managed her career, is covered fairly extensively, with a nuanced performance by Marlon Wayans, her relationship with her sisters, Carolyn (Hailey Kilgore) and Erma (Saycon Sengbloh), who performed with her, somewhat less so.
Biopics tend to leave me with a dissatisfied feeling; it's so difficult to find balance, depicting an accurate portrait of an individual without falling into misleading interpretation or voyeuristic invasiveness. In attempting to span Franklin's emotional life, personal history, growth as an artist and musical career, there's a vague sense of something missing, the breadth coming at the expense of depth. The film's strongest moments are the ones that are the most concrete, such as Franklin's recording session in Muscle Shoals, Alabama, a turning point in her career. Marc Maron is fascinating in his portrayal of music producer Jerry Wexler, as he convinces Franklin to even consider coming to Alabama.  The encounter between Franklin and the musicians, and their responses to the music, make the film come alive, because that's what it is all about – the music.
Another strength of Tommy's film is its focus on Franklin's work as an activist in the Civil Rights Movement and her lifelong commitment to racial equality. One of the stirring moments in the film is when Franklin posts bail for Angela Davis. Her speech is so impressive that I had to look it up, and found a reference in an article from JET magazine in 1970. As quoted by JET, Franklin said, "My daddy (Detroit's Rev. C. L. Franklin) says I don't know what I'm doing. Well, I respect him, of course, but I'm going to stick to my beliefs. Angela David must go free. Black people will be free. I've been locked up (for disturbing the peace in Detroit) and I know you got to disturb the peace when you can't get no peace. Jail is hell to be in. I'm going to see her free if there is any justice in the courts, not because I believe in communism, but because she's a Black woman and she wants freedom for Black people. I have the money; I got it from Black people – they've made me financially able to have it – and I want to use it in ways that will help our people." Respect.
Respect
USA/2021/144 min/English
Directed by Liesl Tommy; Screenplay: Tracey Scott Wilson; Story: Callie Khouri, Tracey Scott Wilson; Editing: Avril Beukes; Cinematography: Kramer Morganthau; Music: Kris Bowers; Cast: Jennifer Hudson, Forest Whitaker, Marlon Wayans, Audra McDonald, Marc Maron, Tituss Burgess, Mary J. Blige, Skye Dakota Turner, Heather Headley, Kimberly Scott, Hailey Kilgore, Saycon Sengbloh, Leroy McClain, Albert Jones, Tate Donovan, Gilbert Glenn Brown