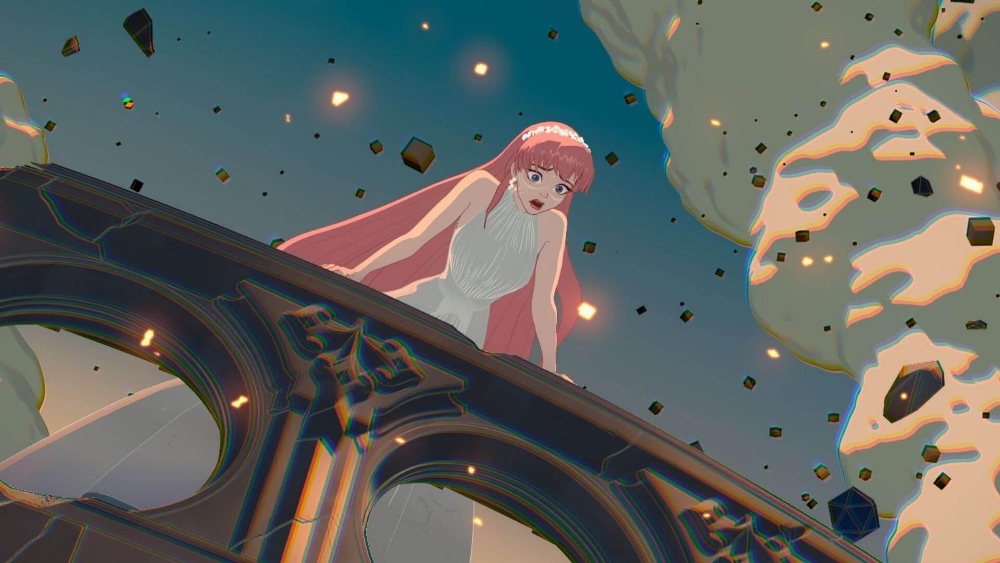 Myriad possibilities exist in a world of quirky, colorful splendor – that is U, the virtual universe visualized in stunning detail in Mamoru Hosoda's animated film Belle. Riding a gigantic whale barnacled with speakers, a beautiful singer with long, pink, flowing locks, surrounded by an admiring throng of tiny, fantastic avatars, entices listeners to "dance this twisted world away" – it's an exhilarating overture that immerses the viewer in its ephemeral wonder. Yet this dreamlike world is as elusive as it is captivating, and the film cuts to reality: meet Suzu, an introverted, freckled, high school student, living on the sidelines of life, watching from a distance.
What is U? It's an enormously popular virtual universe, created by the mysterious Five Voices, that relies on futuristic technology. When a new user signs up, the system uploads her biometric information to create an algorithmically generated avatar based on her data, revealing her inner potential. In other words: it's you, but better. Imagine the possibilities! As their enticing tagline says: "You can't start over in reality but you can start over in U" – the appeal is obvious.
As a young girl, Suzu (voiced by singer-songwriter Kaho Nakamura) lost her mother in a tragic accident. While on an outing, her mother rushed into a raging river to save a little girl stranded on a sandbar. Her mother perished, leaving Suzu with her grief and her questions. She retreated into herself, barely communicating with her father, enjoying the silent companionship of her dog. Her love of music and singing, once nurtured by her mother, now hidden deep within; Suzu has, literally and figuratively, lost her voice. She has become so withdrawn that even her best friend Hiro (singer-songwriter Lilas Ikuta, stage name Ikura) criticizes her for always remaining in the background.
Confident and comfortable with algorithms, Hiro signs Suzu up to U, as a way to help her friend – and it works. Suddenly, as Belle, Suzu (whose name means bell in Japanese) can sing again. The virtual world being what we know it to be, she soon amasses many fans and critics. Here too, the art design of the film is so expressive, accurately representing the experience of online communities and communication as countless comments in a collage of tiny screens flood the frame. The sensitive Suzu, who responds strongly to almost everything, is dismayed by the critique ("weird song" and more), but Hiro reassures her that it is an inevitable aspect of reaching a wide audience. Words of wisdom indeed.
The film's narrative follows events in the virtual universe of U, as well as Suzu's lived reality, shifting between the two. Vivid characters populate both worlds, with intriguing developments, each is suspenseful in its own way. Suzu's father (Kōji Yakusho) wants to connect to his daughter yet does not know how, anad the two seem to lead separate lives in a house filled with silence and lonely grief. School life has its own drama. Luka is the pretty, popular girl whom Suzu watches, and perhaps envies. Shinobu (Ryô Narita) is a friend from Suzu's childhood, their shared memories take on an ambivalent aspect now in their teens – are they friends? More than friends? Then there is Kamishin (Shōta Sometani), the sole enthusiast, and sole member of the canoe club. Although she feels very much alone, Suzu is also watched over by the caring chorus of "Choir ladies" – friends of her late mother who sing together, and try to encourage Suzu to join them in song.
Suzu's adventures in U are wildly imaginative and exciting, with references to Beauty and the Beast, in a sensitive re-imagining of the fairy tale. The film's dazzling visuals acquire depth and meaning in their connection to Suzu's feelings, experiences and relationships – digital and IRL. Although the premise of U relies on fantastic imaginary technology, the lives of teens, in which the digital is interwoven with everyday life, is depicted with a strong sense of authenticity. Is the virtual world of U an escape, or is it an extension, a fulfillment of dreams and desires that can be a way to experience something or try something out, a place to find the courage to bring something new into your life? Perhaps it can be both simultaneously. Every once in a while, it's good to remember that technology in itself is neutral; the negative aspect of the internet comes from humans. Our online lives are an integral part of our reality, what we make of both depends, at least in part, on our choices.
Dazzling, suspenseful, sensitive, and ultimately uplifting, with a catchy J-pop soundtrack, Belle is a moving tale of a girl coming into her voice.
Belle will be shown at the Jerusalem Film Festival on Monday, August 30th in Cinema 3 of the Jerusalem Cinematheque at 15:15. Tickets may be ordered online: https://jff.org.il/en
Belle
Original Title: Ryu to Sobakasu no Hime (The Dragon and the Freckled Princess)
Japan 2021 | 121 minutes | Japanese | Hebrew, English subtitles
Written and directed by Mamoru Hosada; Animation Director: Aoyama Hirohuki; Music: Ludvig Forssell, Yuta Bando; Voices: Kaho Nakamura, Lilas Ikuta, Ryô Narita, Shōta Sometani