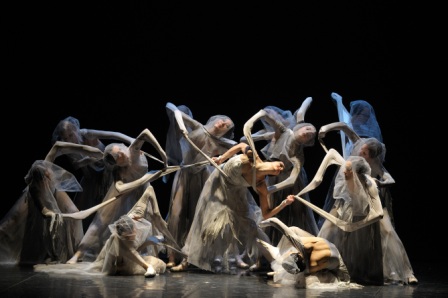 Boris Eifman takes off from two classics – ballet's Giselle and Pushkin's novella in verse, Eugene Onegin, to offer a personal perspective on the emotional and cultural context of these iconic works. The popular Eifman Ballet will perform Onegin and Red Giselle at the Israeli Opera – Tel Aviv Performing Arts Center (TAPAC), their 10th performance in Israel over the course of the past 11 years. Eifman's dramatic works, often relating to literature, are well known to Israeli audiences, previous performances have included: The Seagull, Anna Karenina, Don Juan and the Russian Hamlet.
Pushkin's Eugene Onegin has been called "an encyclopedia of the Russian soul." Adapted as an opera by Tchaikovsky, the narrative revolves around Tatiana, a country girl who falls in love with Onegin, the sophisticated friend of her sister Olga's fiancée Lensky. He rejects her and their paths diverge, only to meet again years later in St. Petersburg. Tatiana, now a married woman of the world, rejects Onegin's advances, and sends him away. Eifman has set the events in our time, as a means of exploring the "Russian soul" of today. The choreographer asks, "Has it succeeded in retaining its individuality? I tried to use the medium of dance to determine whether Pushkin's novella presented a mirror for its own times, or perhaps the novella contains a suggestion of what is to come in the generations to follow?"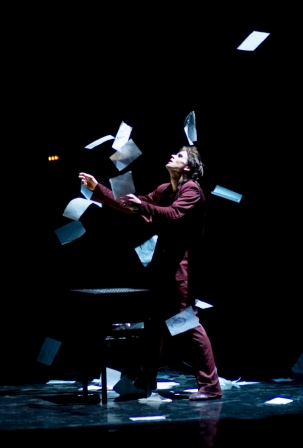 A unique feature of Eifman's Onegin is the musical score, which combines selectionf from Tchaikovsky, with electronic music composed by Alexander Sitkovetsky. Sitkovetsky began his musical career as a violinist, but exchanged the violin for an electric guitar, forming the art rock band Autograph in 1979. The group's emphasis on instrumentals rather than lyrics, established their reputation as pioneers of progressive rock in Russia. Autogrpah disbanded in 1990, but reunited briefly in 2005 to perform a series of concerts.
Red Giselle is a landmark work that introduced Eifman to Israeli audiences with the Eifman Ballet's first performance at TAPAC in 1999. The neo-classical ballet is Eifman's tribute to the legendary dancer Olga Spessivtseva. One of the great ballerina's of the early 20th century, Spessivtseva was known for the expressive quality of her dance, yet her personal life was marked by tragedy. Like many artists of her generation, Spessivtseva was compelled to leave Russia after the Communist Revolution, living in exile. Her emotional fragility resulted in her downfall, and Spessivtseva spent 20 years in an asylum, hidden from the world.
Onegin
Choreography: Boris Eifman
Music: Peter Ilich Tchaikovsky and Alexander Sitkovetsky.
Thurs 3.6.10 (20:00), Fri 4.6.10 (13:00), Sat 5.6.10 (21:00)
Red Giselle
Choreography: Boris Eifman
Sun 6.6.10 (20:00), Mon 7.6.10 (20:00), Tue 8.6.10 (20:00)
The Israeli Opera – Tel Aviv Performing Arts Center
19 Shaul Hamelech Boulevard
Tickets: 03-692-7777