I am fascinated by coming-of-age stories, because they capture that burning, liquid, lava moment of change. Among the many intriguing films in the TLVFEST lineup, the five I'll be looking at here are not only films that I recommend, but also became linked in my mind around the issues of identity, gender, and choices.
Dramarama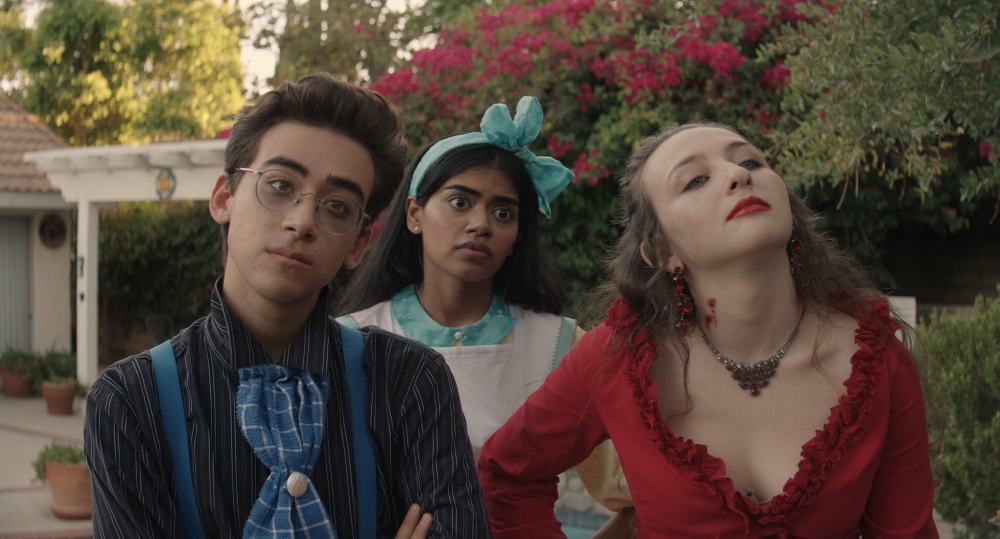 It's never easy to come out to family and friends; in 1994 it was harder. For a gay high school student like the film's protagonist Gene, theatre is a good place to hide: you can take on any character you wish, emote ad infinitum, and anything about you that seems problematic to your peers can be explained away as theatre. Funny, intelligent, and sensitive, Jonathan Wysocki's Dramarama looks at a group of theatre-geek friends as they have one last party together before they head off to different colleges. All except Gene, who will go to community college and continue living at home in very conservative, very Christian, Escondido.
Dramarama really stands out from other coming-out films I've seen due to its Christian setting. While Desiree Akhaban's The Miseducation of Cameron Post is also set within a Christian community that rejects homosexuality as a sin, the striking difference here is that the perspective is from a place of connection. Gene is among friends, his best friends. The intriguing aspect of Dramarama – in addition to its clever script, vivid characters and moving performances – is that devout Christianity not demonized, yet the growing chasm between Gene and his friends and his struggle are not trivialized either.
Gene (Nick Pugliese) and his friends gather for a Victorian Gothic Murder Mystery sleepover at Rose's house. Rose (Anna Grace Barlow) is in character as Miss Havisham from Great Expectations, the ultra-devout Claire (Megan Suri) is Alice in Wonderland, bold and cynical Ally (Danielle Kay) is appropriately dressed in red as Mina Harker from Bram Stoker's Dracula, and Oscar (Nico Greetham) is dashing as Sherlock Holmes. Gene's Dr. Jekyll costume is rather disappointing to his friends. To the viewer it's clear he couldn't really focus on the costume because he has something to hide (I couldn't resist). Theatre geeks – former and present – will easily relate to the passions and pretensions of this lively crew, as well as the plethora of literature, opera, theatre, musicals and other nostalgic, pop-culture references.
The arrival of JD (Zak Henri), the literally too-cool-for-school guy who delivers their pizza, disrupts the party and soon all the underlying tensions rise to the surface. Although the film's main focus is on Gene, he is not the only one with unspoken thoughts and feelings. I keep wondering about the homoerotic tension between Gene and Oscar, especially when the two are enthusiastically wrestling. The talented ensemble cast surges with youthful energy and intense emotions. Wysocki's look back at the mid-90s is suffused with affection, yet resolutely honest.
Potato Dreams of America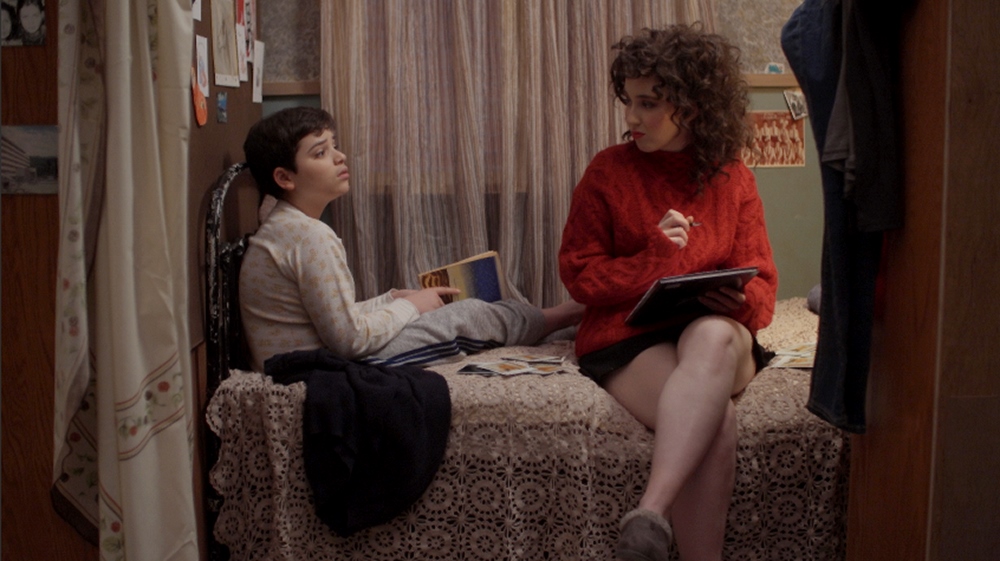 Potato Dreams of America is an unconventional, wildly entertaining film. A semi-autobiographical darkly comic retelling of director Wes Hurley's own experiences, this coming-of-age story is complicated by the shift in language and culture involved in the protagonist's immigration to America from Russia. And he's gay. Hurley handles these many layers of difference with panache, making some exciting creative choices. The film is divided – geographically and stylistically – into two parts: Potato's early years in Vladivostok, Russia, and the adventures of the 16-year-old youth who emigrates to Seattle with his mother.
Viewers may be surprised (as I was) to hear the denizens of Vladivostock speak in a neutral, American-accented English. There is a good reason for this, and it will become apparent in the second half of the film. It's a brilliant choice on Hurley's part, a solution to the eternal conundrum of how to convey a foreign language in an English-speaking film.  It also, in foreshadowing flair, effectively conveys the cultural-linguistic alienation experienced by immigrants. Vasili (Hersh Powers), is affectionately called Potato by his mother Lena (Sera Barbieri), a prison doctor who refuses to collaborate with her corrupt superiors. Young Potato doesn't exactly fit in either. Apparently, according to Vasili's classmates, there is one thing worse than kikes: faggots.
The hardships of life in the Soviet Union are depicted in a fanciful and quirky manner that is distanced from reality, yet does not diminish its implications. Powers portrays Potato with sweet sincerity, whether he is breathlessly watching muscular wrestlers, or sharing a moment with his own personal Jesus (Jonathan Bennett), to whom he confides: "Our lives are like bad Russian movies, nothing good ever happens." Jesus gives him some practical advice: "Then believe in American movies."
Like Joan Baez, Potato has a mother who sings him an honest lullaby. Vivacious, smart and practical, Lena is determined to protect Potato from the dire future that awaits him in Russia – and she doesn't even yet realize that he is gay. Lea DeLaria portrays Potato's tough Russian grandmother who has her own unique way of addressing life's problems. Desperate to escape, Lena signs up with a mail-order bride service.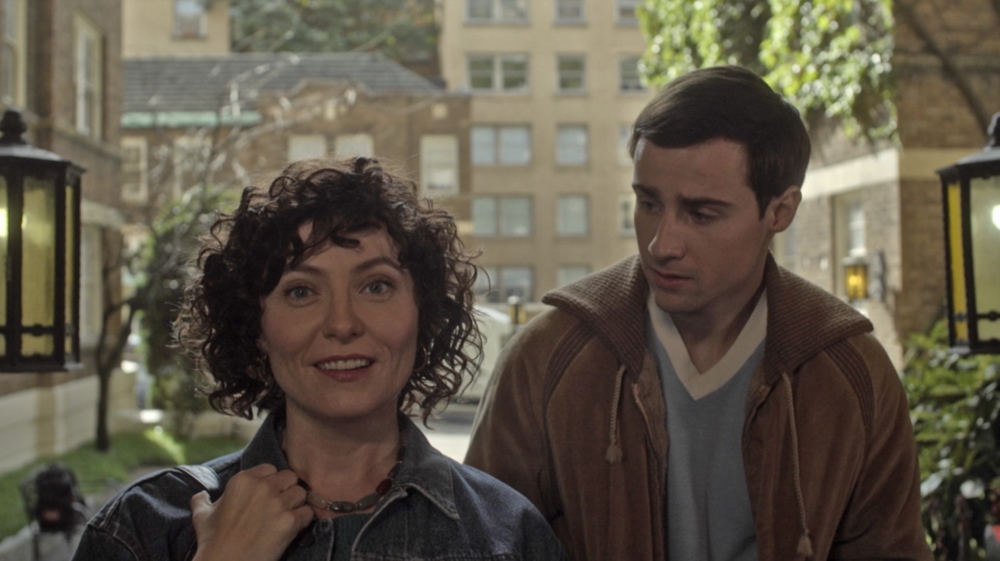 When they fly out to America, the film shifts mode, and switches actors: Marya Sea Kaminski portrays the older Lena, and Tyler Bocock is the 16-year-old Vasili, eager to fit into his new home, yet thwarted at every turn by all, as they insist on labeling him "Russian". Living in the home of Lena's American husband John (Dan Lauria), a stern right-wing patriarch, they are in the land of freedom, yet inevitably confined. The entire ensemble cast really shines, and every small step along the way as Lena tries to find her way within the limitations of her new role, and Vasili comes to terms with America and his sexuality, is funny, sometimes frightening, and always entertaining.
Cowboys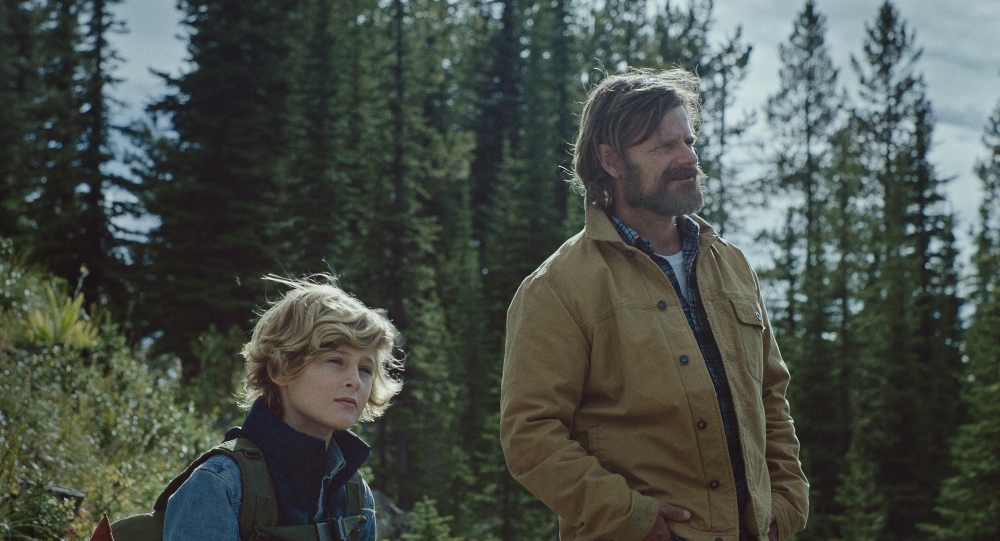 Where Potato Dreams of America abounds in problematic father figures, Cowboys opens with the opposite image: a father and son gaze in wonder at the beautiful landscape of Montana. Yet the serenity of that image is soon shattered. The film cuts to a different scene, as Sally (Jillian Bell) rises sleepily and rushes to get ready for work, calling out to Jo (Sasha Knight) to get up and get dressed for school. When Jo doesn't answer, she goes to the child's room and finds it empty; the open window a witness to the child's disappearance. Anna Kerrigan's film pursues several tracks in tandem. Troy (Steve Zahn) and Jo journey towards Canada and freedom while Sally and the police, headed by detective Faith (Ann Dowd), search for them. These two narratives in the present are interspersed with scenes from the family's past, that reveal the circumstances that lead to this extreme situation.
Kerrigan handles the emotional landscape of the film with finesse, with characters that are far more nuanced than the typical tropes of cowboy films. She takes full advantage of the visual aspect of film; it's a full 8 minutes into Cowboys before a flashback scene shows Jo at a family picnic with long blond hair, and a blue dress – tense, anguished, and seething with rage. The entire cast is excellent, with Zahn and Bell as parents contending with their own issues, each believing they know what is best for Jo. Young Sasha Knight delivers a powerful performance as Jo, conveying the turmoil, fears, courage and wisdom as the 11-year-old commences on the journey to adulthood.
Genderation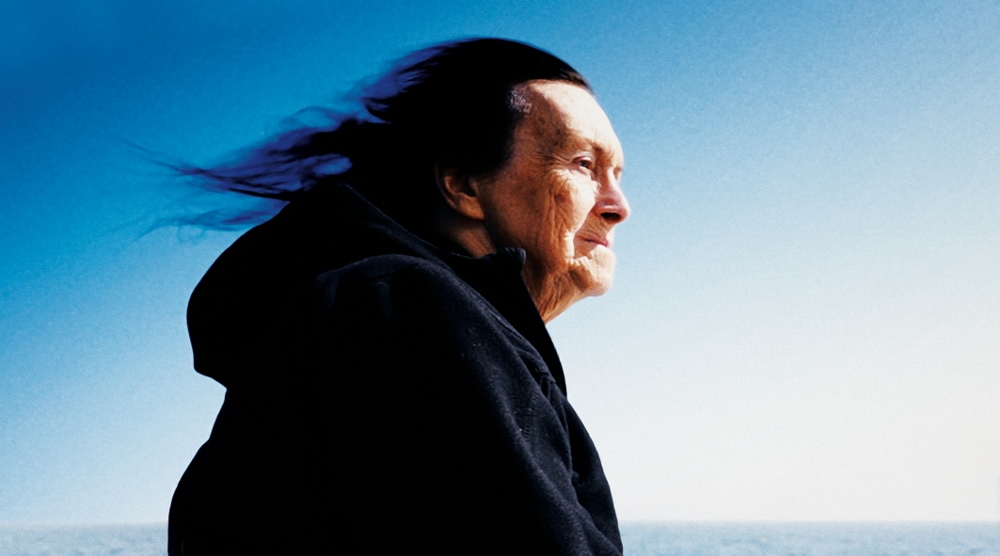 In 1999 Monika Treut's film Gendernauts: A Journey Through Shifting Identities (which will also be screened at TLVFEST) explored gender fluidity, documenting the lives of several individuals living in San Francisco. In Genderation, the director reconnects with five of them: Annie Sprinkle, Sandy Stone, Susan Stryker, Stafford, and Max Wolf Valerio. The documentary reveals their personal narratives and unexpected turns their lives have taken, as well as the changes that have taken place in the narrative of American culture and the San Francisco area in particular, and the way those narratives intersect. The tech industry, gentrification and the Trump administration have all had an impact on American lives in general, and very significantly in the Bay Area. Once a mecca for GLBTQ culture, the rapid growth of hi-tech and consequent rising prices of real estate have forced out artists and others, altering the feel of the city. As gender theorist Susan Stryker says in the film, "success is killing San Francisco."
It's especially interesting to encounter people whose transition is in the deep past, secure in their identities and living the life they were meant to live. Not that their lives are problem free, yet even though they have encountered difficulties due to the stigma that still persists in American culture against transgender individuals, they have met those obstacles with confidence, courage, and humor. Select clips from Gendernauts give a sense of who they were way back then, and it's a pleasure to meet this diverse group of individuals today. It's also illuminating to see this cohort of older individuals and the way they address the issues that have come up in their lives – impaired health, the loss of a life partner, and the need to plan for their old age.
Artist Annie Sprinkle, former porn star and sex worker, makes eco-sexual documentaries. Scenes from her life and work with wife Beth are colorful, lively and inspirational. Max Wolf Valerio author of the memoir The Testosterone Files, is still writing, and pursuing the academic education that had been interrupted long ago. Gender theorist Susan Stryker faced prejudice and rejection in academia for being trans, yet she prevailed, and her commentary on every topic from transgender to activism and the changing San Francisco scene is fascinating. Stafford is seeking out a new way of life far from cities, and describes himself as the "ambassador" of trans, intentionally making friends with people who are biased. Author and performance artist Sandy Stone, who narrated Gendernauts, talks about redefining relationships and families, her personal trajectory is heart-warming and inspirational.
Jump, Darling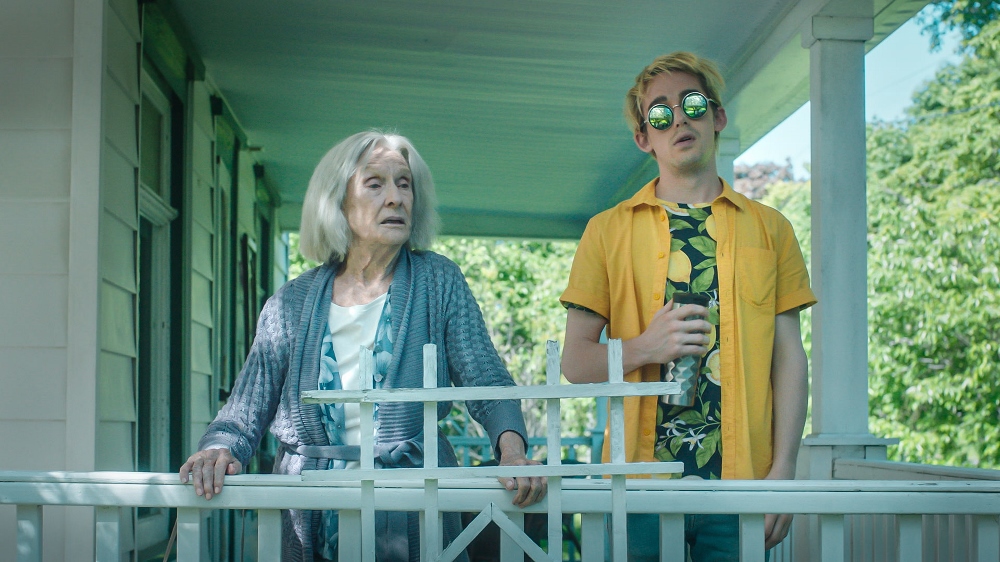 Russell (Thomas Duplessie) is a rather aimless opportunist who did not elicit my admiration in the initial stages of Phil Connell's Jump, Darling. However, his formidable grandmother, portrayed by the magnificent Cloris Leachman, had me mesmerized. Her accomplished performance is even more impressive when one considers that Leachman, who died in January 2021 at the age of 94, went on to perform in two more films after this one.
A would-be actor, Russell is now trying out drag, but his boyfriend Justin (Andres Bushell) really doesn't approve and tells him "I can't watch you do this gay variety show shit anymore." Hurt and lost, Russell walks out just as he is supposed to go onstage. As Robert Frost famously wrote, "Home is the place where, when you have to go there, they have to take you in." Russell goes to mooch off grandma.
Cloris Leachman delivers a powerful, poignant performance as the elderly Margaret, whose body is frail and memory failing, yet her will and character remain strong.  Margaret is aware of her own decline, and vehemently desires to have a say in her future. Russell's mother Ene (Linda Kash) is worried and feels that the only logical solution is to move Margaret to assisted living. Russell is aimless and floundering (except when he's in full drag – which is awesome), yet somehow in the encounter with his grandmother and her increasing vulnerability, the film finds moments of grace.
All these, and many more films will be shown at the Tel Aviv International LGBTQ Film Festival, which will take place from November 11 – 20, 2021. The full program and ticket information are available on the festival website: http://tlvfest.com/tlv/he/en/
Dramarama
Director & Script: Jonathan Wysocki
Producer: Yue Wang, Jonathan Wysocki
Cast: Nick Pugliese, Anna Grace Barlow, Megan Suri, Nico Greetham, Danielle Kay, Zak Henri
USA, 2020, 91 minutes, English with Hebrew subtitles
Potato Dreams of America
Director & Writer: Wes Hurley
Producer: Vicky Berglund-Davenport, Daryle Conners, Sue Corcoran
Cast: Jonathan Bennett, Dan Lauria, Lea DeLaria, Lauren Tewes
USA, 2021, 95 min, English with Hebrew subtitles
Directed by: Anna Kerrigan
Production: Anna Kerrigan, Gigi Graff, Chris Parker, Dylan Sellers
Starring: Steve Zahn, Jillian Bell, Sasha Knight, Ann Dowd
USA, 2020, 86 minutes, English with Hebrew subtitles
Genderation
Director & Writer: Monika Treut
Producer: Monika Treut
With: Sandy Stone, Annie Sprinkle, Susan Stryker
Germany, 2021, 88 min, English with Hebrew subtitles
Jump, Darling
Director & Writer: Phil Connell
Producer: Patricia Sánchez Mora
Cast: Cloris Leachman, Thomas Duplessie, Linda Kash
Canada, 2020, 90 min, English with Hebrew subtitles