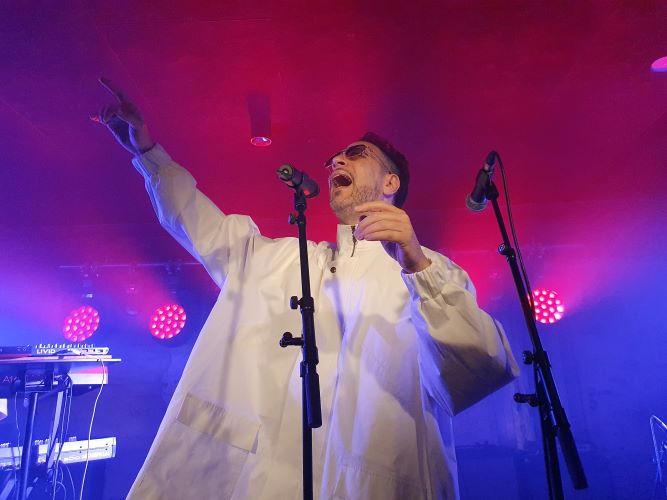 The party is on at the Ozen, which celebrated its new look with a launch party last night featuring Red Band, Gilad Kahana & the Blues & Booz gang. Everything shines at 48 King George Street, from the record store on the ground floor to the expanded concert venue upstairs. The café, which used to be on the side of the building (facing Sderot Ben Zion) has now moved into the record store with additional seating on the sidewalk, just in time for summer (which is already here, even though we're in April). Aviv Netter, who is back in Israel after a sojourn in Berlin with abundant experience in producing cultural and nightlife events, will be in charge of the concert venue. Welcoming the crowd at Wednesday's party, he announced plans to launch a nightlife line in the renovated basement venue (formerly the Bootleg), with a line of DJs from Berlin.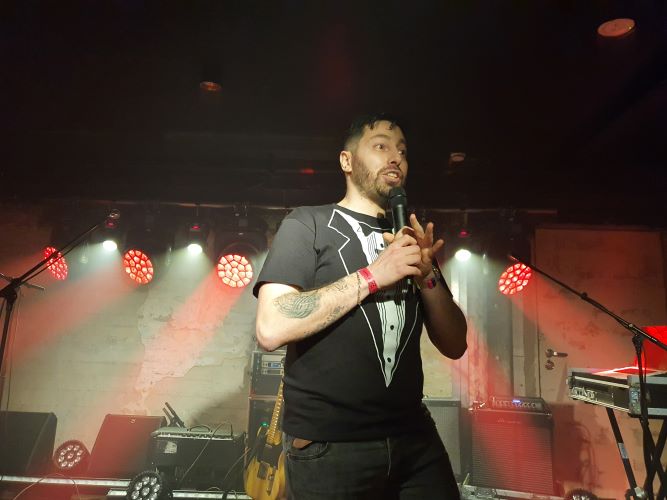 Musicians will enjoy the new proportions of the stage, as the concert venue has been turned on its side, with an ample stage area covering most of one side. For the pleasure of Ozen audiences, the other side of the room boasts a well-stocked bar, and talented barmen. In its previous incarnation, the bar was a smaller, separate room on the side. The renovation, with its shifting of walls and alteration of spaces, is a great improvement, making it ever so much easier to enjoy music with a drink in hand.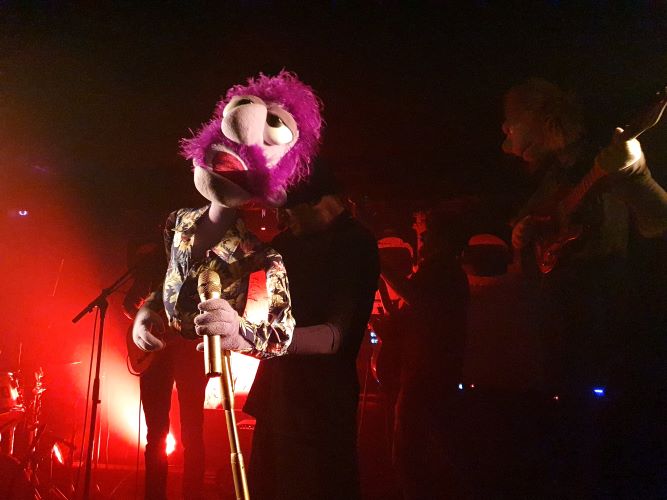 My favorite place to listen to music is right up next to the stage, and that's where I was, perfectly placed to see the magic of Red Band – a folk/rock band whose lead singer, bassist, and drug dealer are all puppets. Red is a magenta-haired rocker whose cynical commentary adds a comic punch to the show. They rocked the house to a set of fun covers, closing with a passionate rendition of Crazy. One of my favorite moments was watching Red and his bassist (also a puppet) as they sang "I'm Only Human."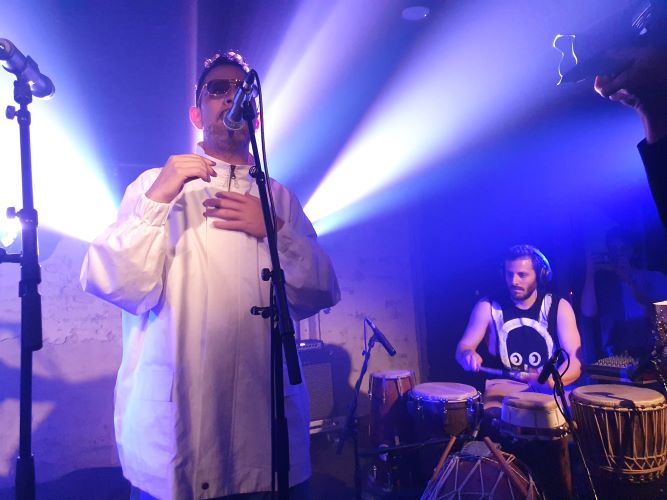 Then in a 180-degree shift, following their set, the stage was cleared (it took a while, but the DJ kept us happy and dancing) and re-arranged for Gilad Kahana. The eclectic performer known for his mesmerizing and sometimes outrageous riffs, was accompanied by Guy Moses on electronica, and Ben Aylon on traditional African drums, making for a tantalizing meeting of different sensibilities as Kahana riffed on mortality, eternity, and writing.
At that point, the whiskey went deep into my head, and I headed for home… but there's more to come.
The party is still on at the Ozen, and will continue through Saturday.
Thursday, April 21st – Hila Ruah at 20:15 and Corinne Allal at 21:00. Doors open at 19:30, tickets are 80 NIS.
Friday, April 22nd – Afternoon chill with DJs, cocktails, and discussion panels – Riot, Hip Hop & Queer music culture, social activism & more… Tickets are 20 NIS (which will be donated to LGBTQ non-profit).
Saturday, April 23rd – a marathon of live performances from noon onwards on two stages. Aya Zahavi Feiglin, WC, Tzlil Danin & Shekel, Nitzan Vardi, Sababa 5, TAPASH. Doors open at 12:00, tickets are 60 NIS. A big Mimouna celebration will take place from 20:00 with Liron Amram & the Panthers and Abu Gosh. Tickets are 30 NIS.
Updates & additional information may be found on the OZEN website: www.ozentlv.com