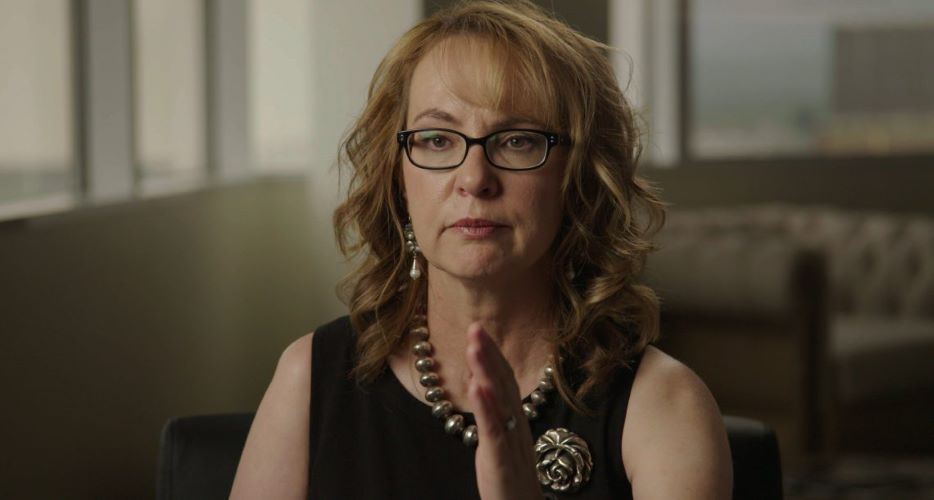 Arizona representative Gabby Giffords was initially reported dead following a shooting attack in Tucson, Arizona in 2011, but although seriously wounded, Giffords remained very much alive. In this film Julie Cohen and Betsy West, who produced and directed the 2018 documentary RBG, on the life and career of Ruth Bader Ginsburg, turn their attention to yet another remarkable woman. Although the bullet that went through her brain left her partially blind, partially paralyzed on the right side of her body, and struggling with aphasia, Gabby Giffords, as the film's title announces, did not back down. Infused with the energy that is Gabby herself, it is a riveting documentary that evoked a paradoxical response for me: the more I learned about Gabby Giffords and was inspired by the spirit and force of this woman, the more deeply I felt the pain of all she has lost, and the loss of all she could have been.
A montage of images of Gabby as a child and young woman are followed by footage of her political career. Smart, strong and articulate, she was a young politician with a promising career ahead of her, as Barack Obama says later in the film, she was "someone who could have bridged the partisan gap…could have gone far." It's a harsh transition to see Giffords in the hospital following the shooting – unable to speak, barely able to move. Yet just thirty days later, she can already summon up a smile. Fortunately for the filmmakers, Giffords' husband Mark Kelly filmed the process of her recovery from the start, and the result is a fascinating look into the mysteries of the brain and the amazing resilience of the human spirit. Music is a key element in Gabby's efforts to recover the ability to speak, it's a source of joy as well as a pathway to speech, and the love of music is also present in the film's soundtrack, which is terrific.
The film is also an unusual and moving love story. Although their careers necessitated a long-distance relationship at least part of the time – Giffords' as a member of Congress in Washington D.C. and Kelly's as an astronaut for NASA, that was not an obstacle to their relationship, and neither was Giffords' injury. Their close connection is one of the joys of this film, a relationship in which two people love and support one another, encouraging each other's endeavors and dreams. At the time of the shooting, Kelly was scheduled to command a mission to space, and when it appeared that Gabby was doing well, it was decided that he would continue in that role. As it turned out, he was in space while Gabby underwent brain surgery, making for a strange and wonderful scene in the film with a split screen showing each on their separate journeys, with Kelly sending a message from space, quoting David Bowie's Major Tom: "Tell my wife I love her very much. She knows." That was to be Kelly's last mission, for he resigned from NASA and the U.S. Navy in order to be with Gabby and support her on the road to recovery. In another twist of this narrative, Kelly decides to run for Senate, and Gabby supports him in every way – coaching him as he practices speeches and making speeches herself on his campaign trail.
Gabby Giffords has come far in every way, and a considerable part of the film is devoted to her fight against gun violence. After an injury such as hers, it would not have been surprising had she retreated from public life. Yet she chooses to dedicate her energy, optimism, and perseverance to the greater good, through her advocacy of gun control. As I watched Giffords speak at the 2013 Senate Judiciary Committee Hearing on Gun Violence Prevention, her words brought tears to my eyes: "Too many children are dying. We must do something…be bold, be courageous…"
Gabby Giffords Won't Back Down – The film is screened in collaboration with the Human Rights Association on the occasion of the association's 50th anniversary. Directors Julie Cohen and Betsy West will be guests of the Docaviv festival, and will present three of their films: Gabby Giffords Won't Back Down, My Name is Pauli Murray, and Julia.
Gabby Giffords Won't Back Down
United States/2022/97 min/English with Hebrew subtitles
Screening dates and times may be found on the Docaviv website