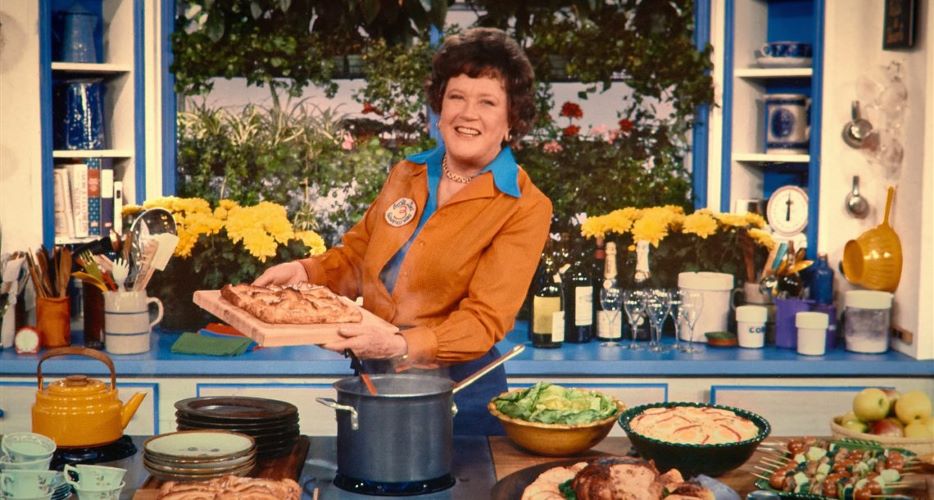 Julia Child taught me that it's all right to make mistakes. She was a presence in my childhood – and not just in the kitchen. Much like Julia Child, my mother did not really learn how to cook until her early thirties, around the same time that The French Chef began to air on WGBH. Mastering the Art of French Cooking was a constant reference, but just as influential, the advice and example of Julia Child – the one we saw on television, who encouraged us to try new things, have fun, and dare to improvise – was often invoked, much as if she was a member of the family, like an admired great-aunt. That is the Julia Child that one comes to know in Julie Cohen and Betsy West's documentary Julia.
The best aspect of Julia is Julia Child. Relying on archival material from her own shows and many television interviews, the documentary features abundant footage of Julia Child and her extravagantly distinctive voice, impressive stature (6'3"), and irresistible joie de vivre. This is well augmented by interviews with Russell Morash (her producer at WGBH), family members Alex Prud'Homme and Phila Cousins, friends such as Pat Pratt, well-known contemporary chefs such as Ruth Reichl, José Andrés, Marcus Samuelsson, Ina Garten and André Pepin, and even French food critic François Simon, whose features are obscured to maintain his anonymity. To understand the magnitude of Julia Child's impact on the way Americans cook and eat, it is important to remember the culinary landscape of the times. The documentary sets the scene well: Barbara Fairchild, former editor-in-chief of Bon Appétit, notes that convenience foods were the trend at the time (remember TV dinners?), while Child's friend Pat Pratt recalls that Jello salad was considered a perfectly appropriate part of a meal.
Born in 1912, Julia McWilliams grew up in an affluent, conservative family in Pasadena, and was expected to fulfill her destiny by marrying well. But her curious mind and zest for adventure took her far from home. When WWII broke out, she joined the OSS intelligence agency as a typist, a job which took her to Ceylon, where she met Paul Child, the love of her life. Theirs is a beautiful love story, and excerpts from their letters trace the development of the relationship from the first mentions in letters to family, to a sonnet Paul wrote to Julia in their later years. Noting from the first Julia's "lovely legs", their next posting in China brought them closer as they began to go out to restaurants together and Julia, as Ruth Reichl comments in the film, discovered "food and love at the same time."
The film conveys Child's delight in the sensual pleasures of food and includes tantalizing cinematography of food preparation illustrating the narrative. Child's recollection of her first meal in France, eating sole meunière at La Couronne in Rouen, is followed by a demonstration of how to prepare the dish, complete with rivers of butter. Vegetarians may prefer to thrill to the delicate attention given to pears first poached in wine, then assembled into a tart.
It's a pleasure to follow Child and her co-authors Simone Beck and Louisette Bertholle on the long journey towards the publication of the book that changed the way America cooked. Just as fascinating is the trajectory of her television career, which began with a guest appearance on a book review program, and went on to break ageist (she was 51 when she began her on-camera career) and sexist barriers, as well as infuse public television – which tended towards the didactic – with an extraordinary sense of theatricality and fun. There are wonderful reminiscences from Russel Morash her producer and Alex Pirie, the floor manager for The French Chef, as well as behind-the-scenes photos and best of all, clips of the inimitable Julia Child doing her thing.
As the years went by, the social, political, and culinary landscape of the United States went through many changes. Some were difficult for Child to relate to, but on some issues, she revealed a great ability to open herself up to new ways of looking at the world. Although she was prejudiced against gay men (as her friend says in the film "she called them homos") she had good relationships with gay colleagues and was always supportive of young chefs whatever their gender or sexual preference. . When the AIDS crisis hit, she stepped up and hosted a benefit in 1988. She did not define herself as a feminist and is seen saying in an interview that "the making of a home is to me one of the most important things in the world", yet she was a vocal advocate for Planned Parenthood. As her career took off, Paul took on a supportive role, except of course, in the kitchen. Not a feminist perhaps, but a path-breaking source of empowerment for women.
Julia, the documentary, is just as fascinating, inspirational and fun as Julia Child.
Julia will be screened in the Masters Program at Docaviv 2022. Directors Julie Cohen and Betsy West will be guests of the Docaviv festival, and will present three of their films: Gabby Giffords Won't Back Down, My Name is Pauli Murray, and Julia. Screening dates, times and tickets are available on the Docaviv website
Directed by Julie Cohen and Betsy West; Production: Betsy West, Julie Cohen, Justin Wilkes, Sara Bernstein, Holly Siegel; Production Company: Storyville Films, Imagine Documentaries, CNN Films; Editing: Carla Gutierrez; Cinematography: Claudia Raschke, Nanda Fernandez Brédillard; Music: Rachel Portman