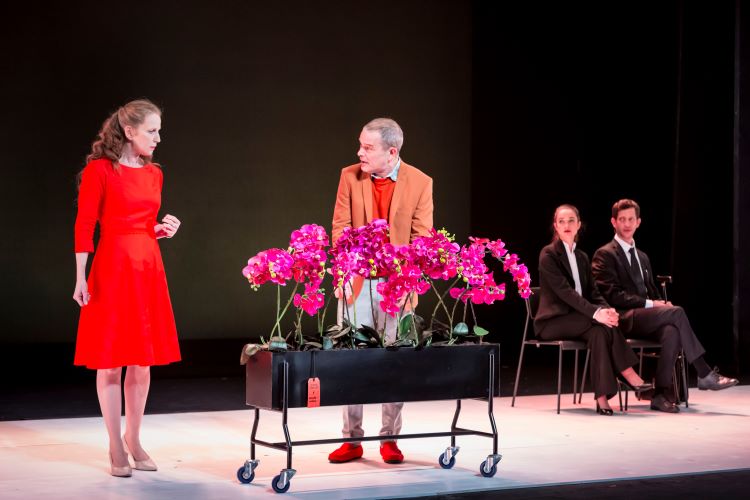 Beit Lessin's Couple, written by Edna Mazia and directed by Ilan Ronen, is a stirring courtroom drama that raises critical questions about relationships. The case to be tried appears very straight-forward. Odi (Shiri Golan) and Yoram (Rami Heuberger) are a middle-aged couple who have been married for 15 years. Following an argument, Odi stabbed Yoram in the thigh. Odi has confessed and has refused a lawyer. Yet what ought to have been an open-and-shut case becomes more complicated when another couple becomes involved. When Asi (Tom Hagi) the prosecuting attorney tells his colleague and girlfriend Tamar (Daniel Gal) about the case, she feels compelled to defend Odi.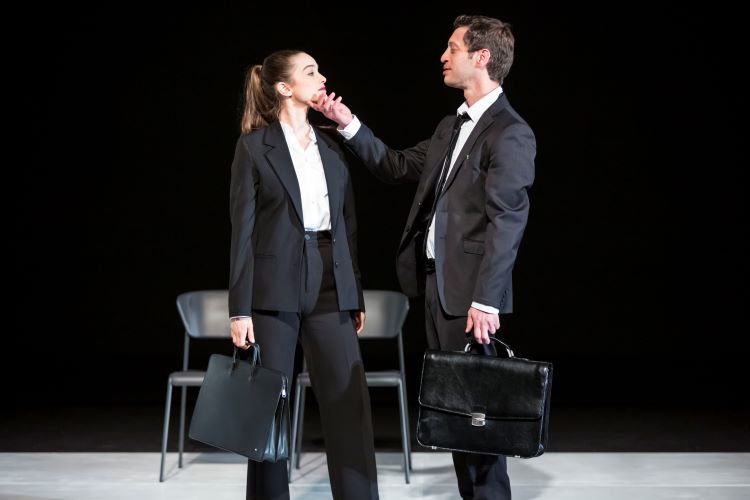 The play opens with a flirtatious fun scene between Asi and Tamar that establishes their energy, youth, and passion for one another. In sleek black suits with serious-looking briefcases there is an equivalence between the two. Both are lawyers, and as they throw off their clothes, both are interrupted by phone calls from work. Yet there are also some significant differences between the two. Asi is the more senior lawyer, and he is also married, with children, so that the relationship with Tamar must remain clandestine. Adversaries in court, and lovers in secret – there is a lot at stake for the lawyers in this deceptively simple case.
All four actors deliver excellent performances, and it is a suspenseful and moving play. Much of the play's emotional impact is due to the outstanding performance by Shiri Golan as Odi. At the outset, confessing to the knifing and refusing to defend herself, Odi is muted, closed off. Shiri Golan's body language is so expressive, it is as though she carries the weight of her character's past in her body – it is written on her skin, in her gaze, in the sound of her voice, and the way she moves, her fingers constantly fidgeting in anguish. Everything about her broadcasts fear, tension, and surrender. As the play develops, it becomes apparent what has brought Odi to this point. When she decides to speak her truth, rediscovering her inner strength, Odi's transformation is moving to behold.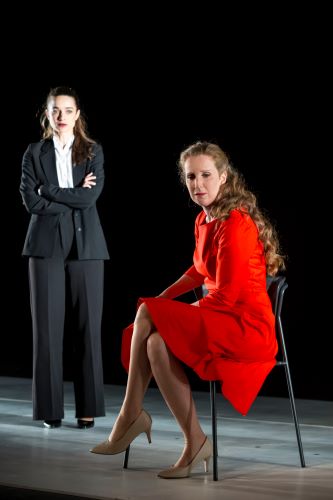 The action plays out primarily in the courtroom, and as the case proceeds, the testimony on events from the past is very effectively enacted in flashback scenes. As one learns more about the relationship between one couple – Yoram and Odi, the case begins to reveal aspects of the relationship between another couple – Asi and Tamar. I've been trying to write about Couple without too many spoilers, I think that usually, the less is known, the better the dramatic experience. My one issue with the play is that some of its parts fit together too neatly, and I would have preferred less of a one-to-one equivalence with regard to certain aspects of the narrative. Couple illuminates the dark spaces that can exist within a relationship, even when it appears perfectly fine on the surface, and as such, has a social as well as artistic value.
Couple
By Edna Mazia
Director: Ilan Ronen; Set Designer: Niv Manor; Costume Designer: Avia Bash; Lighting Designer: Nadav Barnea; Movement: Sharon Gal; Assistant Director: Cnaan Eliel; Cast: Shiri Golan – Odi, Daniel Gal – Tamar, Rami Heuberger – Yoram, Tom Hagi – Asi