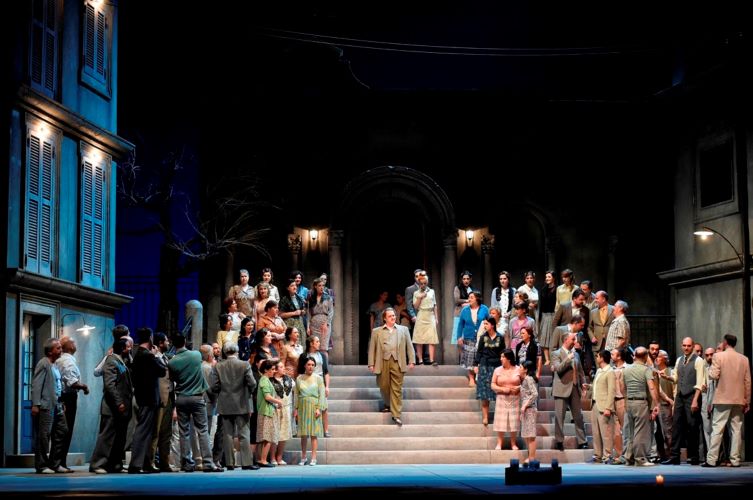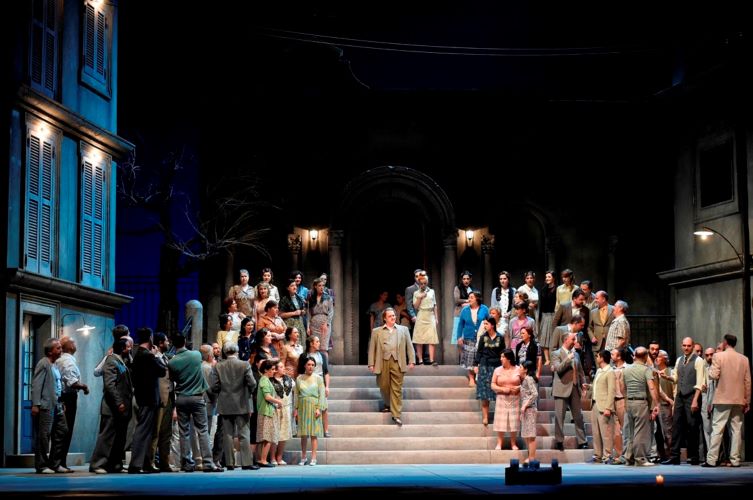 The Israeli Opera will open 2023 with two one-act operas overflowing with heat, jealousy, and passion: Sergei Rachmaninoff's Aleko and Pietro Mascagni's Cavalleria Rusticana. Directed by Juan Anton Rechi and conducted by Alessandro de Marchi, the operas will be performed from January 13 – 22, 2023.
Cavalleria Rusticana is considered a classic Verismo opera, a genre that was very popular at the time – operas inspired by true events – the 19th century's equivalent of true crime stories. The libretto was written by Giovanni Targioni-Tozzetti and Guido Mensci, an adaptation of a short story and play by Giovanni Verga. Cavalleria Rusticana takes place in a Sicilian village, and director Juan Anton Rechi has set Aleko's gypsy camp just beyond the village, thus connecting the two operas. Thematically, the operas have much in common, with a focus on passion and jealousy.
In Cavalleria Rusticana, there is quite a tangle of involvement between the different characters. Mamma Lucia owns the local inn, and that is where young Santuzza comes looking for Turiddu, Mamma's son, with whom she has been keeping company. Santuzza is in love with Turiddu, but Turiddo is looking elsewhere. Alfio arrives back from his travels and boasts of his pretty wife Lola, who is waiting for him at home. Or so he thinks. As Santuzza explains to Mamma Lucia, Turiddu, who had been in love with Lola before joining the army, is now back in her arms and affections. Santuzza feels abandoned, and encountering Turiddu, pleads with him not to leave her, but to no avail. In her despair, Santuzza tells Alfio of the affair, and Alfio wants revenge. After church, Turiddu offers wine to everyone but Alfio refuses. They challenge one another to a duel. When Turiddu asks Lucia to look after Santuzza if anything happens to him, she becomes alarmed and wants to go after him, but it is too late. The neighbors come to tell her that Turiddu has been killed. Soloists: Sergei Poliakov and Hector Sandoval will alternate in the role of Turridu, Anastasia Boldyreva and Ira Bertman will alternate in the role of Santuzza, Elchin Azizov and Ionut Pascu will alternate in the role of Alfio, Anat Czarny and Tal Bergman will alternate in the role of Lola, and Shay Bloch and Rona Shrira will alternate in the role of Mama Lucia. The opera will be sung in Russian, with surtitles in English and Hebrew.
Vladimir Nemirovich-Danchenko wrote the libretto for Aleko based on the Alexander Pushkin's poem from 1827, The Gypsies. Rachmaninoff composed the opera for his graduation work at the Moscow Conservatory. The opera was first performed on May 9, 1893, and became a great success. Cavalleria Rustincana is often paired with Ruggero Leoncavallo's Pagliacci, a two-act opera with themes similar to Aleko. The current production marks the first time that Aleko will be paired with Cavalleria Rusticana at the Israeli Opera.
Aleko takes place in a gypsy camp where an old gypsy tells the tale of his lost love, who left him for another, but left behind their daughter Zemfira, for the man to raise. Zemfira, now grown, lives with Aleko, a Russian who has left his own community to live with the gypsies. Hearing the old man, he cannot understand why the man tolerated his lover's abandonment. Zemfira, however, feels that love should be free, free to change, and that no one should have ownership over another. She has a new lover, and Aleko is jealous. We're at the opera, so it is clear that this will not end well… Catching the lovers together, Aleko kills them both, and is punished by being cast out of the Gypsy community. Soloists: Elchin Azizov and Ionut Pascu will alternate in the role of Aleko, Alla Vasilevitsky and Shaked Strul will alternate in the role of Zemfira, Valentin Dityuk and Ron Silberstein will alternate in the role of the young Gypsy, Lev Elgardt and Pnini Leon Grubner will alternate in the role of the Old Gypsy, and Rona Shrira and Yarden Kiperman will alternate in the role of the Gypsy Woman. The opera will be sung in Italian, with surtitles in English and Hebrew.
The Israeli Opera Chorus led by Chorus Master Assaf Benraf and the Israel Symphony Orchestra Rishon LeZion will participate in both operas. An hour before each performance there will be a 30 minute introductory talk on the opera, admission is free to ticket holders. Opera talkback, an opportunity to meet and talk to cast members, will take place on January 17, 18, 21, and 22, for about 30 minutes, after the show, on the second level of the opera house. Tickets may be ordered online from the Israeli Opera website: https://www.israel-opera.co.il/eng