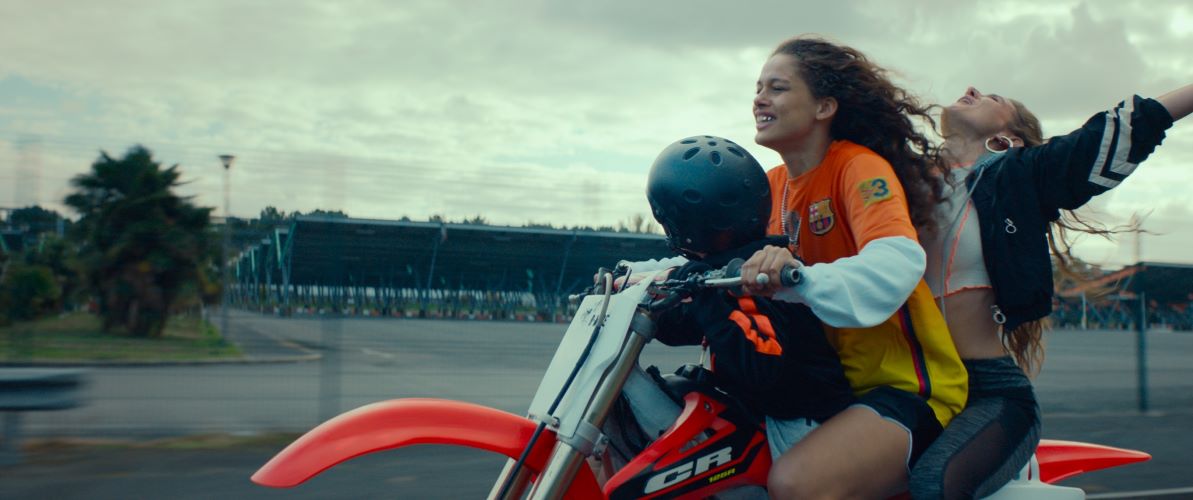 Rodeo explodes into action as Julia (Julie Ledru) comes through angry and fighting, lashing out in all directions. The camera moves with her, every word, every breath, every muscle a blur of movement and a storm of adrenaline fills the screen. Her bike has been stolen, she needs a bike desperately, she needs a ride to get to the bike, and she has the intelligence and control to figure out what she needs to do to make that happen. Lola Quivoron's film focuses on Julia, an outsider for whom every day is a battle of strength and wits in a harsh, unrelenting environment. It's a rough existence, and the film does not soften the edges or hold out promises of better days. Raw and visceral, it's a film that gets your heart racing.
Julie Ledru brings Julia to vivid life, when she rides you feel the thrill, the bike is freedom, it is physical and spiritual, it is ecstasy. The film meets Julia in the present moment, everything the viewer learns about her past is gleaned from the action, and its not much. She's from Guadalupe, her mother wants her out of the house, and she has a mutually aggressive relationship with her brother, but they still communicate, barely. Watching Julia in action, its clear she's acquired some sophisticated survival skills. An outsider in every way, she doesn't even need money, because, as she says, she steals everything she needs.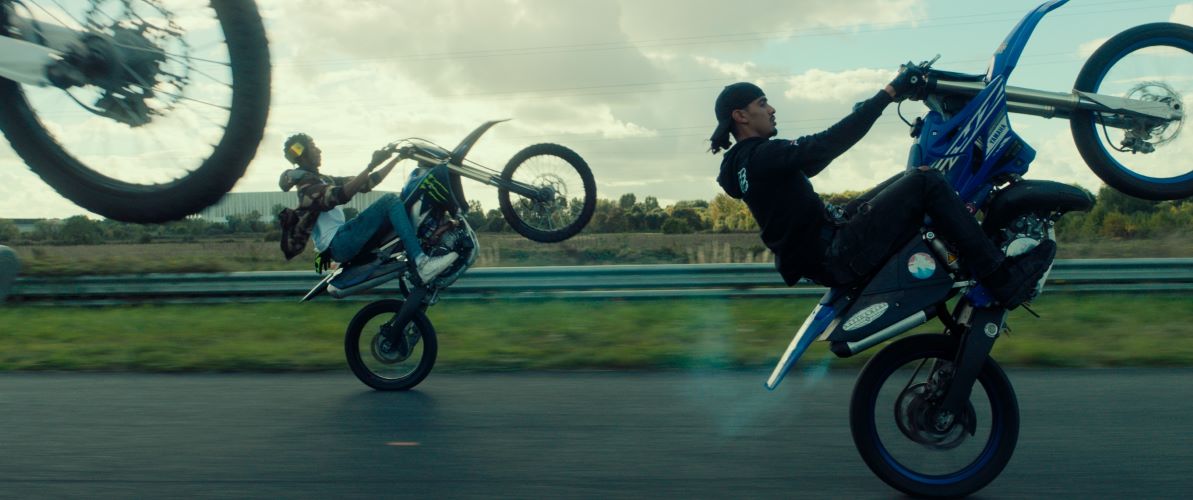 Having acquired a bike, she takes it to an illegal rodeo where bikers show off their skills. She's barely a beginner and doesn't even have gas for her bike, but confidently talks her way into getting some. She becomes involved with a group of bikers who work in a chop shop and call themselves the B-Mores, seeking acceptance on her own terms. Not an easy feat, as the bikers are all men, the women who show up to the rodeos and other gatherings stand on the sidelines, or at most, get a ride from a guy on the back of his bike. Julia, who wants to be called "The Unknown", is beyond binary gender roles, but when it's necessary for a heist, can play a feminine role.
One's insight into Julia's character is primarily through her interactions with others. She rejects the denigration disguised as flirtation first offered by Kaïs (Yanis Lafki) but remains open to a form of friendship and partnership in crime. Most revealing is her relationship with Ophélie (Antonia Buresi, who co-wrote the screenplay with Quivoron), wife of the chop shop owner, and her young son Kylian. Julia's tender playfulness with Kylian (Cody Schroeder) and efforts to help Ophélie reveal a very different aspect of her personality, and perhaps her desires.
Quivoron spent several years getting to know biker communities and the film benefits. Rodeo captures the relationships and codes of behavior, as well as the energy and the thrills of the biker underground. Julie Ledru, whom Quivoron found on Instagram, radiates a marvelous intensity as Julia hurtles towards her destiny, burning up the screen.
Rodeo will be screened at the Tel Aviv Cinematheque from January 9, 2023. The Tel Aviv Cinematheque website: https://www.cinema.co.il
Rodeo
France/2022/105 min/French
Director: Lola Quivoron; Screenplay: Lola Quivoron, Antonia Buresi; Cinematography: Raphaël Vandenbussche; Editor: Rafael Torres Calderon; Music: Kelman Duran; Cast: Julie Ledru, Yanis Lafki, Antonia Buresi, Cody Schroeder