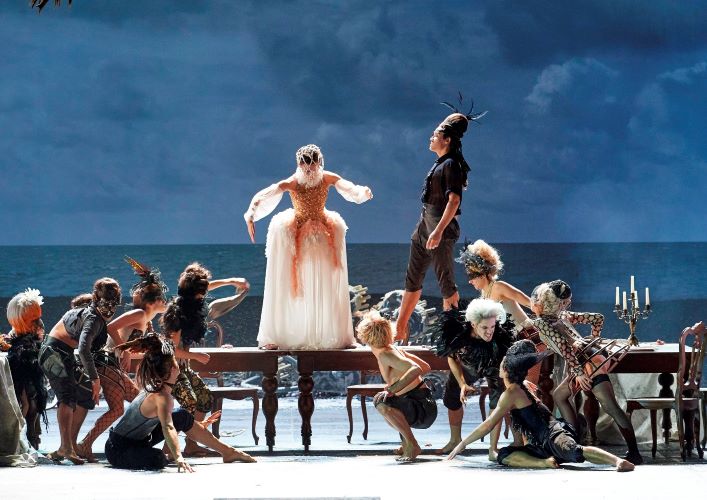 At last – love prevails in Georg Friderich Handel's Ariodante, which will be performed at the Israeli Opera from February 17 – 25, 2023. Yet before love triumphs, prepare to encounter intrigue, betrayal, jealousy, and some bloodshed. The opera will be conducted by Jean-Christophe Spinosi, with the participation of his Ensemble Matheus, as well as Barrocade – the Israeli Baroque Collective, and the Israeli Opera Chorus. The current production is a special collaboration with the Vienna State Opera, directed by David McVicar, with Niv Hoffman as the revival director.
Ariodante opened the first ever opera season at Covent Garden in 1735. As the new theatre had its own company of dancers led by Marie Sallé, Handel decided to incorporate dance sequences in his opera for the first time. Ariodante's libretto was adapted from Ludovico Ariosto's epic poem Orlando Furioso. The chain of unrequited love in Ariodante goes like this: Lurcanio is in love with Dalinda who is in love with Polinesso (who totally doesn't deserve her love, as will soon be seen), who is in love with Ginevra. Ginevra and Ariodante are in love and happily have the blessing of Ginevra's father, King of Scotland. When Polinesso learns from the besotted Dalinda that Ariodante is his rival for Ginevra's affections, he decides to use the unwitting Dalinda to trick Ariodante into believing that Ginevra has been unfaithful.
Polinesso tells Ariodante that Ginevra is his lover, and Ariodante hides to spy on the two lovers, as Dalinda, disguised as Ginevra, invites Polinesso to her chamber. Devastated by what he has seen, Ariodante wants to end his life, but Lurcanio convinces him to seek revenge instead. Ariodante lives and is told the truth by Dalinda. Lurcanio challenges Polinesso to a duel and wounds him. Ariodante appears, Polinesso confesses all before he dies, and the King forgives Dalinda. Ginevra and Ariodante may at long last enjoy wedded bliss.
McVikar has described his approach in an interview with Lydia Perovic: "my solution to directing an opera is to approach it as an actor, and my solution to directing a singer is: How would I play this. I'm weak on concept. Though there is always a conceptual foundation to everything I'm doing – there's always a reason why things are happening. But the conceptual interpretation is not the overriding thing for me: it's how the performers perform it, that's the primary concern. How the performers invest in the character and tell the story, and is the story clear to the audience. That's really important. Anything that I do that obfuscates the story, that gets in the way is something that I try to edit out. Because at the end of the day people are sitting in the theatre and watching the performance. It's sort of immaterial whether I was there or not. The relationship is between the people on the stage and the audience."
Here's a look at what's to come – Enjoy!
Ariodante will be performed at the Israeli Opera from February 17 – 25, 2023. Tickets may be ordered from the Israeli Opera website. An hour before each performance there will be a 30 minute introductory talk on the opera, admission is free to ticket holders. Opera talkback, an opportunity to meet and talk to cast members, will take place on February 21 and 23, for about 30 minutes, after the show, on the second level of the opera house.
Ariodante by Georg Friderich Handel
Conductor: Jean-Christophe Spinosi; Director: David McVicar; Revival Director: Niv Hoffman; Set and Costume Designer: Vicki Mortimer; Lighting Designer: Paule Constable; Choreographer: Colm Seery; Soloists: Ariodante – Cecelia Hall, Ginevra – Daniela Skorka, Dalinda – Hila Fahima, Polinesso – Nicholas Tamagna, King of Scotland – Ugo Guagliardo, Lurcanio – Ed Lyon, Odoardo – Anton Trotoush