Opening with the bright, gentle, colors of summer, in an animated sequence whose broad strokes of gouache evoke the work of a child's hand, Àma Gloria tells a familiar story from a different perspective, with warmth and honesty. Written and directed by Marie Amachoukeli (Party Girl, with Claire Burger and Samuel Theis, 2014) in her solo debut, the film follows a turning point in the life of 6-year-old Cléo.  A jumble of curls, energy, deep brown eyes, sweet affection, and a ready laugh, Cléo is vividly portrayed by Louise Mauroy-Panzani, whose eloquent gaze and body language convey the intricate, inner world of a child's thoughts and feelings. Over the course of the film, Cléo will learn to see herself and others differently, with the painterly animated sequences as a recurring motif that reflects her emotional landscape.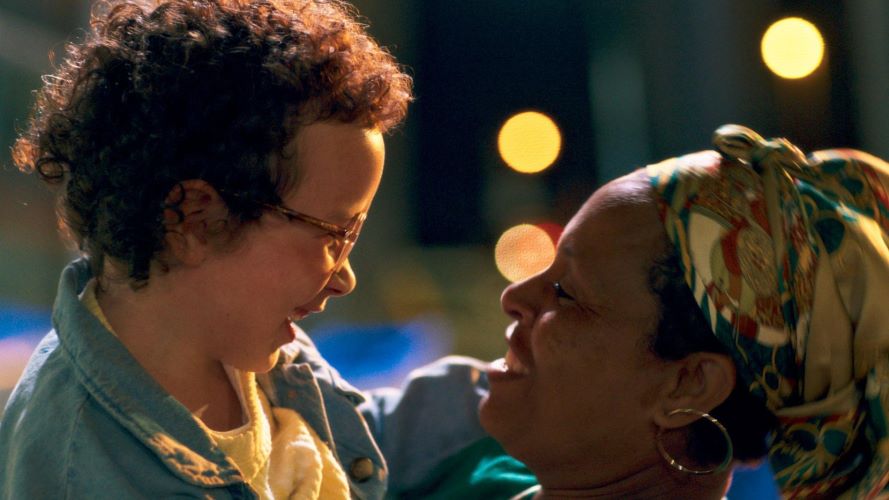 Living with her loving yet often absent widowed father Arnaud (Arnaud Rebotini), Cléo has been cared for by Gloria (Ilça Moreno Zego) since she was very young. Not quite a mother, yet the closest Cléo has to a mother, an employee who is almost a member of the family, Gloria has raised Cléo with love, to be a happy, confident child. When she falls on the playground and scrapes her hands, Gloria is the one Cléo turns to for comfort. In a telling moment, an urgent phone call takes Gloria away, and Cléo, distressed and wanting Gloria by her side, is left with no alternative but to blow on her own hands to ease the pain. It is the beginning of a lesson Cléo will now need to learn. When Gloria's mother dies suddenly, she will have to return home to Cape Verde, for now there is no one there to care for her own children – Fernanda (Abnara Gomes Varela) and César (Fredy Gomes Tavares).
Although Cléo enjoys a loving relationship with her father, the parting from Gloria is heartbreaking, and only mitigated by the promise of a visit to Gloria over the summer. It is there in Cape Verde that Cléo is confronted with a view of Gloria she has not seen before, that of an independent individual, with children, friends, and plans of her own. Gloria's daughter Nanda is pregnant and needs Gloria's help and guidance. Her son César feels that he doesn't know his mother at all; Cléo is the reason for his mother's absence, and he resents her presence, sending sullen looks her way. Gloria has plans for her future, the money she has saved she plans to build a hotel, and the construction is already under way. The connection between Gloria and Cléo is as strong as ever, as Gloria tells her friend, "She is like a daughter to me." But Gloria's future is in Cape Verde, with her children, her hotel, and perhaps a loving partner, while Cléo will return to France and her father.
The film explores the intricate tangle of feelings in the relationship between Cléo and the only mother figure she remembers ever knowing, Gloria. It's a strange relationship that is marked by its transactional framework – Gloria was hired and paid to care for Cléo, yet that coexists with the sincere attachment that developed between the two. Cléo, who is accustomed to being the center of Gloria's focus, realizes in Cape Verde that Gloria loves her, but Cléo is not Gloria's entire world. It's a shift in perspective that inevitably comes to us all as we grow up, that those around us – and it can feel especially shocking regarding one's parents – have lives apart from us and our concerns. The camera often comes very close, emphasizing the intimacy between Gloria and Cléo, and the closeups on Cléo feel as though they take us deep into the raw material of her feelings. Mauroy-Panzani depicts all Cléo's confusion, anger, heartache, and conflicting feelings in the slow and painful process towards acceptance, it's a dazzling and moving performance from such a young actor.
Ilça Moreno Zego is warm, wise, and wonderful as Gloria, who tries to imbue Cléo with the understanding she will need to move on. While there have been many films that explore the relationship between nannies and the children they care for, Àma Gloria explores perspectives rarely seen with its close focus on Cléo's feelings and her turbulent path towards acceptance and steps along the way to her own independence. The film delivers a very strong message as well in setting the main part of the narrative in Cape Verde, literally on Gloria's terrain, showing her home, children, family, friends, language, landscape, and culture – all she had to leave behind for many years, in caring for someone else's child.
Àma Gloria was awarded the Nechama Rivilin Award for Best International Film at the 40th Jerusalem Film Festival 2023.
Àma Gloria
France 2023 | 83 minutes | French, Creole | Hebrew, English subtitles
Written and directed by Marie Amachoukeli; Cinematography: Inès Tabarin; Editor: Suzana Pedro; Music: Fanny Martin; Cast: Louise Mauroy-Panzani, Ilça Moreno Zego, Abnara Gomes Varela, Fredy Gomes Tavares, Arnaud Rebotini, Domingos Borges Almeida