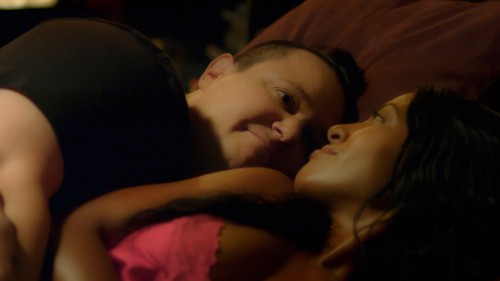 Having seen and loved S & M Sally, I expected something similar from actor/director Michelle Ehlen – funny, bold, intelligent, nuanced and spiked with satire. Maybe Someday, Ehlen's first dramatic feature, was not the film I expected, but it is a quietly powerful film – Ehlen dares to go deep, and it is resonant in its depiction of heartbreak, depression, friendship, love and healing. And it's funny – imbued with Ehlen's dry humor and the comedy of the human predicament. Maybe Someday is written, directed, edited, and co-produced by Ehlen, who also stars in the film. It is fully her vision.
Ehlen stars as Jay, a non-binary photographer in their 40s, who is reeling following a separation from their wife Lily (Jeneen Robinson). Coming over to Lily's new apartment for dinner, Jay's nervous tension and grief are so palpable, it's almost painful to watch. In contrast, Lily's composure and genuine affection for Jay make it clear that she has already moved on. Feeling lost, and recognizing the need to do something, Jay decides to move to Los Angeles, to physically distance themselves from the past, and seek out a new beginning. On the way, however, they stop to visit Jess (Shaela Cook), their childhood best friend. Jess is divorced and has a young daughter Ava – Jay's interactions with Ava are so hilarious, I refuse to spoil the moment with a description. Jay is also still texting with Lily, so, altogether not quite ready to part with the past.
As Jay makes the effort of daily life, their thoughts are full of memories with Lily, and from their adolescence with Jess. Eliza Blair is stunning as the young Jay, and as Jay works through their past relationship with Jess, and first intimations of sexuality, the viewer joins Jay on this journey. The joy and intimacy of their teenage friendship stands in contrast to the tension that sometimes rises to the surface between Jay and Jess, and in those memories is the origin of that tension. Shaela Cook delivers a rich performance as Jess, with a complex mix of understanding and glaring blind spots as she tries to help Jay through this crisis and reflects on the trajectory of their friendship. Bursting through the reflective, intimate, feel of the film is Tommy – an obnoxious, excruciatingly bad comedian that Jay meets on a photo shoot. Charlie Steers is terrific as Tommy, and this most unlikely friendship develops brings light and laughter into Jay's life, and a fun drag scene into the film.
Wenting Den Fisher's understated cinematography is in harmony with the film's overall reflective tone, the beauty of nature is a constant on Jay's slow path towards acceptance and healing.  Ultimately, it is Ehlen's portrayal of Jay that sears the heart with the eloquence of her gaze and body language, depicting the raw visceral quality of Jay's pain, the powerful determination, and awkward stumbling steps forward to an unknown future, hoping for joy.
Maybe Someday is now available in Israel on Vimeo and Apple TV.
Maybe Someday was originally reviewed at TLVFest 2022.
Maybe Someday
USA/2022/91 min
Director: Michelle Ehlen; Screenplay: Michelle Ehlen; Cinematography: Wenting Deng Fisher; Editor: Michelle Ehlen; Cast: Michelle Ehlen, Charlie Steers, Shaela Cook