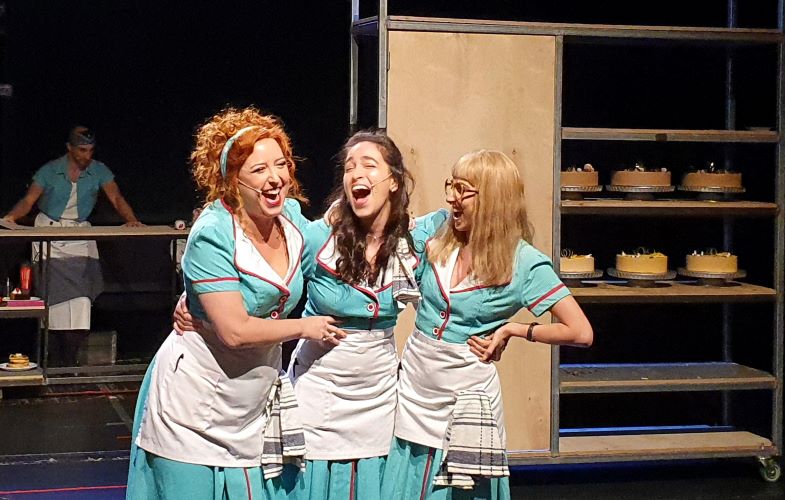 The musical Waitress is coming to the Cameri Theatre, and it promises to be a most delicious and timely treat! The musical is based on the 2007 film written and directed by Adrienne Shelly, with music and lyrics by Sara Bareilles, and a book by Jessie Nelson. The Cameri Theatre production is translated by Dori Parnes and directed by Ido Rozenberg.
Meshi Kleinstein, whose voice shimmers like silk, stars as Jenna, a waitress who expresses her thoughts and feelings in the pies she bakes. Jenna is married to Earl (Gilad Shmueli), who controls and abuses her. Although she is terribly unhappy in her marriage, Jenna feels stuck and can't see a way out. She finds comfort in work at the diner – with co-workers Becky (Tali Oren) and Dawn (Noy Halperin), as well as the curmudgeonly owner Joe (Eli Gorenstein). With the discovery of an unplanned pregnancy, Jenna is unhappy, but decides to keep the baby. An appointment with the new gynecologist in town, Dr. Pomatter (Ofri Biterman), leads to an unexpected friendship. Jenna enters a pie baking contest, hoping that she will win the grand prize and have enough money to escape Earl's clutches. All three women – Jenna, Becky, and Dawn, take risks and make choices throughout the musical, encouraging and supporting one another as they come into their strength.
The Cameri Theatre opened their rehearsal room to the press this morning, and the talented cast performed several numbers from the musical, including: What's Inside, Opening Up, When He Sees Me, It Only Takes a Taste, I Didn't Plan It, and the painfully beautiful She Used to Be Mine. The connection between Jenna, Becky, and Dawn is warm and lively, the character's very different personality stands out as each seeks her own version of happiness. The songs are vibrant, moving, and lots of fun. Today's scenes were performed without the stage set, but the performances and Orna Smorgonsky's enchanting costumes convey the mood and atmosphere.
The Israeli premiere of Waitress, and its story of women's empowerment and women's friendships, is all the more relevant, given current events that threaten equal rights. Ido Rozenberg, the musical's director stated, "At a time when women are not represented in government, and [their images] are missing from posters, we are putting women front and center, on posters and on stage."
Waitress will open (in Hebrew) at the Cameri Theatre in September, tickets and additional information may be found on the Cameri Theatre website.
Fellow journalist Yuval Erel captured great video of the performance – enjoy! https://youtu.be/ztGlPYd6v2Y?si=Y85sDoitRdT1tPgj