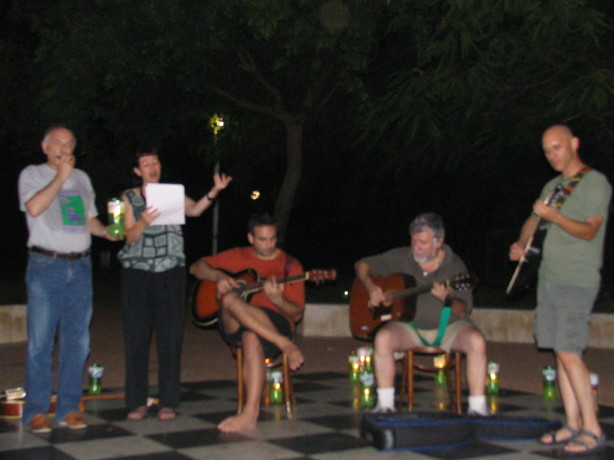 Hidden in a small park between the apartment towers of Ramat Aviv Gimmel is an over-sized chess amphitheatre that magically turns into a free folk music concert. The venue is so unplugged that the sound is absolutely natural, the stage is a marble checkerboard surrounded by candle light. Seating is either on stone tiers or on the grassy knolls under the trees. The summer evening atmosphere is festive, joyous and relaxed and free.
Harold Jacobs began the summer tradition 10 years ago. Why does Jacobs organize the park hoots each year? He says, "It's my hobby, and besides I don't have to schlep into town and I just bring down some kitchen chairs, invite my musician friends and we all party. Musicians, groups and ensembles actually come from all around the country and even from abroad. One can often spot Radio & TV personalities in the audience as well as cafe & club owners looking for new talent. This year's hoots (short for hootenanny) will be on July 14th and August 11 and will feature:
Barry Gilbert, Ro'i Zultan (Germany), Amir Mishali, Inbal Mishori, Amiel Schotz, Benson Benovy (USA), Larry & Mindy, Guy Dagan, Judy Cohen, Just Married, Judy & Lynn Lewis, Scott Fields, Ariela Orion, SheRock, Itai Mesch, Clair Gilbert (UK-Good Natured Music – for children), Dr. Elliot Dobin, Larry Brandt's Brass Ensemble, Marcie & Paul Forrest, Holler, Danny Cohen (USA), Harmonica Harold and the Midnight Jam Session. 
Somehow there are always surprise guests and sometimes unique combinations of musicians evolve who then continue to perform around the country. This not to be missed free-bee party is open to the public, and you can bring your dog, husband, neighbor's husband, and your own beer too."
Harold's park hoots are one of the pleasures of summer in Israel – enjoy!
July 14th at 20:30 & August 11th at 20:30 in the park opposite 5 Kashani St, Ramat Aviv Gimel, Tel Aviv. Details on: http://harmonicaharold.tripod.com