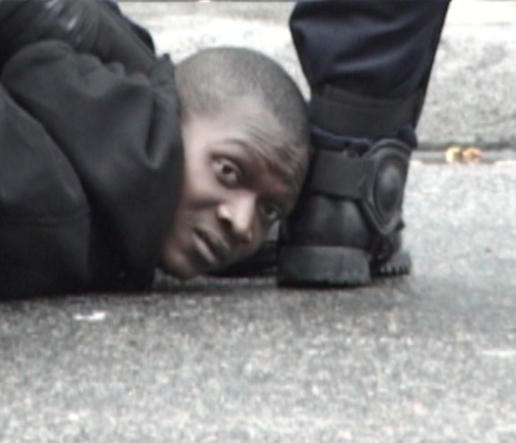 Paris is coming to Tel Aviv with 30 videos projected on walls, storefronts, cafés, and art galleries for "100 % Paris" – an outdoor exhibit on the night of July 1 – Tel Aviv's White Night Celebration. Inaugurating the festivities from the rooftop of the French Institute on Rothschild Boulevard, will be Deputy Mayor of Paris Christophe Girard, the initiator of the White Night concept in Paris.
Curated by Marie Shek, the exhibit complements the "100% Tel Aviv" exhibit she created for the last Parisian White Night in October 2009. The works selected have been exhibited in major art galleries in Paris. Shek commented, "Of 100 works we received, 90 were fantastic! The worst part of this festival was to choose!" Some of the artists, such as Fikret Atay and Anri Sala, are originally from other countries and at times their work expresses aspects of ethnicity and issues of identity. Some of the artists, like Philippe Parreno, Pierre Huyghe and Melik Ohanian, relate to Ann Lee – a mythical figure of Japanese pop culture.
Atay, who is originally from Turkey, created «Spring Fever », a video that focuses on the student demonstrations that took place in Paris in 2005. The black and white film will be projected on a 4 meter by 6 meter screen on the corner of Rothschild and Maza Streets. Says Shek of the video, « I wanted Paris – I wanted a demonstration, rain, gray, Paris."
Marie Bovo's "Subak" has a very different look. The star of this video is a watermelon, rolling down the narrow streets in a lively manner that appears almost choreographed, to meet its inevitable destiny on a small flight of stairs. "Subak" will be rolling on the corner of Rothschild and Shenkin Streets.
Rafael Zarka's "Riding Modern Art" will be shown on Rothschild 69 – the Infinity showroom. Documenting urban skateboard culture, the video gives a visual tour of Paris and the relationship of this fringe culture to its art and artifacts.
In a press meeting held to present the exhibit, Annette Levy-Willard, Cultural Counsellor of the French Embassy in Israel said, « It is the start of a real love affair between Paris and Tel Aviv. »
Avigdor Levin, Director of Culture and Arts in the Tel Aviv Municipality said of the project, "Culture and arts often serve as a bridge even at times of dispute, a safe bridge between people of two countries. White Night is an expression of a relationship that will grow and prosper and be fortified. Tel Aviv is the cultural capital of Israel, experiencing lots of joint ventures between France and Israel. Art and culture are maybe stronger than life itself, no one can stand in their way for a better future."
Ranging along the area of Rothschild Boulevard towards Neve Tzedek, there is much to see. Curator Marie Shek recommends "Wear your gym shoes!"
AYELET DEKEL