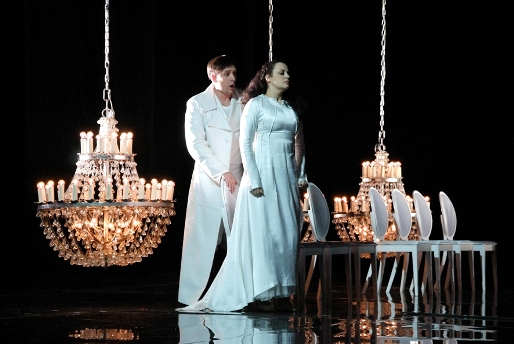 Tchaikovsky's Picque Dame (The Queen of Spades) opened today at the Israeli Opera in Tel Aviv. Directed by Mariusz Trelinski and conducted by Keri-Lynn Wilson, this new production, performed in Russian with Hebrew and English subtitles, will run through July 10th.
The libretto by the composer's brother, Modest Tchaikovsky, is based on the novella by Alexander Pushkin. Pushkin's work has inspired many Russian composers, Tchaikovsky composed operas based on "Yevgeni Onegin", "Mazeppa" and "Picque Dame." Selections from Tchaikovsky's score for "Yevgeni Onegin" were recently heard at the Israeli Opera performance of the Boris Eifman Ballet with Eifman's contemporary interpretation of "Onegin", performed earlier this month.
At the center of the opera is Herman (tenors Victor Lutsiuk and Krzysztof Bednarek), a man of moods and mystery, whose obsession with gambling leads to his downfall. He falls in love with a vision, and soon discovers that she is to marry another. Lisa (Ira Bertman and Natasha Ushakova) has been promised to Prince Yeletsky, by her grandmother, the imposing Countess, yet she is drawn to Herman's dark passions. The Countess is rumored to possess the secret of the "three winning cards". Caught between conflicting passions, Herman is a tormented soul.
In contrast to his treatment of "Yevgeni Onegin", Tchaikovsky took great liberties in composing "Picque Dame", choosing to conclude the opera with a suicide scene. In the original Pushkin novella, the heroine Liza is abandoned by her lover Herman, and lives in misery.
Trelinski has directed on the great opera stages of the world and returns to the Israeli Opera after his success here with "Madame Butterfly" two years ago. Wilson was born in Canada and conducts both symphony orchestras and opera throughout the world.  She recently conducted "La Boheme" at the Israeli Opera in March 2009.
Performances will take place at The Israeli Opera, 19 Shaul Hamelech Blvd, Tel Aviv:
26.6.10 at 20:30, 27.6.10 at 20:00, 29.6.10 at 20:00, 30.6.10 at 20:00, 2.7.10 at 13:00, 3.7.10 at 20:30, 4.7.10 at 20:00, 6.7.10 at 20:00, 8.7.10 at 20:00, 9.7.10 at 13:00, 10.7.10 at 20:30. Tickets range from 175 NIS to 428 NIS. Included in the cost of the ticket is an introductory talk which takes place an hour before the performance. Tickets: 03-6927777.