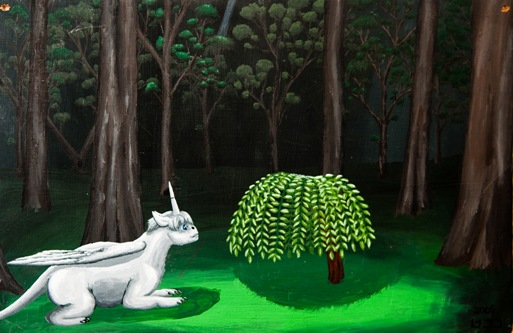 11 young artists will present their work in "Art of the Box", a group exhibit opening at The Einav Cultural Center on Sunday, July 4 at 19:30. The exhibit, curated by Or Kaplan, features the work of artists with Asperger Syndrome, and will be on display through July 29.
Opening night events will include a musical performance and the screening of a film created by the artists, who documented their lives and the process of creating their art. The exhibit will be at the Einav Center for three weeks and then will tour to other Tel Aviv locations, including: the IBM building, Dizengof Center, and The Arab-Hebrew Theatre.
Some of the exhibiting artists:
Nevet Enger gathers scrap wood in the street which she uses as a painting surface. She paints imaginary creatures in a world full of imagination and enchantment. Enger draws animals in dark forests of the night. Her technique is precise and thorough – she draws in pencil first and then paints the images. The sizes range from 10 X 10 to 70 X 50.
Miki Balkani draws buildings and structures that interest him architecturally. Most of the buildings he draws have a story to tell and he remembers the details of the building – height, number of floors. Drawing in layers – creating the first sketch, over which he adds details and color in several layers, he has difficulty ending the process and the paintings are ever-changing as he continues to work on them. Balkani prefers strong primary colors, usually beginning a painting with one color and continuing with another.
Yotam Kadosh is a musician and DJ who occasionally performs in clubs. He listens to music while creating collages. Using images from his collection of magazines, his collages are unique, and combine drawing and photography. Kadosh has the unique ability to see music in color.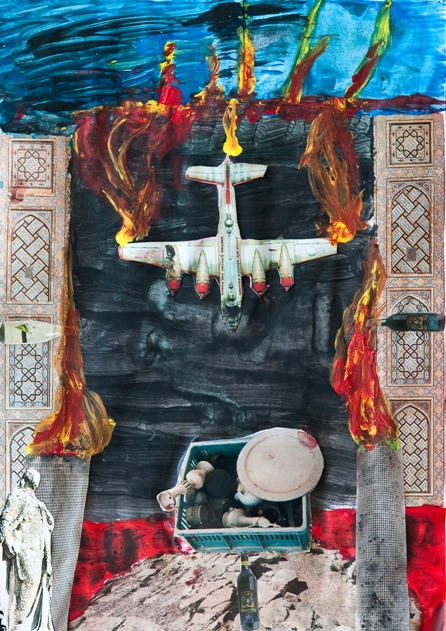 Roy Peled has developed a special relationship over the years with sea creatures and chose to work in a pet store in order to be surrounded by fish and other water life. He began drawing at a young age and has been drawing and painting for many years. Recently however, Peled has focused on sculpture, using his considerable knowledge of whales and dolphins in sculpting these animals.  He always researches a subject thoroughly before beginning a sculpture and precision is very important to him.
Art of the Box began as the individual initiative of Ronit Ran. Ran says, "My inspiration was a twenty year old young woman with Asperger Syndrome, whom I mentored several years ago and discovered that she draws beautifully. I recognized her strong desire for personal and economic independence, as well as artistic recognition. With the addition of the group of young people from the Beit Ekstein Hostel it became a wide-ranging project." Opening night events are open to the public with advance registration, please RSVP: 054-4489134, or artofthebox@gmail.com. For more information, and just for fun, there is an Art of the Box facebook group.
Art of the Box, July 4 – 29, Einav Cultural Center, 71 Ibn Gvirol Street, Tel Aviv
Opening Hours: 9:00 – 15:00 and on performance nights. Information: 03-5217763