The Nahum Gutman Museum, Neve Tzedek, is the venue for Local Hero: The Image of the Arab in Israeli Painting. This new exhibition, with 21 artists participating, delivers both less and more than its title promises.  Less – since well known paintings by Eretz Israel artists of the 1920s best illustrating the title of this show are nowhere to be seen. And more than the title suggests – since curator Tali Tamir has also elected to display paintings by contemporary artists in which the Arab is in no respect viewed as a local hero.
These Eretz Israel artists led by Gutman and Reuven Rubin, came from a  pioneer generation anxious to dissociated itself from styles of Jewish art associated with the Galut and images of pale, weak Jews tied to their  books of learning. They opted instead for a colorful, naïve way of painting to express their joy in the burgeoning state. Reflected in their paintings was their admiration for the Arab, as a model of physical strength and closeness to the land.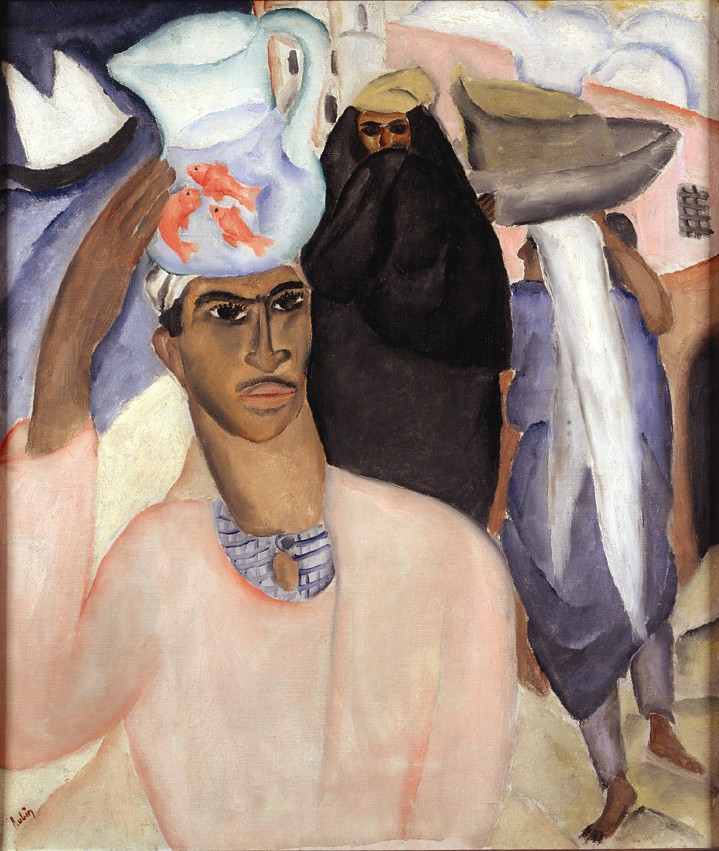 Whilst there are plenty of sketches and lightweight paintings of Arabs and Arab life on show the  best known pictures by major Eretz Israel artists featuring Arabs at work and rest are not in evidence; the reason almost certainly being that they are in the collection of other museums and not available for loan.
Among the few outstanding paintings from this era that are on view, one's eye is held by Rubin's painting of an Arab fisherman. This picture is representative of a clutch of works by major Eretz Israel artists featuring Arab fishermen, hauling in their catch, battling the waves or, as in this case, chosen as a subject for a portrait painting. Here, Rubin depicts an Arab in a pink shift holding on his head a jug filled with water in which goldfish are swimming. According to both Jewish and Christian traditions, fish are symbols of abundance and fertility; but, in this painting, Gutman in all probability meant them to symbolize the Arab's close bonds with Nature.
In the background of this picture is an Arab woman, veiled and shrouded in black. Similar depictions appear in many of Gutman's landscapes, in particular in scenes of walled orchards where Arab women are rendered as mysterious, alluring figures. One such Arab woman, with a child on her knee, is featured in Rubin's painting the Madonna of the Galilee where he makes a connection to iconic Christian imagery of Mary, Mother of Jesus.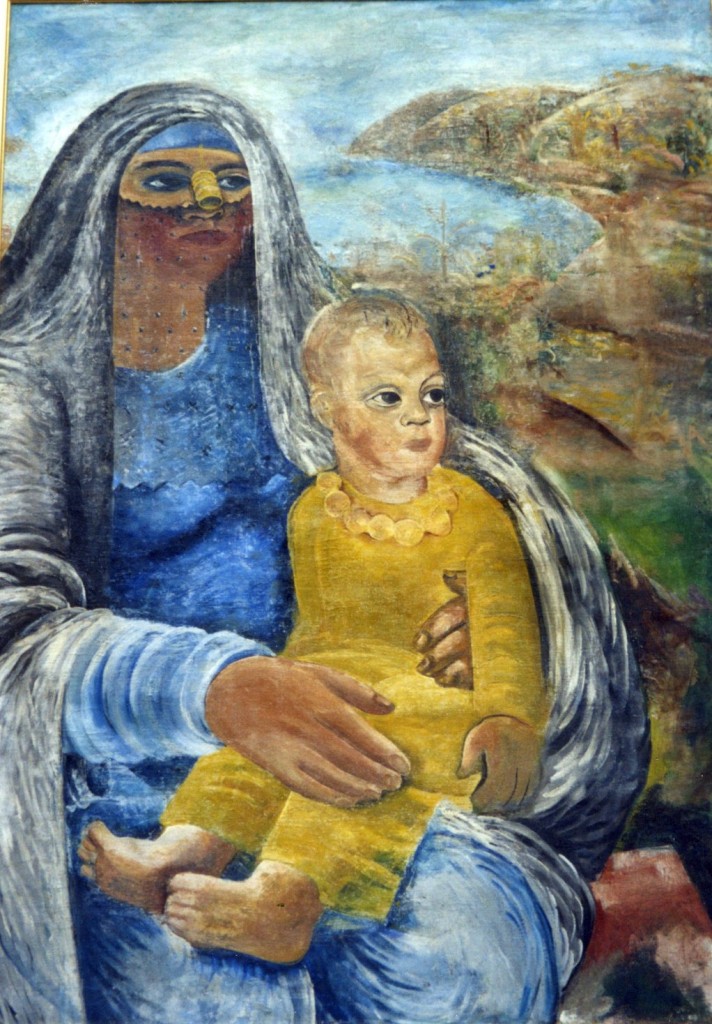 One of the centerpieces of this exhibition should have been The Goatherd, one of Gutman's most famous paintings, in the collection of the Israel Museum. In this dramatically lit picture, a young Arab boy, framed by a rising sun and a waning moon, is transformed into a mythical god-like figure. The only reference here to this major work is a preparatory sketch for its companion piece, The Sheaf Bearer which depicts the sturdy but provocative form of an Arab girl, a bundle of wheat balanced on her head.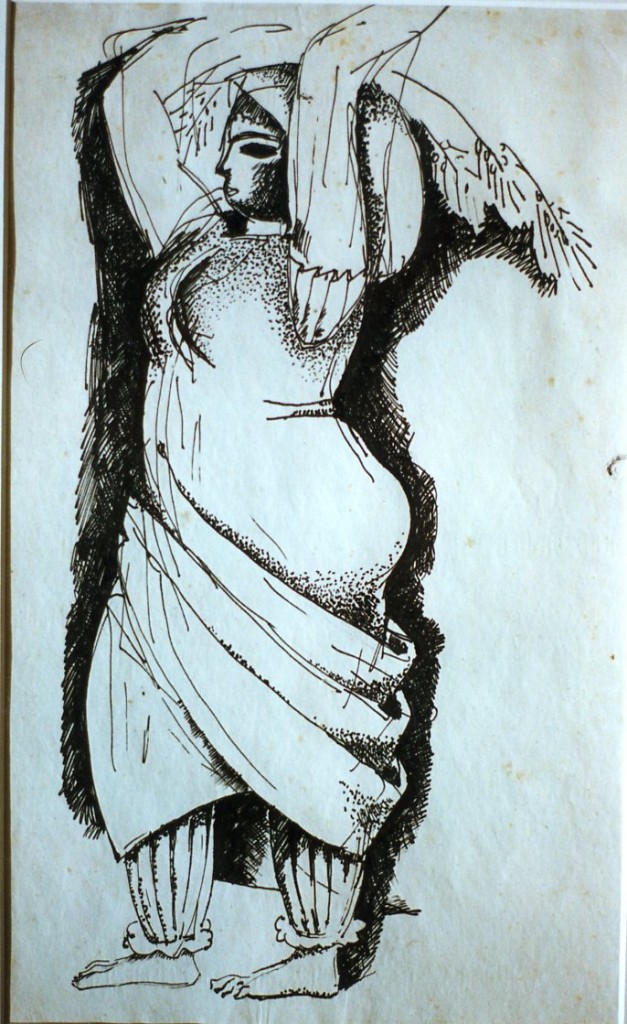 Copiously represented are works by Asher Feldman (1887-1975), an Eretz Israel artist whose name had sunk into oblivion until 2003, when an exhibition of his landscapes and portraits was mounted at the Museum of Art, Ein Harod. A typical painting by him, titled Kwayess (With Pleasure), focuses on the reclining figure of an Arab youth basking, so it seems, in eternal sunlight. This romantic image serves to remind one of the scores of European artists ("The Orientalists") that traveled to this region in the late 19th and early 20th centuries, to render Arab life from an exotic and idealized perspective.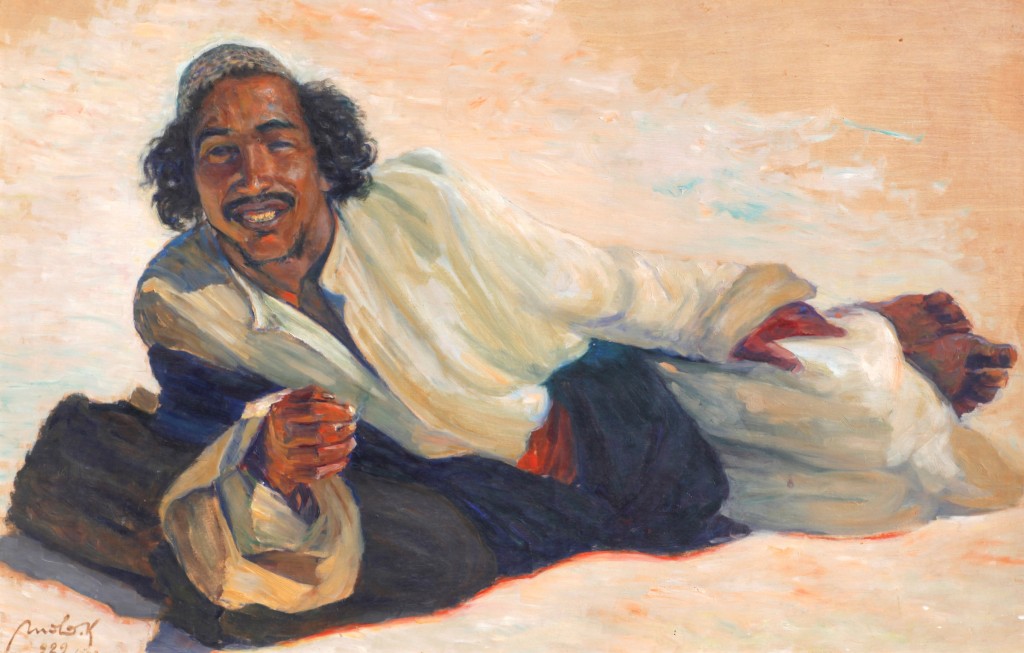 Adhering to the title of this exhibition, one would have expected to see only works dating from the 1920s; the cut-off point being 1929, when an upsurge of Arab nationalism culminating in the Hebron riots, dramatically curbed interest in depicting Arabs as local heroes. In fact, at that time Gutman issued a political protest in the form of a booklet titled Telegrams in Drawings containing illustrations casting the Arab in the role of a blood-thirsty aggressor. Although this booklet is in the collection of the Gutman Museum, it is not on display – a strange omission.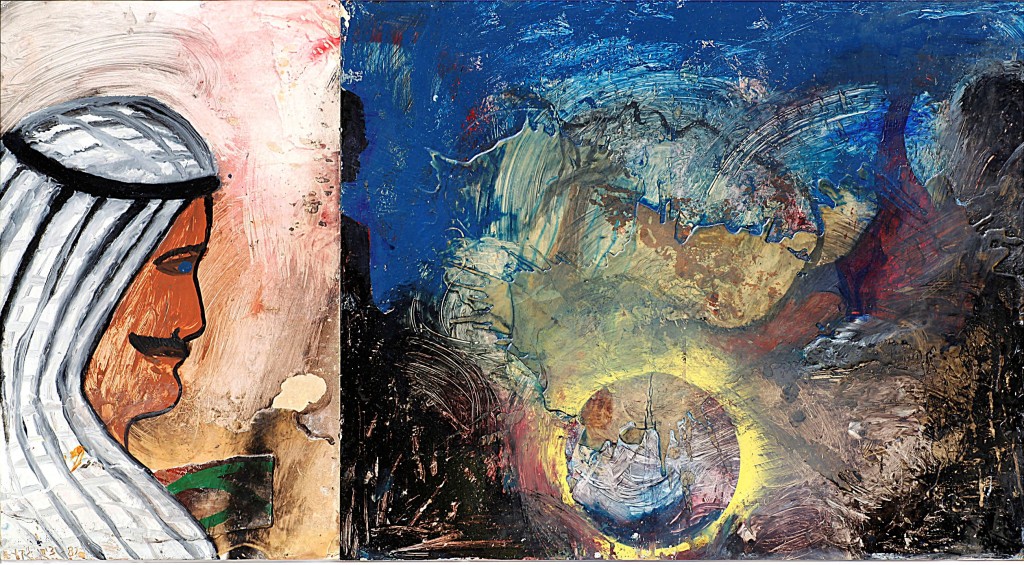 As is illustrated here, the Arab is not represented as a hero in contemporary Israeli art but as a victim. Tsibi Geva was one of the first artists to deal extensively with the subject of the Israeli-Palestinian relationship. On display here are several typical works by him from the 1980s that combine stereotypic renderings of Arabs with either the scrawled names of Arab villages or abstract swirls of paint intimating chaos or catastrophe.
The last 'word' on the image of the Arab in local art goes to Ahmed Cnaan, Arab-Palestinian artist from Tamra. His painting Illegal Workers shows four men in everyday clothes slouching against a wall, awaiting early morning transport into Israel. Strangers in a country where they were once regarded as heroes.
Nahum Gutman Museum
Neve Tsedek
Tel Aviv
Phone: 03. 5161970
Closing date not announced.
ANGELA LEVINE