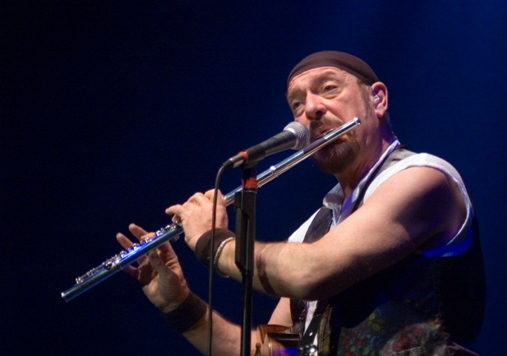 They've played every style – folk, blues, rock, acoustic, electric and classical, and almost everywhere. Jethro Tull's current tour includes: Austria, Germany, Denmark, Sweden, Italy, Hungary, Greece and Israel, with performances August 6, 7, and 9 in Binyamina, Caesarea and Jerusalem. The current Jethro Tull band members are: Ian Anderson – vocals, flute, Martin Barre – guitar, Doane Perry drums, David Goodier – bass guitar, and John O'Hara – keyboards. Band members have come and gone over the years, but the heart of Jethro Tull remains constant: founding member and flutist Ian Anderson, and for Anderson it is all about the music.
Any performer planning to add Israel to his tour schedule can expect to be pressured to cancel, and some musicians surrender – but not Jethro Tull. The band has performed in Israel five times in the past, with Anderson making several solo visits. This is not the first time that Anderson has encountered criticism for performing in Israel. Yet the musician remains firm about maintaining a separation between politics and art.
Anderson published a statement on the Jethro Tull website saying in part:
"Having long maintained the position that culture and the arts should be free of political and religious censorship and a distance kept between them, I took a decision, nonetheless, in February of 2009 that any future concerts in Israel by me or Jethro Tull would be for the benefit of charitable donations to bodies representing the development of peaceful co-existence between Arabs, Jews and Christians, and the fostering of better Palestinian/Israeli relations."
So it's not about politics and it's not about the money – it's really all about the music.
Today, the legendary band is so much in demand for concerts and interviews that their website features not only a page dedicated to FAQs, but an "instant interview" with Ian Anderson, intended for the use of journalists so that Anderson will not have to answer the same questions for the billionth time, like – how did the band get it's name?
Anderson's answer on the website: "Back in February, 1968, we had many different names which usually changed every week, since we were so bad that we had to pretend to be some new band in order to get re-booked in the clubs where we aspired to find fame and fortune. Our agent, who had studied History at college, came up with the name Jethro Tull (an eighteenth century English agricultural pioneer who invented the seed drill). That was the band name during the week in which London's famous Marquee Club offered us the Thursday night residency. So it stuck."
A cautionary tale for beginning bands – be careful what name you make up on a hallucinatory whim, you might just become famous and be stuck with the name forever.
But it takes more than a name to make a band. Their first album This Was, came out in 1968, and had a blues guitar sound influenced by Abrahams, who then left the band. Replacing band members became a pattern of sorts. Over the years Jethro Tull has included a fairly long list of musicians. The next album to be released was Stand Up in 1969, written entirely by Anderson, hitting #1 on the UK charts. "Living in the Past" – one of the band's most popular songs, and the beautiful classical Bach reworking "Bouree" are on this album.

Jethro Tull's sound has gone through several different incarnations, including the release of a concept album Thick as a Brick (1972) with a single 43:28 track, and Crest of a Knave (1987) beating out Metallica for the 1989 Grammy Award for Best Hard Rock/Metal Performance Vocal or Instrumental. Metal fans were outraged and expressed themselves loudly. The band responded with British humor – taking out an advertisement in a music periodical that featured a photo of a flute lying among iron bars with the heading: "The flute is a heavy metal instrument."

Fans at concerts look forward to hearing their favorite songs and Jethro Tull does not disappoint. An evening spent on YouTube reveals that they have played several of their trademark songs here, including Aqualung and Locomotive Breath – and promise to include a selection of favorites in their upcoming concerts. In an interview with Steve Boisson in Acoustic Guitar Magazine, from November 2000 (excerpted on the Acoustic Guitar site),  Anderson said,  "For us, it's not about playing a song which could be thirty years old. It's about playing something 24 hours old, since that's when we probably last played it on stage. Our style of music is, I hope, a little bit timeless and not rooted in a particular music fashion"
Performances:
August 6 at 22:00 Shoni Fortress, Binyamina
August 7 at 21:00 Caesarea Amphitheater
August 9 at 20:00 Old Train Station, 28 Hebron Street, Jerusalem
Tickets: Hadran *2272