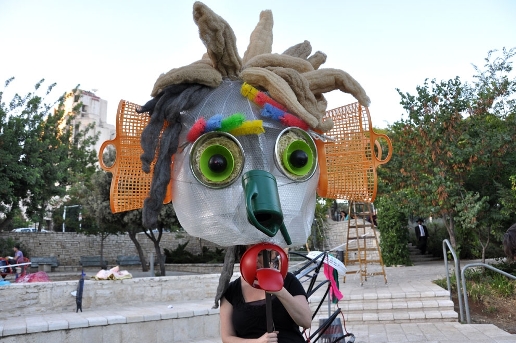 Think BIG – Giant Puppets are coming to the Mahane Yehuda Market on Monday, August 9 at 18:00! FREE and open to the public, this gargantuan event is part of the International Festival of Puppet Theatre which opens today in Jerusalem.
The puppets you'll see in Mahane Yehuda tomorrow are not just any puppets. Director and set designer Adam Yachin, who lives in the Mahane Yehuda neighborhood, got together with a group of his neighbors to create the giant puppets using recycled materials from the market. Towering to a height of 5 or more feet, the puppets will walk through the market tomorrow with member of the March Dondorama orchestra, culminating in a wedding ceremony with surprises for all!
The giant puppets are this year's gala event of Public Works, a community art project developed and curated by Naomi Yoeli and Dalia Yaffe-Maayan. Now in its sixth year, Public Works has created connections between artists and the community through theatre performances and tours.
The International Festival of Puppet Theatre will take place from August 8 – 13 in several Jerusalem venues. Founded in 1983 by the Train Theater, the festival has been an annual event since 2001. The 19th edition of the festival, this year's program includes 9 shows from different countries, as well as the repertoire of the Train Theatre and other Israeli artists. The complete schedule can be found on the Train Theater website.
 AYELET DEKEL