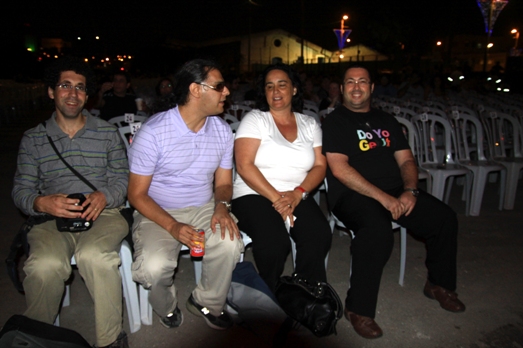 Up front and center at the Jethro Tull concert on August 9, 2010 in Jerusalem were the true fans.
Midnight East first met Gidi this past March, at the photography exhibit Moments the Blind Can See in Tel Aviv, so we stopped to say hello. As we chatted with Yagil and Gidi, Orna and Ronen arrived from Modi'in to claim their half of the front row, and although they just met, the four fans had plenty to talk about. Yagil told me, "When Jethro Tull comes to Israel, I always go to one of their concerts, Gidi goes to all of their concerts," adding that the two friends made a special trip to Europe to attend Jethro Tull concerts in Munich and a special intimate (perhaps 200 people) concert in Italy. Needless to say, Gidi attended all three Jethro Tull concerts in Israel: Binyamina, Caesarea and Jerusalem.
It all started when Gidi, who has a Masters Degree in music, took a course where the class was asked to compose a piece for flute that did not sound like Jethro Tull. "I hadn't heard of Jethro Tull," said Gidi, "so I started listening to their music and it turned me on. I decided that I wanted to learn to play the flute. I come to every performance I can."
You can hear Gidi on the flute and in interviews on his YouTube channel – appropriately titled: giditull.