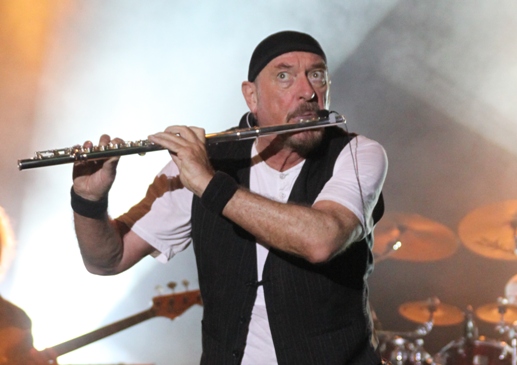 Sylvan troubadour with a wild gleam in his eye, Ian Anderson was in fine form in Jerusalem last night at the Old Train Station. The August 9th concert was the last of Jethro Tull's current tour in Israel and the band leaves behind a throng of admiring fans – after all, not everyone can get the crowds swaying and clapping to Bach.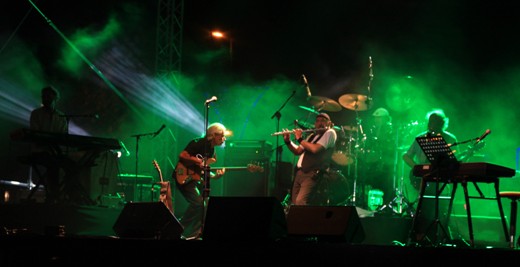 After getting off to a relatively mellow start with songs from the early years, Anderson informed the audience, "You have the dubious distinction of being the audience to attend the quietest rock concert ever. This venue has an 85 decibel limit. It's not us, it's the locals." With Jethro Tull's blend of electric/folk/rock/blues with a classical twist and Anderson's humor and earthy sensuality – who needs decibels?
A rocker version of Pan with his flute, Anderson led the audience on a tour through time and sound. From the recent A Change of Horses written with Anoushka Shankar to 1968's Dharma for One, and several stops in between, including a (very brief) version of Thick as a Brick.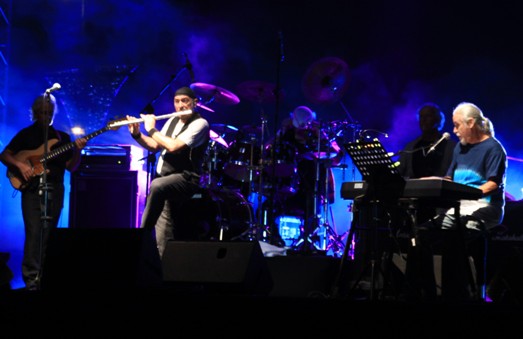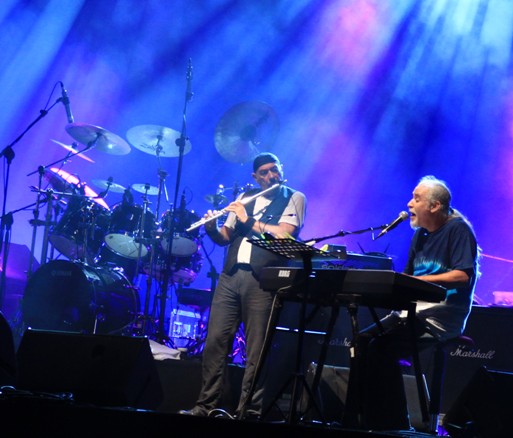 Special guest Shlomo Gronich joined the band onstage for Bouree – which Anderson described as "J.S. Bach – we're doing it in sleazy cocktail lounge jazz style." Anderson and Gronich, in addition to being amazing musicians, share a similar sense of play and a touch madness lurking not to far beneath the surface – they were meant to jam together. Gronich even snuck a few bars of Hatikvah into Bouree.
At the end of their Bach interlude, Gronich asked to say a few words to the audience in Hebrew and told the audience that it would be Anderson's birthday the following day, saying, "Let's sing to him in English the song that he knows," and everyone sang Happy Birthday to a very surprised Ian Anderson.
The band ended the evening with Aqualung – there is nothing like hearing a crowd of people singing together in the Jerusalem night air, those moments when music is everything and everyone. Coming back for an encore of Locomotive Breath, the stage was surrounded by fans. It was a great evening with a great band, and until Jethro Tull's next visit to Israel, there are the memories and Elizur Reuveni's wonderful photos: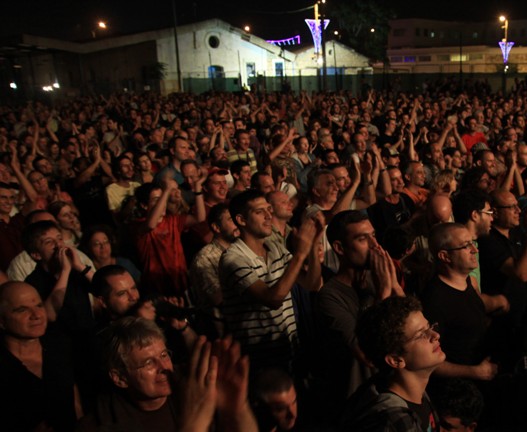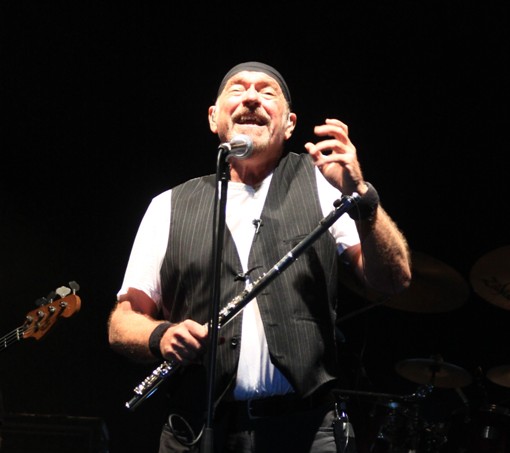 AYELET DEKEL