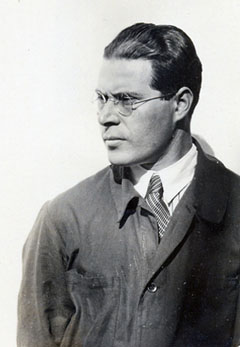 The Shpilman Institute for Photography (The SIP) presents The SIP RE/VIEWS – a series of discussions that examine the history of photography from a contemporary perspective. The first event in the series will be devoted to the influence of artist, educator and theoretician László Moholy-Nagy. SIP RE/VIEWS #1 Moholy-Nagy – Past and Present, Vision and Practice will take place on August 24 at the Einav Culture Center.
The SIP combines the theoretical with the practical to create an intimate encounter with Moholy-Nagy's work, setting up a temporary library in the Einav Center which will be open from 18:00 – 19:45. Visitors are encouraged to peruse the catalogues, books and photographs on display. There will also be a screening room with videos by Moholy-Nagy and others who were influenced by his work.
The lecture/discussions in this series will follow the theory/practice paradigm, pairing an academician with an artist. Prof. Louis Kaplan of The University of Toronto and Jan Tichy of The School of the Art Institute of Chicago will discuss the work and influence of Moholy-Nagy, who was a strong advocate of the integration of technology in the arts. Their dialogue will begin at 20:00 and will be followed by an open conversation with the audience.
The event is open to the public; however, prior registration is required. Please RSVP to info@sip.org. Additional information is available at www.thesip.org/blog
Einav Culture Center, Gan Ha'Ir, 71 Iben Gvirol Street, Tel Aviv