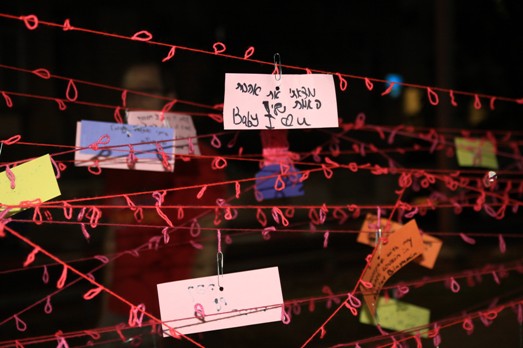 Love hurts, or so the song says. Well, not always. Sometimes love can make you simply happy…
"A street singer giving it her best", "I learned to make gefilte fish", "coffee with a friend" – these were some of the notes hanging between the trees on Rothschild Boulevard last night, September 7, 2010, but most of the notes were about love. A bright pink wool web with loops was woven between two trees by artist Rinetta Klinger, who invited passersby to participate in the installation, writing down: What made you recently happy?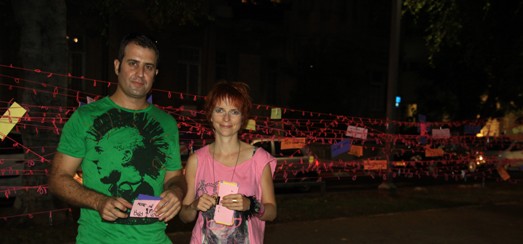 Simply Happy is a project created by Klinger and Yoav Segal, which aims to "collect, connect and spread happiness all over the world."
I arrived on Rothschild close to 21:00, as the artist wondered whether to take down the installation or try to keep it up through the night. Two women walked by and stopped to add their thoughts to the installation. "It's wonderful that the installation focuses on happiness, it's beautiful and very 'Tel Aviv'. It's nice to stop and remember a happy moment," said Merav who recently set a new personal best in bowling.
Olga added her voice to those celebrating love in the installation, and said, "Usually when I see graffiti or other forms of social messages around the city it's usually in the form of criticism. I saw one in Florentine recently that said: 'I hate it when my flat mate…' and people added their comments. It's usually all about hate."
Klinger first visited Israel twenty years ago, speaks fluent Hebrew and visits often, at one point living in Israeli for three years. Having studied fashion design, she is "very into textile and fabric, using a lot of color."  She has been pre-occupied with the subject of happiness, how some people don't have much and yet are happy, while others, who seem to have all the necessary requirements for happiness – are not.
She likes to create installations where "People can take part. That is what I miss in art nowadays," said Klinger, "it's often very intellectual and hard to get connected. I believe in art that touches you. Art that is telling me, reminding me of something."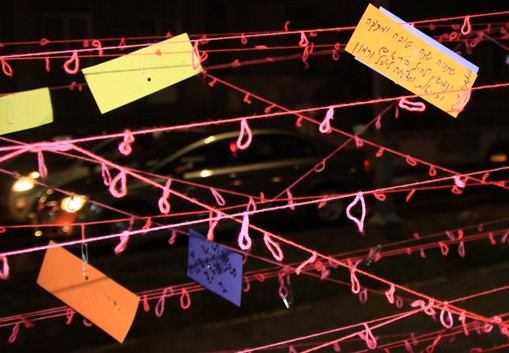 It's a good time to take a break from urban angst and remember all those moments of happiness. If you weren't on Rothschild last night, you can still add your thoughts to www.facebook.com/BeSimplyHappy.
AYELET DEKEL