A festival of talent is taking place at the Herzliya Museum of Art where some 30 recipients of the 2009 Art and Design Awards allocated by the Ministry of Culture and Sport are currently strutting their stuff.  The variety and quality of their work are outstanding, with paintings and prints, sculpture and installations, photography and video pieces impressively represented.

Recipients of Young Artists Awards make their presence felt. Standout pieces include Maya Attoun's Threshold of Hearing (the title alludes to silence – point zero on the decibel scale) .Working in the 'classical' medium of etching. she depicts an array of shipping tackle – knots, weights, anchors – against a black ground. This imagery could, on the one hand, evoke the type of banal decoration seen on the walls of a fish restaurant; or, on another level, serve (and this is what the title suggests) as a memorial – a memento mori – for the absent crew of some anonymous fishing vessel.
Sculpture is well represented by this younger group. Holding one's eye are Hillel Roman's polished metal 'stepping stones' leading into space, a table-top piece that could be a maquette for a monumental sculpture; Tal Frank's wall piece, an outsize necklace fashioned from life-sized replicas of a military helmet; and Avital Cnaani's towering construction made from fragments of processed wood that might be identified either as a fragile shelter or the skeleton of a dinosaur.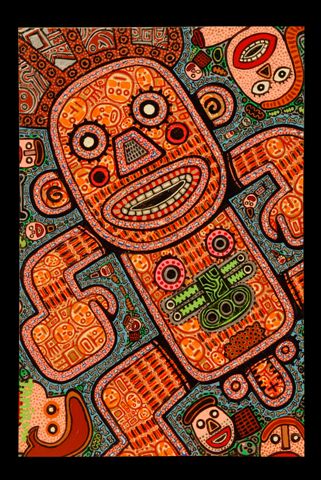 Contrasting styles of painting are on view ranging from a set of imposing abstractions by Yehudit Levin, aptly titled White Phosphorus, to supremely delicate renderings of fantasy worlds by Ben Bejerano (Ben Ron). Not to be missed is Tamir Shefer's Dancer series (tucked away in the lower gallery) where mixing caricature and illustration, his style of painting initially recalls that of the late American painter Keith Haring. But the comparison is fleeting, since Haring's light touch is not evident. Instead, Shefer's brightly colored robot-like figures, hemmed in by patterns and grimacing faces, are imprisoned within a stifling and menacing environment. 

In the medium of video Michal Helfman and Yehudit Sasportas provide visually exciting pieces.  However, there is a disturbing elitist element to Duet for a Flame and Boy, Helfman's offering, that dilutes its quality. Who amongst us would know, without reading the catalog notes, that Helfman's video is based on a Freudian text and is 'examining the moment in which reality ruptures the sleeping defense mechanism'?  Preferable rather are the stunning dream sequences prepared by Sasportas that take the viewer deep into a forest at twilight. Nothing sensational happens in this video loop, and that is its beauty. As the camera pans slowly across the scene, spikes of light and little pools appear in forest clearings, blaze bright and then melt into darkness.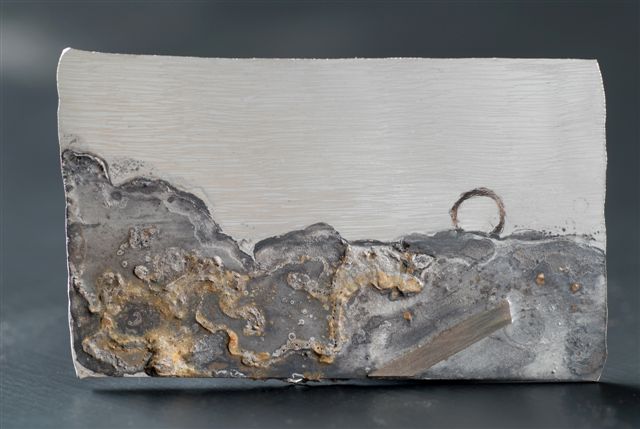 The romantic ambience of Sasportas' video finds an echo in Google Earth and Supernova, images of rocks, landscape and clouds decorating the silver brooches of jewelry designer Kobi Roth. Finely controlling chemical reactions between precious metals and alloys, he employs classical techniques of silversmithing with great skill, featuring rather than hiding away soldering marks and stains.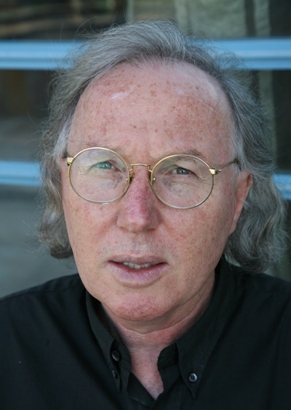 Roth is one of five recipients of Design Awards. Another is David (Dudik) Gal, the country's premier designer of exhibitions.  A film about his activities, including testimonies by curators and directors is showing in the Museum. This being so, why are there no visual references in this prize-winners exhibition to Gideon Ofrat, recipient of the 2009 curatorship award? This is not acceptable. Ofrat has been the leader in this field for three decades or more, researching, documenting and illuminating forgotten artists and aspects of local art that have previously been ignored.
If one had to cite just one of the memorable exhibitions that he has curated (and plenty of photos of this event are available) then it might be the acclaimed 'ecological' happening he organized at the Venice Art Biennale in 1993 where, together with kibbutz artist Avital Geva, he turned the Israeli pavilion into a working greenhouse.
The only 'sign' of Ofrat's presence is a text written by him in the catalog where, among other topics, he describes his satisfaction in remaining a curator who has been independent in every way. In truth, the art establishment and academia have always regarded Ofrat with awe. Although in the case of some of its members, this reverence is tinged with fear, realizing that Ofrat's scholarship and understanding of art are superior to their own.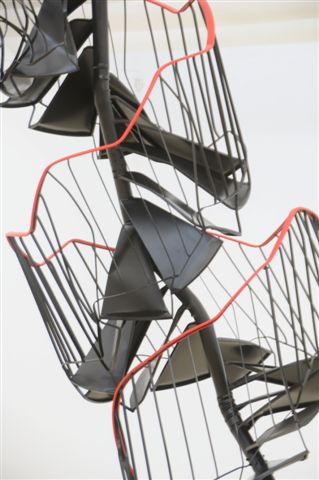 SITED at the center of the Museum's great hall, independent of the prize-winners show, is Staircase, a notable site-specific installation by the Polish artist Monika Sosnowska. Many of her previous installations have involved the isolation and modification of architectural elements to the point that they become unrecognizable as regards their true function. For example, at the 50th Art Biennale in Venice, she invited the visitor into a corridor in the Polish pavilion to play Alice-in-Wonderland games. But most often, her work, as in this new installation, refer to outmoded building styles characterizing a social or political era. 
Sosnowska found inspiration for this piece during a tour of Bauhaus buildings in Tel Aviv, when she photographed a winding staircase added some 40 years ago as an emergency exit to Bialik House (a building that was originally City Hall and now houses the History Museum of Tel Aviv and Jaffa.) In Sosnowska's version the staircase, its fluted struts painted black, its handrail finished in red, has been twisted and compressed so that it becomes an dysfunctional object spiraling up from floor to ceiling There is also a nice curatorial touch: the walls and ceiling surrounding this installation are painted white, a reference to a time when Tel Aviv was known as the White City. 
  
Awards exhibition open till 15.1.2011
Opening hours: Monday, Wednesday, Friday, Saturday 10:00-14:00 Tuesday, Thursday 16:00-20:00 Sundays – closed
 ANGELA LEVINE