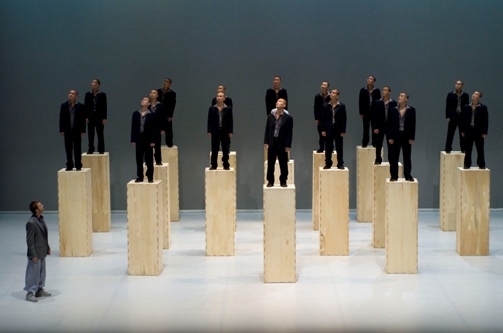 Tel Aviv Dance 2010 opens with the highly anticipated arrival of Flemish-Moroccan choreographer Sidi Larbi Cherkaoui with Sutra, accompanied by Szymon Brzóska's music for piano, percussion and strings created for this work and performed live onstage. Inspired by the physical abilities and spiritual strength of Shaolin Buddhist Monks, the work reflects Eastern philosophy, viewing mind and body as interactive, influencing and nurturing one another in an ongoing dialogue.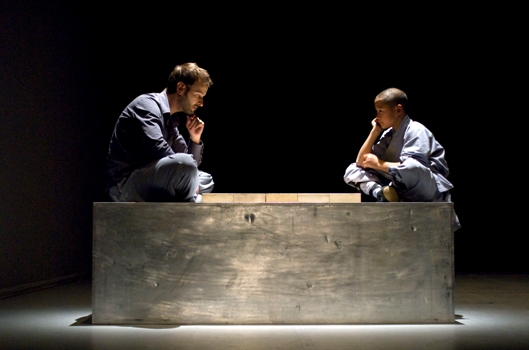 Sutra is performed by 17 monks from the Shaolin Temple in Denfeng, China. Founded in the 5th Century the Shaolin Temple is famous for its connection with Shaolin Kung Fu. The Shaolin Monastery was named as a UNESCO World Heritage Site in 2010. While a dance work performed by monks is an unusual choice, one can easily see the affinity between the Buddhist monks with their regimen of Kung Fu and T'ai Chi and the daily practice of dancers in ballet or contemporary dance forms. Each can be seen as a discipline, a structure through which one can grow and develop spiritually as well as physically, a daily ritual that becomes a form of meditation.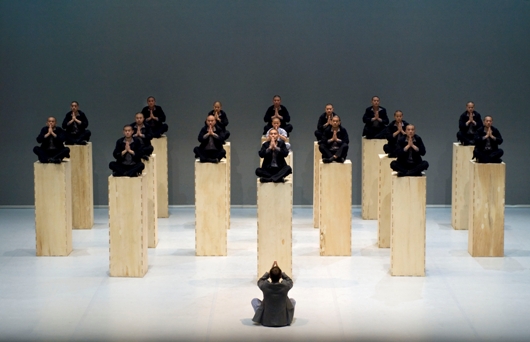 Cherkaoui rehearsed with the monks for several months at the Temple. Even this short clip of their rehearsals shows the inherent power and grace of this intriguing work:

Turner Prize-winning British sculptor Antony Gormley created the stage design for the project: 21 large wooden boxes that form a dynamic part of the choreography itself, an ever-changing visual landscape interacting with the movement of the dancers. Cherkaoui has recently created another work in collaboration with Gormley – Babel (words) which premiered in 2010.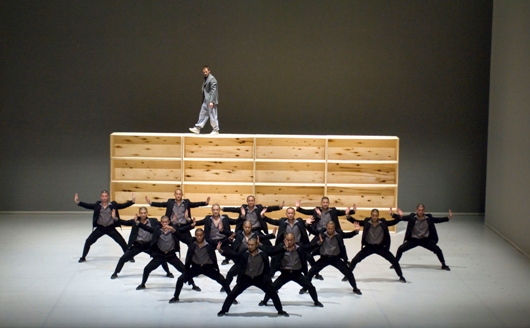 Open to exploring diverse styles, Cherkaoui's previous artistic collaborations include dancers such as Akram Khan, flamenco dancer María Pagés, Paris-based Indian dancer Shantala Shivalingappa, and visual artists such as Gilles Delmas, with whom he created the installation Zon-mai, a structure of a house on which are projected videos of dancers in their homes – dancing.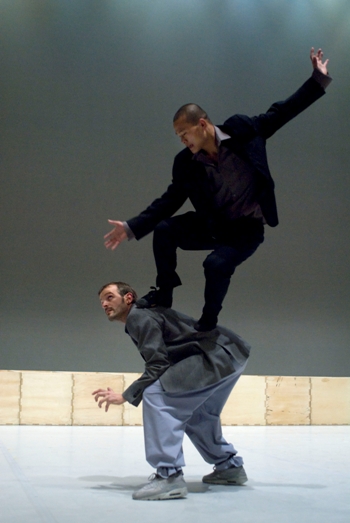 Born in 1976 in Antwerp, Belgium to a Moroccan father and Flemish mother, Cherkaoui's first steps in dance were on television as a teenager. He studied at P.A.R.T.S. the dance school founded by Anne Teresa de Keesmaeker. A dancer in Ballets C de la B from 1997 – 2006, his breakthrough work as a choreographer was Rien de la Rien in 2000. In 2010 Cherkaoui launched his own dance company Eastman, which will be performing in Israel as part of the Tel Aviv Dance 2010 program at the Suzanne Dellal Centre on October 25 & 26.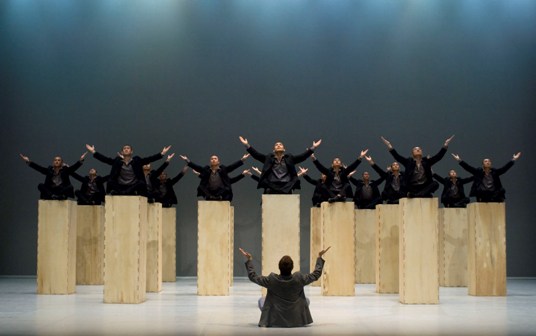 Sutra
Choreography: Sidi Larbi Cherkaoui
October 4 – 7 at 21:00
Israeli Opera/Tel Aviv Center for Performing Arts
19 Shaul Hamelech Boulevard, 03-6927777, www.israel-opera.co.il
AYELET DEKEL