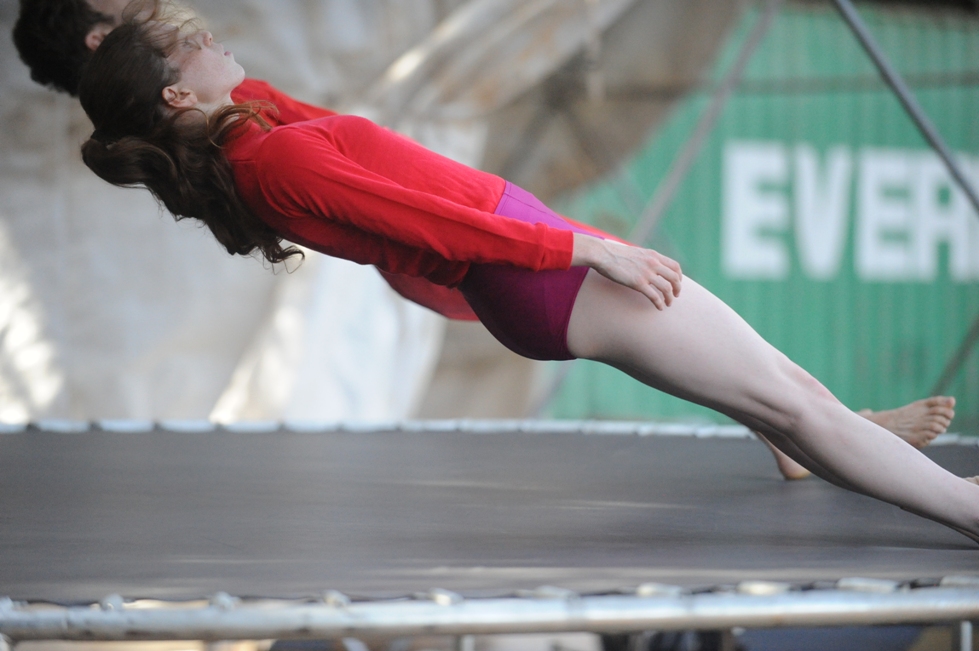 360 degrees of dance on a giant trampoline – choreographer Maya Levy's Net Work will have its Israeli premiere in November. Winner of the 2009 Minister of Culture Prize, Levy's work is distinguished by the intimate connection between concept and physicality, creating dance pieces that are thought-provoking, visually appealing and daring.
Several of Levy's works have related the dancer's movements to physical objects, from the intricate in and out of switching shoes, to a dance involving wooden constructs somewhere between the sculptural and industrial, or the challenge of balancing on a small wooden board set on a ball.
Net Work takes complexity to a new level, with a duet that requires a 16 meter trampoline – and therefore, an alternative venue. The two spaces that will host the performance are Warehouse 2 at Jaffa Port, which has been converted to an urban art space and the Knight's Halls in the Old City of Acco.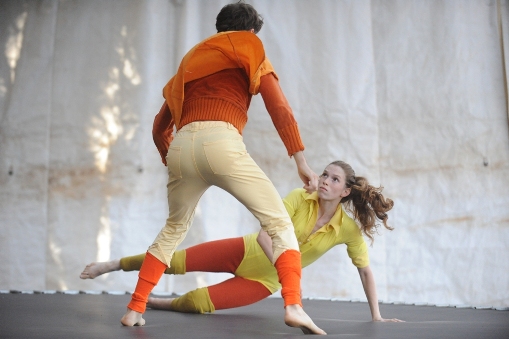 Created in outdoor rehearsals near Michmoret (along the northern coast of Israel), the process of Net Work was influenced by the elements at all stages – wind, light, shifting clouds, overhead jets and squawking chickens were part of the creative environment and are reflected in the soundtrack for the piece. The work will be performed by Noa Faran and Uri Shafir. Formerly of the Batsheva Ensemble, both are dancers with a strong stage presence which reveals an expressive intelligence, emotional depth and a creative sense of fun.
The choreographers stated in a press release: "Choosing the trampoline invokes, on one hand, an uncertain world, out of balance, which demands a physical struggle; on the other hand there is the exhilaration of flight. Working with the trampoline presents many challenges to the dancer's body, and from that hardship emerges a new and fascinating logic of movement that ranges between the fun and laughter of child's play and the strict maintenance of balance. The duet combines the virtuoso performance of the body with dance and play, utilizing all the tools at our disposal to create a unique world."
Net Work was created for the Tanzwoche Festival in Dresden, and is the first collaboration between Maya Levy and Anando Mars, partners in life and work, who first met ten years ago as dancers in the Nir Ben Gal & Liat Dror Dance Company. Maya Levy is a graduate of the dance department at Thelma Yellin Arts High School, and of the School of Visual Theater, Jerusalem, where she currently teaches. Levy has worked as an independent choreographer since 2004, and her works have been shown at venues such as the Gevanim Dance Festival, the Ma'abada Theater, A Genre at Tmuna Theater, and Thin Line Project. Her works have been performed internationally in Germany, Slovania, Spain and other countries. Anando Hanan Mars is a dancer, choreographer and therapist who spent the past few years travelling between Europe and India, where he specialized in Sufi dance. His work "Mimi" premiered in the 2004 Hot Dance Festival.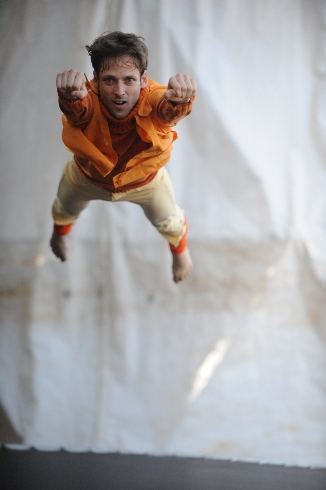 Net Work by Maya levy and Anando Hanan Mars
Dancers and creative partners: Uri Shafir, Noa Faran
Original Music: May Lev
Costume design: Barak Aviam and Shira Weiz
Production: Sivan Gavrielovitch
Performances:
Warehouse 2, Jaffa Port – Tickets: 074-7018580
November 4 at 21:00
November 5 at 13:30 and 22:00
November 6 at 21:00
Hamama – Dance & Culture Lab, Knight's Hall, 1 Weizman Street, Festival Gardens, Old City of Acco. Tickets: 04-9913834
November 17 & 18 at 21:00