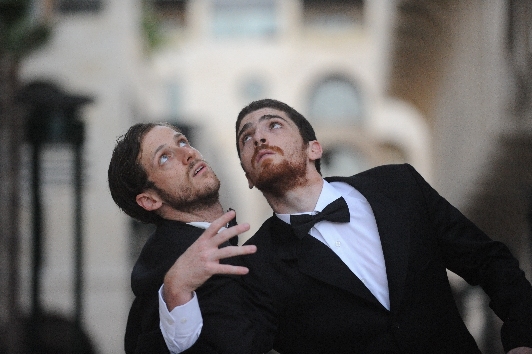 It's time to raise the curtain on the program for Curtain Up 2010! The annual festival showcases emerging Israeli choreographers, not only providing a venue for performances, but supporting them through the creative process in all aspects of production. This year's festival will take place from November 23 – December 4 at the Suzanne Dellal Centre in Tel Aviv and the Rebecca Crown Auditorium in Jerusalem.
Curtain Up is a project of the Department of Dance in the Ministry of Culture and Sport, chaired by Nilly Cohen. The festival is produced by the Israel Festival, headed by Yossi Tal Gan with Miri Manirav producing.
The festival will continue the new format initiated last year, inviting established choreographers who began their career in the Curtain Up Festival to provide the artistic direction for the emerging choreographer of their choice.
This year's team and their choices:
Tamar Borrer – Iris Erez and Michael Gatman
Ronit Ziv – Ofra Idel, Inbal Oshman, Tami & Ronen Izhaki and Rotem Tashach
Renana Raz – Maya Brinner, Dana Ruttenberg and Gili Navot
Sahar Azimi – Elad Schechter, Ariel Cohen and Shlomi Frige
12 new works will be presented as part of 4 different programs – look for more updates in early November!