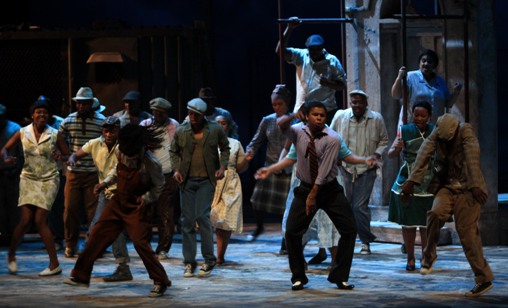 "Is it an opera? Is it a musical? Can we dance to it? Are there snappy tunes? Yes" said David Stern, Musical Director of the Israeli Opera, of Gershwin's Porgy and Bess. The Cape Town Opera production, directed by Christine Crouse will open the season at the Israeli Opera with performances from November 12 – 27, 2010.  At a press meeting held yesterday evening, with Israeli Opera Director Hannah Munitz, Cape Town Opera Managing Director Michael Williams, and Cape Town Opera Artistic Director Christine Crouse, Stern spoke succinctly and swiftly before heading down to the hall to rehearse with the singers and orchestra.
Stern began by saying that the opera has been criticized as racist because of the way it portrays black Americans and he acknowledged that "there are moments that need to be looked at." As for the Cape Town production, Stern said that it's setting in South Africa of the 1970s is "brilliant" and of the performers that they are "great singers on an international level." Commenting on Gershwin's collage of musical styles, Stern expressed the opinion that it was not merely "shtiklach" (Yiddish: trick or act) but "it was the way he heard music," citing this as one of the reasons that there have not been any other operas written in this style – "it was too strong a model to be copied." Stern said the Cape Town Opera performance of Porgy and Bess is "very moving, very clear. There is no one who can be unmoved."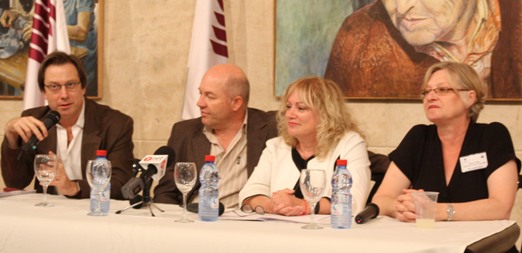 Hannah Munitz, General Director of the Israeli Opera opened the press conference saying that although plans for the current performance began four years ago, for a while it was "touch and go" as the Cape Town Opera was under a great deal of pressure to cancel their performances in Israel. Calling Michael Williams, Managing Director of the Cape Town Opera "our hero, a fantastic colleague, very brave," Munitz spoke against cultural boycotts, stressing the "important differentiation between politics and culture. Culture builds bridges and allows people to know each other much better, not just from television, but face to face."
Williams said that when his predecessor at the opera, Angelo Gobbato, first suggested Porgy and Bess, "We were quite naïve about the power of the work. Now we've taken this piece and made it our own. We looked at South Africa with its problems and contemporary issues, and have given it a very particular slant, a South African slant."
Williams, who received a letter from retired Archbishop Desmond Tutu asking him to cancel the performances in Israel, talked about his experiences, saying, "I have great respect for the retired archbishop. He is a hero. He stood up to apartheid; he is a man of great moral vision, not afraid to speak his mind. On Wednesday last week I received a letter asking me to cancel. I felt very strongly that one needs to honor one's commitments." Williams said that he did not anticipate the torrent of mail following his announcement that the opera would perform in Israel as they had contracted.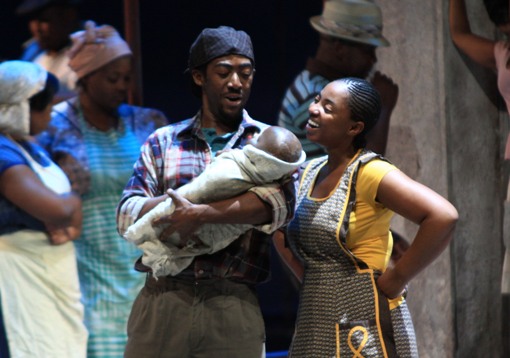 Williams said, "The role of art is not to be commenting on politics, but to be commenting on life, and what makes life? Music – commenting through art." Williams said that during their stay in Israel the company plans to learn more about Israel and the issues, meeting with people, travelling and attending workshops. He later added that, "as an artist myself, I was absolutely against the cultural boycott in South Africa, there was a generation of singers in South Africa who lost the opportunity for instruction from the presence of international performers."
Christine Crouse, Artistic Director of the Cape Town Opera and director of Porgy and Bess, talked about the decision to set the opera in South Africa of the 1970s, saying, "I was looking for something different." Crouse spent time researching the period and found that there were "strong American influences" in South Africa at that time, particularly in the music. She emphasized that the opera does not represent South Africa, but rather "it's Catfish Row with South African overtones." Much of this sense of South Africa is in the visual elements of the opera. Crouse noted that the set design by Michael Mitchell includes banners painted with portraits of "heroes of the struggle. In the Kittiwah scene the painting features Desmond Tutu – so he's with us."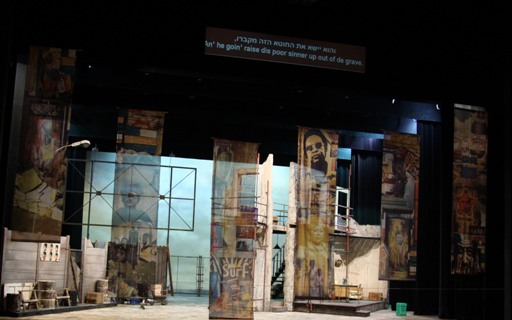 Of her cast Crouse says she is "Very proud. We really work together. I rely a lot on the singers – how they feel while performing this show. It has come to be a show owned by the people on the stage. They bring a special voice to the stage I feel blessed to have such wonderful singers."
Porgy and Bess will be performed by the Tour of the Cape Town Opera, directed by Christine Crouse, with David Stern, Musical Director of the Israeli Opera and Albert Horne conducting the Opera Orchestra – the Israel Symphony Orchestra Rishon LeZion.
The opera will be sung in English, with English and Hebrew surtitles, duration – approximately 3 hours. Each performance is preceded by an introductory talk that begins an hour before show time, with post-performance discussions and backstage tours on select dates. "Towards Opening" will take place on Saturday, November 13 at 11:00; tickets for the talk are 70 NIS.  Performances will take place at the Israeli Opera/Tel Aviv Performing Arts Center from November 12 – 27. Additional information (in English) and a complete list of performance times can be found on the Israeli Opera website