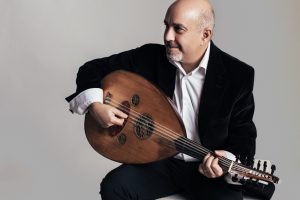 Night Ark opened the International Oud Festival in Jerusalem last night with the historic reunion of Ara Dinkjian and Arto Tunçboyacıyan.
Celebrating music, friendship, and traditions – old and new, and as Effie Benaya, festival artistic director, said in his opening remarks: "always with a connection to the Oud, the symbol of Arabic music."
The audience filled the Sherover Hall of the Jerusalem Theatre with a warm welcome as Ara Dinkjian and Arto Tunçboyacıyan shared the stage, together again, joined by Vahagn Hayrapetyan on piano, and Artyom Manukian on bass.
As they play, at times it is the rhythm; at times the melody draws you on, creating a path and the forest of sound through which it winds. Every turn brings something else comes into view, and just as you become aware that you are far from home in an unfamiliar country – they take you home.
Andrew Standley, Head of the Delegation of the European Union to the State of Israel, addressing the audience just before Night Ark took the stage, spoke of the shared values of the Oud festival and the EU: integration and connection, saying that their expression at the festival is "even more profound because they are conveyed through music."
As the traditional Oud merged with contemporary rhythms and forms, the motif of integration and connection was heard and felt in all its variations – in the many layered dialogues of the music, and the relationships of the musicians to the music, the audience and one another.
Dinkjian, who returns to the festival for the 5th time, performed a new piece composed in honor of the festival – a sama'i, saying that he always listens to the other musicians in concert when attending the festival. One form that he had often heard performed, but had never composed, was the sama'i (described on the Maqamworld site as an instrumental secular composed genre in four sections – khana, each followed by the refrain – taslim, in 10/8 rhythmic mode).
At the concert's close the audience held Night Ark with their applause, bringing them back for four encores. Dinkjian came out with Zohar Fresco for a duet, saying, "The reason that I am here is because of this man." Coming home to more traditional, familiar melodies in the encore, Dinkjian closed the evening with "Meeting My Past," a work written after visiting the villages of his ancestors for the first time six years ago, saying "it was a very emotional trip, I know you will understand."